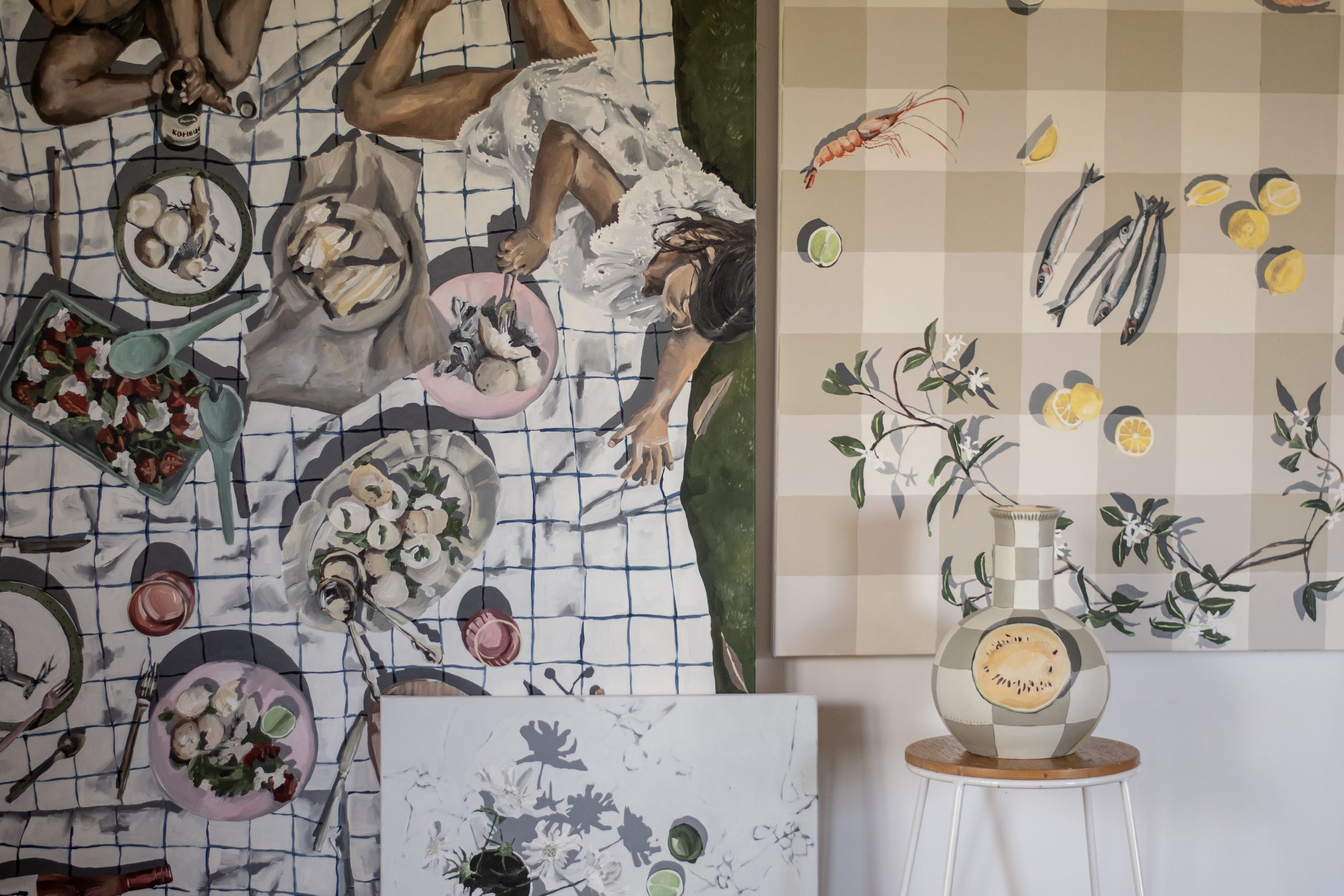 Dreamy table-scapes and rich, delicious colour …. if you're not already a fan of Whitney Spicer, you're in for a treat! Whitney's still life works are inspired by the beauty in everyday objects and acts, such as preparing a table of delectable food or the simple pleasures of fresh blooms and a magazine… and after the year that's passed, this is exactly the type of beauty I'm looking for!
Can you tell us a bit about your background and the path that led to your current artistic endeavours?
I have always created art, and enrolled to pursue an artistic degree following high school. I changed my degree last minute and instead undertook a commerce degree. It wasn't until I took maternity leave from the accounting firm I was working at that I invested more time into my painting practice. Having said that, my art was only ever intended to decorate my own walls and gift to my family and friends. It was my sister and husband that encouraged me to enter an open art call at a local gallery. I received such lovely feedback and began to connect with others in the art community via social media. I was given the opportunity to exhibit at other galleries, and invited to be represented by both Fenton & Fenton and Jumbled. Funny story… I used to be the bookkeeper for Jumbled so being a part of their creative cohort has felt really special.
What inspires you to create your art?
Visually I am very inspired by foodies that I follow on social media. A lot of my subject is food based so seeing the wonderful creations that these amazing individuals come up with has been so motivating. I am also enjoying the effort we are putting into decorating a table and entertaining our friends and family. We have all been reminded of how special it is to share a meal with our family and friends, something we haven't as easily been able to do as a result of covid. Now that we can, I think we are all placing a bit more emphasis on making that shared time special and beautiful. I love reflecting these tablescapes in my work, particularly from an aerial perspective.
Emotionally I am so inspired by my own children. I want them to see me painting and know that dreams can come true. If you have the guts to say your goals out loud and the work ethic to make them happen… then you can grow up to be whatever you want!
Where would be likely to see your artwork?
I am represented by Fenton & Fenton in Melbourne, and Jumbled in Orange NSW. I also have originals and prints available via my own website.
Can you tell us about one of your favourite artists?
Oh my goodness, I follow so many amazing artists and have found such a supportive community of creatives in Australia. I am currently feeling very inspired by the amazing work of Emily Heath, I just love her still life work. I am also obsessing over Ingrid Haughton. She is the most humble person and honestly can do no wrong in my eyes – all her work is incredible. It's not just their work that I find inspiring but the fact that they are mums of young children just like myself, and building their passion into a career.
Describe your dream home and location.
My dream home will one day sit on top of the hill at our farm. We have bought 500 acres around the corner from where we live in Manildra, NSW. We currently use this land to breed and run sheep. Both my husband and I hope to live here one day and have so many pinterest boards brewing as to what that dream home will look like. It will have split levels, lots of timber, some stone, a playroom for my boys and most importantly, a beautiful art studio overlooking the property.
Do you have artwork displayed in your home? What kind?
Yes! I have so much artwork in my home, to the point where my husband reminded me that the hallway is not my personal gallery! I have a gallery wall with some work that I have purchased from fellow Australian artists, including a pencil drawing by Katie Gordon mixed in with some of my own landscape and portrait work. I am also an avid collector of op shop art… there are so many treasures to be found at your local op shop!
I also have a much loved James Needham nude in my lounge room, along with an Anne Maree Clark floral piece, an abstract Loralee Jade piece and a Faye Hanshaw mixed media nude.
Name one item in your home that you could not do without.
The coffee machine, if not the kettle. Whether it's an instant or espresso, coffee keeps this house ticking!
When you're not creating masterpieces, where would we find you?
We spend our weekend on the farm. We are really enjoying learning all there is to know about farming and breeding our own sheep.  It is such an amazing lifestyle for our three boys, we wouldn't change it for the world.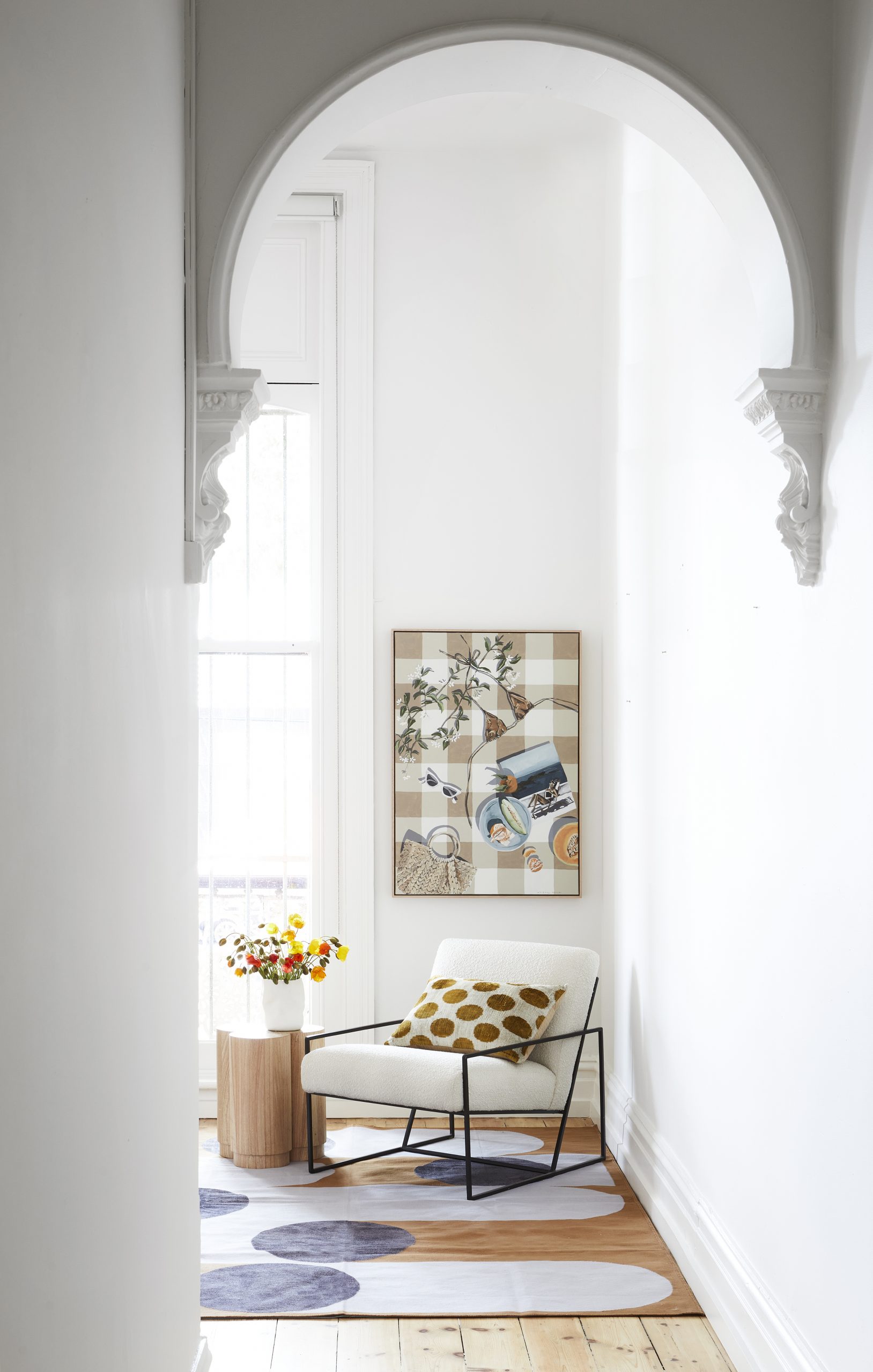 See more of Whitney's work here.