Avalon based artist and mother of three Elysha Ferris creates pieces that evoke memories of days by the sea. With tasseled umbrellas, striped lounge chairs, shells and footprints in the sand, you really can't help but smile when looking over Elysha's textured work. Her pieces are full of bursts of colour that conjure up vibes of an Australian summer and are sure to brighten the walls of any home…
Can you tell us a bit about your background and the path that led to your current artistic endeavours?
I have always been creative – as a child I would spend my weekend re-arranging and painting my room (I might just have the most patient parents in the world!)
I met my husband (Jimmy) when I was 15 and we started dating when we were in year 12. He is from Mudgee, in regional NSW and his younger brother is an incredible artist. Whenever we would visit the family home I would spend my days painting with and learning from him – he taught me so much about creating texture which is a huge part of my work today.
Fast forward a few years – Jimmy and I renovated our little Avalon beach shack, have three young kids in tow and after being given the most amazing opportunity to create some special pieces for The Boathouse Home (a beautiful homewares store in Palm Beach) I've found myself lucky enough to be doing one of the things I love the most every single day! I still pinch myself – I never could have imagined that I would have the honour to create special pieces for people to fill their homes with all over the world; it makes my heart so happy.
What inspires you to create your art?
We are lucky enough to live in an incredible part of the world. The Australian coastline is ever changing, and never ceases to amaze me. I don't know about you but I instantly feel calm and happy when I see the ocean – and this is the same feeling I hope to evoke when painting each piece. I draw so much inspiration from our beautiful beaches – from the tasseled umbrellas and striped lounge chairs to the patterns made by shells and footsteps in the sand. I hope to make people smile when they wake up in the morning and see a happy, sunny scene in their space.
Where would be likely to see your artwork?
My pieces have found their way all over Australia – from Sydney to Byron, Noosa and Perth through to Torquay and Hobart – with some pieces even making their way abroad! Majority of the homes my pieces go to are situated somewhere on the coast, however many rural homes with residents who are craving a little slice of seaside have enjoyed my pieces too. You will find my pieces in The Boathouse Home and through Greenhouse Interiors, or via my own website.
Can you tell us about one of your favourite artists?
Ken Done – I have admired his work for as long as I can remember. I was lucky enough to meet him earlier this year and he was everything I thought he would be – a true, creative gentleman.
Describe your dream home and location.
Oh gosh – this is a tough one! I honestly love where we live – Avalon has the most beautiful, supportive community feel and I feel very lucky to live here in our home! But if I had to choose, it would probably be Maui. A big white plantation home with verandahs and exterior shutters beside the turquoise ocean – bliss!
Do you have artwork displayed in your home? What kind?
I like to try to – but then someone will see a little snippet of each piece and ask if it's available! I'm still working on our 'forever' piece – I'll get to it…one day!
Name one item in your home that you could not do without.
Our fireplace! ….and dishwasher.
When you're not creating masterpieces, where would we find you?
At the beach, taking in the beautiful scenery and reading a good book in the sun. Ha, who am I kidding?! You'll see me running laps trying to keep the kids out of the waves whilst applying sunscreen and hats – it's wild, but lots of fun!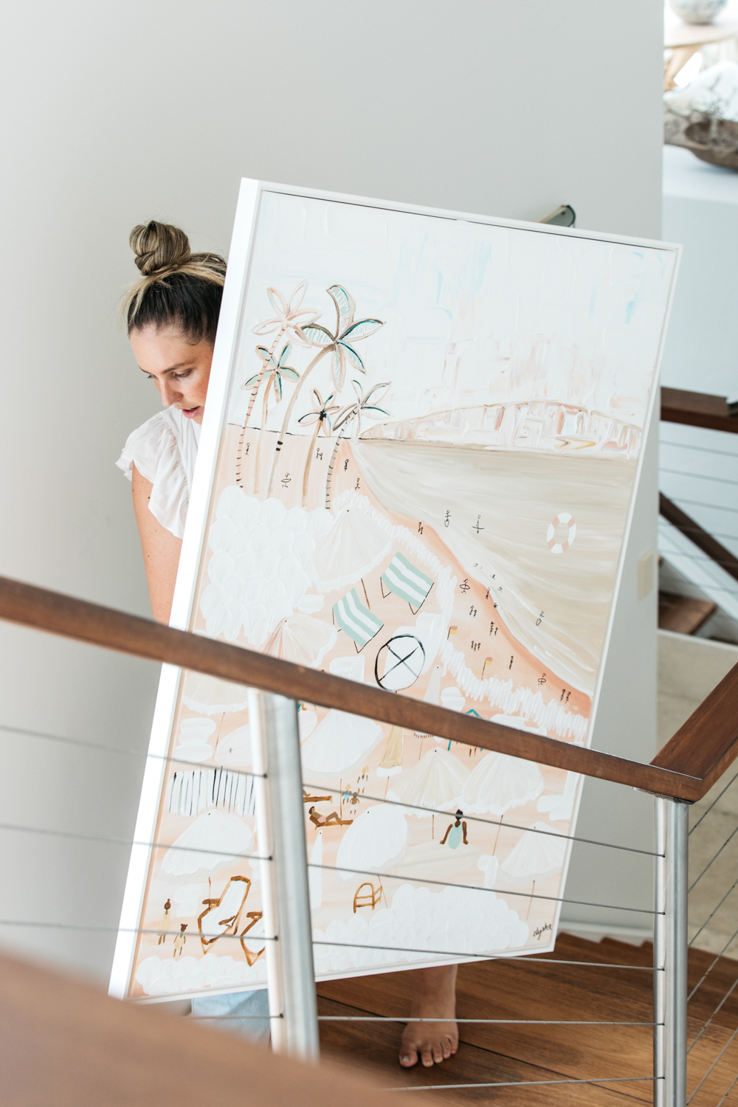 See more of Elysha's work here.