Sometimes it takes a dramatic life moment to realign your focus – and that's exactly what happened with our feature artist Marcia Priestley. After working as an interior designer for close to two decades, Marcia became unwell and it was a natural response for her to dive into creating art. Using acrylic and mixed media application, Marcia creates serene works that evoke a sense of romanticism and harmony in her studio surrounded by the Australian bush, and we're loving her new works in the Wai Huikala bathhouse series.
Can you tell us a bit about your background and the path that led to your current artistic endeavours?
I've always been artistic but never did I think I could earn a living from it so I chose a career in Interior Design which lasted close to two decades. Although I enjoyed my work, my heart wasn't in it. When I became unwell it was a natural response for me to dive deep into creating art. It dawned on me it was the best way to leave something behind for my two young daughters if I didn't make it through. I was in a precarious state so the thought of leaving a little legacy behind for them – just in case – gave me an immense amount of comfort at the time. I bought them a journal each and filled it with messages and illustrations, and little did I know it would quickly grow into writing stories and designing my own greeting card range which sold world-wide. From there I designed a line art range and was soon picked up by Greenhouse Interiors which has been an amazing journey that has transitioned into painting original art pieces. I am also represented by Portia De Rossi in the US for some select pieces which are sold through RH.com in the states.
What inspires you to create your art?
First and foremost, my girls. Basically I wouldn't be painting today if I didn't have that drive to leave behind my heart to them. But I've since realised it runs deep within me. I think about it all day, every day. I go to exciting functions but all I think about is painting or designing a new range. I've got so many ideas and stories to tell and I get very impatient with time… I need more time in my day to complete everything I want to achieve!
Where would be likely to see your artwork?
Greenhouse Interiors, RH.com and my own site.
Can you tell us about one of your favourite artists?
Oh my gosh, there are so many! My favourite living artist would have to be hands down, Tomo Campbell.
Describe your dream home and location.
Actually, we are very lucky to be living in my dream home. When we moved to Bendigo 14 years ago we searched for a home for over a year. One day I instinctively travelled down a street I hadn't seen before when I saw the edge of a building from the main road which I liked the look of. Once I reached the house my heart stopped – it was everything I had ever wished for in a home – and again when I saw a 'for sale' sign on the nature strip! Moments later I realised the sale sign was for the house next door but that didn't stop me from rushing home to my husband to tell hm I'd found our home. When I showed him, he too fell instantly in love with it and I didn't know that the following day he decided to knock on their door and he just asked them if they were interested in selling! They said yes – they had literally just decided to sell the night before! We moved in 30 days later and are just in love today as when we first saw it. But…I would love to live near the ocean!
Do you have artwork displayed in your home? What kind?
Yes, I have my original piece of Hana Baie and Resort'22 and any new pieces live in our home for a little while before being shipped to either Greenhouse or General Public.
Name one item in your home that you could not do without.
Um, definitely my pillow!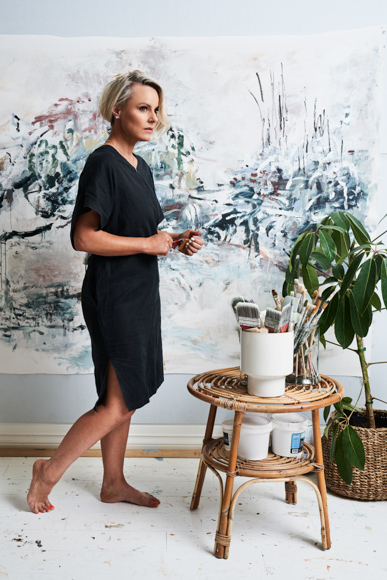 When you're not creating masterpieces, where would we find you?
Walking in the bush with my dog. It's often the place I find new ideas or concepts that seem to jump into my mind, I could walk for hours! Or cuddling my kitten who's a total time waster – both are perfect little replacements for my girls since they have both now moved out of our home.
See more of Marcia's work here.