When you think back to your childhood, what joyful memories do you conjure up? Victorian based artist Tracey Mock attributes her creativity to her adventurous upbringing on a farm in rural Victoria, and often uses these joyful memories when painting as inspiration. She is best known for her work with gorgeous pastel hues contrasting against striking congruous black shapes – surprisingly creating a sense of calm and balance. Tracey's art works seamlessly within Scandinavian interiors and is often found gracing the walls of Norsu Interiors – a gorgeous Melbourne based homewares, styling and art store with a huge following.
Could you tell us a bit about your background and the path that led to your current artistic endeavours?
I grew up on a farm in Western Victoria with my parents and four younger brothers.  I feel like creativity runs in our blood – Mum and Dad taught us that if you think about something for long enough you'll eventually work out how to make it, paint it, re-purpose it, grow it or cook it – it's just how we did life!  I remember as a kid helping myself to some paint and an old canvas one day and creating a masterpiece on the back verandah; the sun was streaming in and the air was warm and smelt of sprint – total bliss!  Maybe it was the moment I became hooked because art and design has held a special place in my heart ever since.
These days I live in Melbourne with my husband Arty, and our three kids; Ryan, Bella and Jesse. After taking a break from painting during some rather busy and adventurous years it feels good to be back painting again.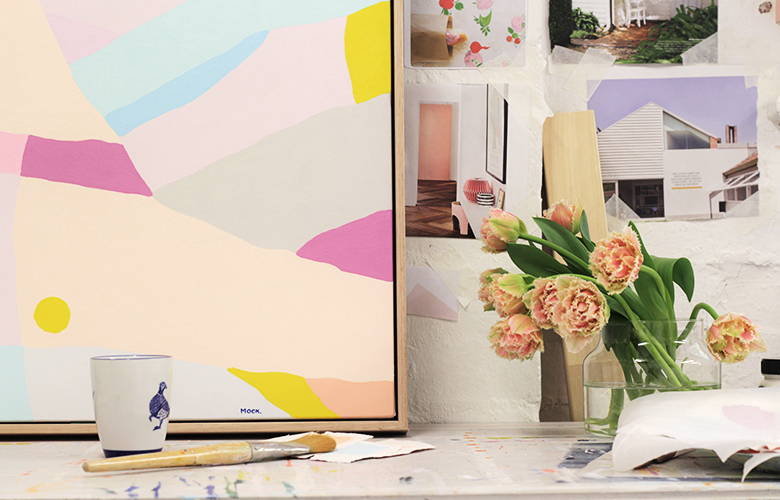 What inspires you to create your art?
I love the idea that we can create spaces and artworks that effect the way we feel, like when you walk into a room or a gallery and see a piece of art that instantly makes your soul start smiling, like something starts dancing…I'm always chasing that feeling!  It's like a silent language going on between the eyes and the heart – I find this so inspiring.  It's my ultimate goal to create art that speaks a beautiful language.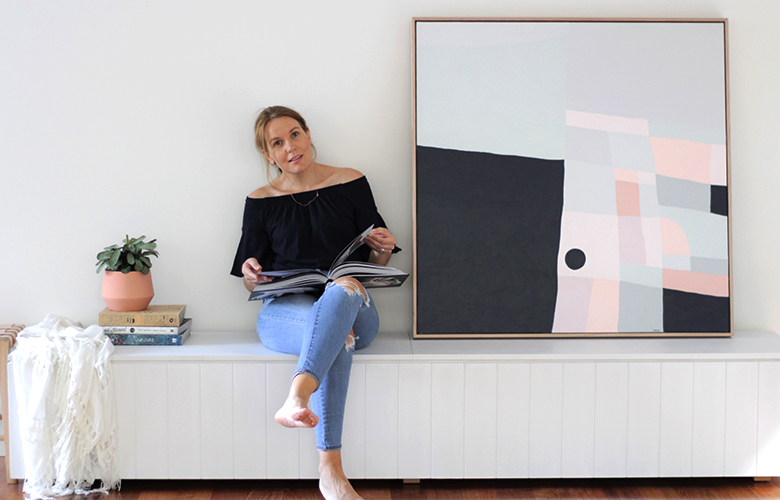 Where would we be likely to see your artwork?
You can see my artwork on Instagram and also instore at Norsu Interiors.
Can you tell us one of your favourite artists?
Well, there are a lot of favourites but Kirra Jamison would have to be at the top of my list.  I adore her colour palettes and love how her artworks are clean, balanced, striking and calm all at the same time.  Owning a piece of her art would be my ultimate dream.
Describe your dream home and location.
It would be a house with white walls and huge windows nestled in the mountains somewhere, with endless views of lush green foliage outside and beautiful art inside.  I'm totally on the minimalistic bandwagon, dreaming of a simple, uncluttered life surrounded by fresh air, family and a curated collection of things that make my heart dance.  Too good to be true?  Maybe!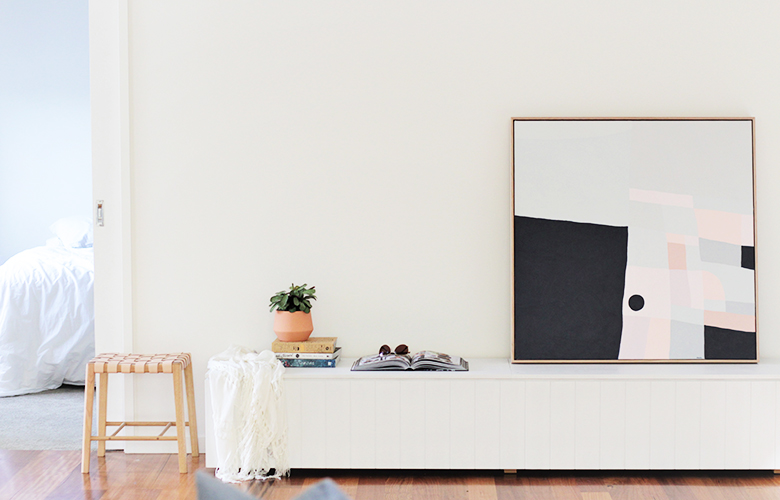 Do you have artwork displayed in your home? What kind?
Two of my absolute favourite pieces are a graphite drawing of a lime by artist Bambi Johnson and a print of a girl reading by Stephen Baker.  They both inspire me and warm my heart daily; home wouldn't feel like home without these artworks, they are a part of the family.
Name one item in your home that you could not do without.
It's gotta be the coffee plunger: that strong black coffee first thing in the morning is a must!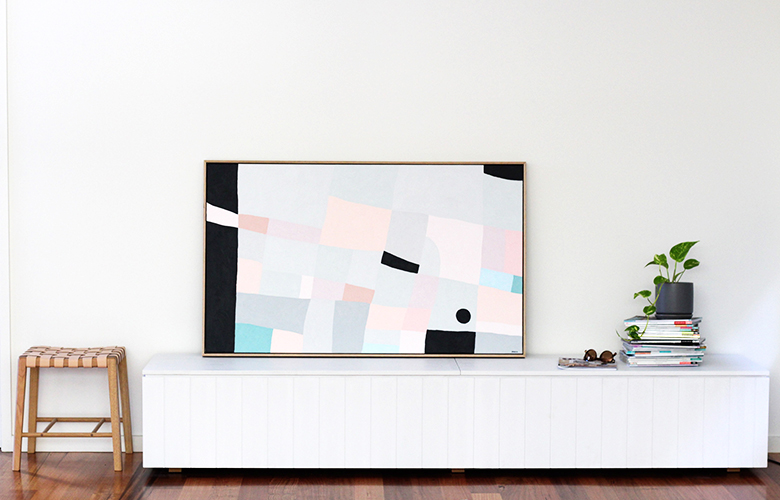 When you're not creating masterpieces, where would we find you?
Well, we have this little weekend reno on the go in the beautiful township of Warburton.  It's a tiny, humble little place but I've fallen hard for it and am now seriously attached!  It brings me so much joy it's ridiculous.  It's going to take us a while to finish this baby but I think the fun is in creating so I'm ok with that.