In 2013, Kyal and I travelled around South America.  We travelled up the coast from Peru, through Ecuador and Colombia, sailing through San Blas Islands to Panama.  I remember being in awe of the beauty and diversity of the coastline, but the other thing that really struck me was the amount of plastic washed up on the beaches.  I felt overwhelmed by the amount of waste, and I remember thinking, as an individual, where do you start?!  I'm not quite sure when I first heard about Take 3, but standing on the beach in Panama, I remembered their simple message to 'Take 3 pieces of rubbish with you when you leave the beach'.  What a great way to empower people to start thinking responsibly about pollution.  Mandy Marechal is co-founder of Take 3 and a local surfer who shreds!  Interviewing her, we were inspired by her passion to educate others on reducing global pollution and her positive energy is contagious.
Tell us a little about the background and the path that led to Take 3 being established?
Take 3 is an education program with a simple message : take 3 pieces of rubbish with you when you leave the beach, waterway, or anywhere and you've made a positive difference.  Take 3 formed because of the concern of three very passionate and ocean-loving individuals had in regard to the amount of plastic entering the world's ocean every day.
My personal epiphany happened when I went on a surf trip to Hawaii in 2009 with my family.  Everything about that trip conspired towards a new heightened awareness of plastic pollution in the ocean.  I was alarmed at how much our human-made debris is in the ocean.  I came home absolutely determined to do something about raising awareness, with the intention of getting other surfers on board.
I couldn't believe, that as a surfer, I had no idea how big the problem was!  8 million tonnes of new plastic enters the waterways every year!  It seemed only a handful of people knew about this startling issue.  I was convinced that if other surfers and ocean enthusiasts found out about this issue that they would feel as strongly as I do.
I took my concerns to a good friend, marine ecologist Roberta Dixon Valk, who had been working in marine conservation for the past 20 years and found out she had already been trying to raise awareness on this issue.  Through a process of discussion and elimination the term 'Take 3' was coined and we were away!  It was good for surfers, youngsters, youth and busy people.
Not long after this, we met Tim Silverwood, an environmentalist who shared our vision and we were a team from the moment we met.  Take 3 screened as a 10 minute film at the Australian Surf Film Festival at Avoca Theatre where 150 surfers packed into a little cinema and watched us on the big screen spreading the message – it was a very exciting moment!
In 2011 we were awarded the Taronga Conservation Inaugural Green Grant and $50,000.  Unfortunately, it's these wildlife veterinarians like Libby Hall at Taronga Wildlife Clinic who see the real impacts of our careless dependence on single-use plastic items.  They are the people operating regularly on turtles, sea birds and all kinds of other marine life that have ingested or become entangled in plastic.  Taronga's support of our message has seen an ongoing relationship with Take 3 for the past 6 years.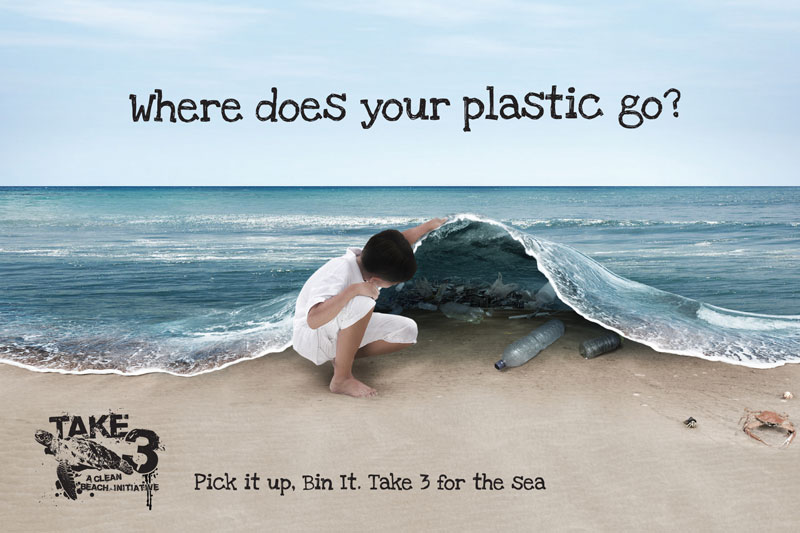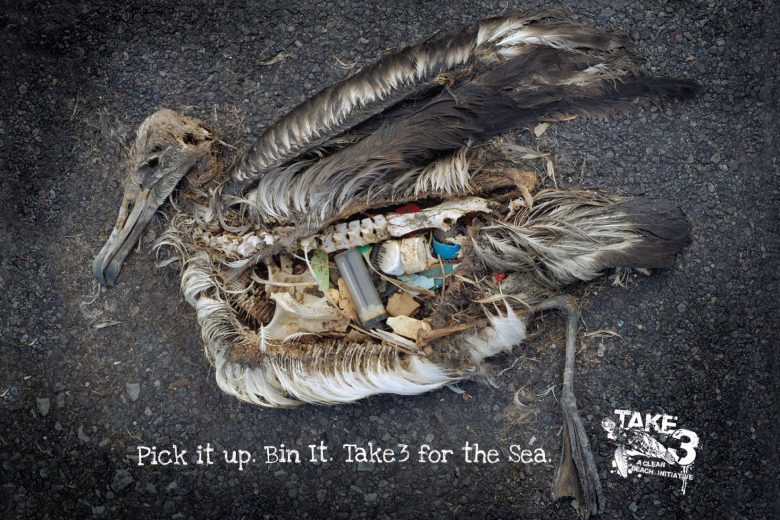 In one sentence, could you tell us what Take 3's mission is?
Our mission is to reduce global plastic pollution through education and participation.
How is Take 3 working toward that goal?
Through our school and surf club programs and social media.
Our direct education programs have engaged over 150,000 school students nationally, and 100,000 community and surf club members with the aim of helping to drastically reduce plastic pollution on campus or in the local community.
Social media has also played a huge part inn reaching out to start the conversation in reducing our single-use plastic footprint.
Take 3 delivers awareness through a range of communication platforms.  We have a committed digital audience of over 700,000+ social media followers (at July 2017) and 2,500 unique web visitors each month are committed to adopting simple measures to reduce waste and plastic pollution.
I started to focus on schools and preschools as children could see that this is an issue with a simple solution.  Stop the rubbish getting there in the first place. …the conversation had started!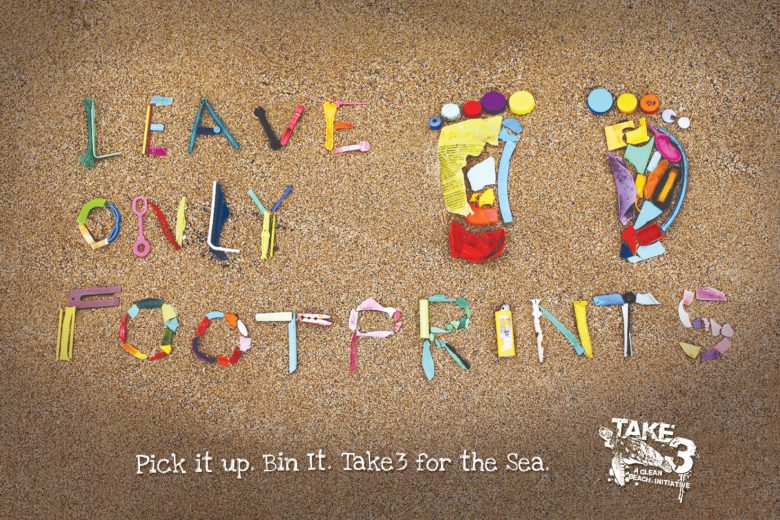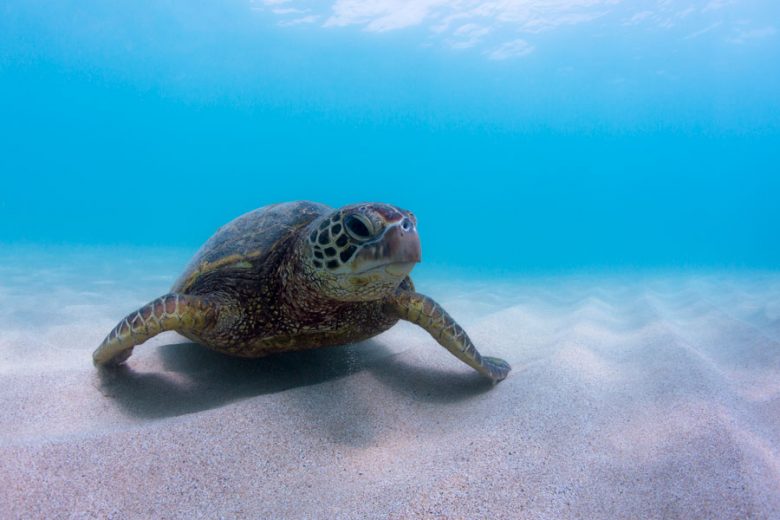 How can we get involved?
Visit our website at www.take3.org, and follow us on social media – Facebook and Instagram.  We have a high quality feed with some amazing images from our photo ambassadors, along with information and updates.
Take 3 pieces of rubbish (or more!) when you leave a place that you have enjoyed.  There is something very satisfying about giving back to a place you have enjoyed.
Go one step further and be part of our 'Pick It Up, Snap It, Share' campaign: photograph any mini clean-ups you do, hashtag #take3forthesea #location #how long it took.  This information is being collected to capture valuable data about litter.
Tell three (or  more) people about Take 3.  Start the conversation, learn more about the issue, but most importantly, look at your own single-use plastic footprint.
Reduce, refuse, reuse the amount of disposable coffee cups, plastic straws, packaged goods, cling wrap, plastic bags, plastic water bottles.  Together we can all make a difference!
Could you please tell us the top three ways to reduce single-use plastic. 
Bring your own coffee cup.  Stop using disposables!  Chat with your local barista about getting on board with 'Responsible Cafe' programs and rewarding patrons who bring their own coffee cup with a discount.
Refuse plastic bags.  Bring your own shopping bags.  Support the bag ban when it comes in and acknowledge businesses that are trying to be progressive.
Bring your own water bottle.  We have some of the best drinking water in the world and it's free!
Refuse plastic straws.  Tell the cafe or bar why you don't want a plastic straw or plastic cutlery.  The more people who make this normal, the better!  If you need a straw, encourage your local hangouts to use paper or only give a straw if requested.
Wait…that's four….I could keep going!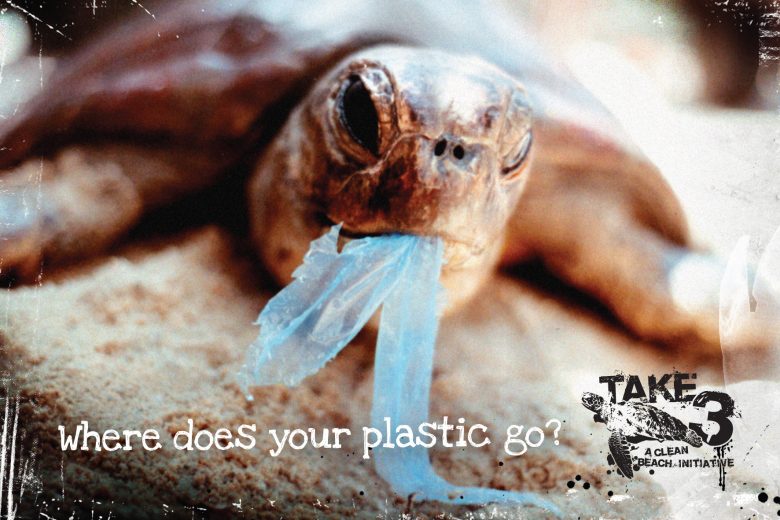 Tell us what sort of difference the project has made so far…
I'll start on the home front.  We have parents constantly telling us how their child or children remind them to take their reusable shopping bags.  Or their children are constantly picking up rubbish wherever they go!
We have an international social media following and have been published in international publications.  In 2016, fellow co-founder Tim Silverwood was invited to moderate at the 'Our Oceans Conference' in Washington DC on the world stage in front of Obama and 400 Heads of State.
Globally there are politicians, scientists, teachers, business community, government bodies and other organisations are recognising that our simple message is effectively addressing a complex and critical global issue.  There is a noticeable shift in the minds, largely due to the speed of information and the greater opportunities to collaborate.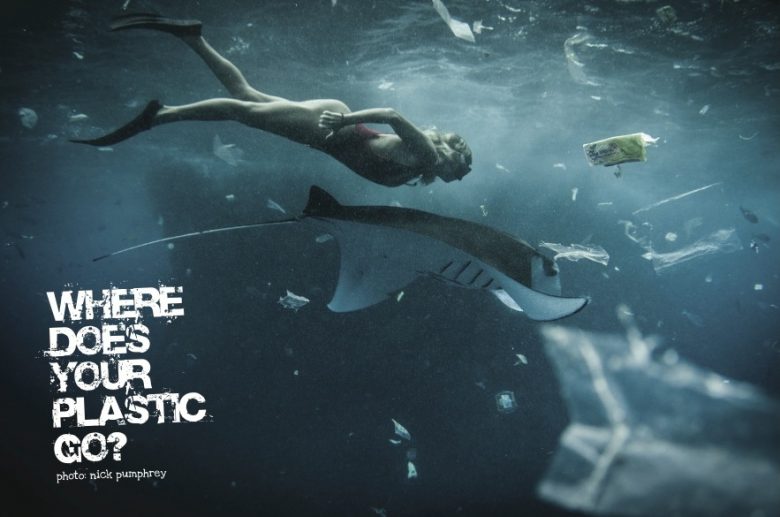 Share with us who one of your mentors is…
There's more than one, but it all starts at home – my parents, Jill and Ron Stain, were a big influence.  The composting, reusable bags and the 'emu' pick ups every time we went for a picnic somewhere – it gets in your head!  My good friend and marine ecologist, Roberta Dixon Valk has been an incredible mentor on the everyday things in 'busy mum world' – she just makes it so easy. It's about finding a solution and getting into a habit.
What inspires you to continue the program?
The emails we get everyday.  The contributions we get through social media from the everyday person wanting to make a difference.  Two girls from the USA – just 14 and 15 years of age – sell bath bombs and give Take 3 the money as a donation!  We had a recent email from a uni student pledging to cut off her mermaid long blonde hair in a fundraiser for us because she wants to make a difference; I have tears in my eyes at the actions people are taking to help us out.  It keeps the wind in your sails.
We hear you're soon to release a new App – could you tell us a little about that?
We have collaborated with Macquarie University on technology to create a litter recognition software to capture data from micro clean-ups.  It take away the onerous task of sorting out litter types in litter audits.  We are looking for a sponsor or funding to make this a reality.
Why is it so important to collect this data?
It is important to identify the most common types of litter so we can stop it at the source.  Without this evidence you are not going to get anywhere.  This type of data can be used by scientists, lobbyists, change makers and progressive companies for more sustainable outcomes.  There is an increasing demand for circular economies because of the evidence that is being presented.