Take one look through the Soul of Gerringong website and you can't help but find yourself daydreaming of a holiday in this stunning location. A newly opened holiday destination on the South Coast of NSW, Soul is an old farmhouse and homestead that has been meticulously renovated by the extremely talented Simone and her family. Years ago, Simone and I studied together at ISCD, and we instantly connected over our Coastal approach to styling. I'm in awe of what she's created and can't wait to check myself in! Book me in Simone!
You have gorgeous new holiday accommodation on the South Coast of NSW; could you tell us about it?
Soul has been such an unplanned venture for us.  We were not looking for a property…we were down in Gerringong for a friend's 40th when we stumbled across what is now call Soul.  I phoned Ben and said 'I have found an old farmhouse and we are going to buy it!'.  Ben was like 'yeah, ok' and never thought much of it.  We didn't even realise the house was on the market.  Fast forward 2 years and we are about to open Soul in a matter of weeks!
The vision for Soul was that we seemed to get quite a following for the houses that we kept renovating and selling, and we thought wouldn't it be great to actually keep a house and share it with everyone.  Living south of Sydney in Cronulla, we often made a quick 'rejuv' trip to Byron and thought wouldn't it be great if there was something just over an hour's drive south from Sydney that you could escape to; this is where Soul came from!  We have been influenced by the amazing holiday properties in Byron but we have created Soul to suit the South Coast lifestyle.  Think coastal to suit the coastal town, with a classic feel to pay homage to the original farmhouse, as well as our own unique style.  We want guests to instantly feel like they have arrived at their home-away-from-home.
Could you tell us a bit about your background – what is the path that led you to what you are doing today?
My career started in real estate and then I moved into the building industry as a marketing manager.  I always had an interest in houses from back when my parents were building a house – I just loved it all… I should have realised back then my calling was interior Design!  When I met Ben – who was a builder – it all fell into place organically.  It started by renovating our first unit, then our first house and so on.  The more children we had (we have 4 boys – yes! – 4 boys!) the clearer it was that I needed to leave my employment and work in the construction business.  First of all it was behind the scenes in an admin capacity and then it evolved into the interior design for our business, BAM Constructions.  Ben was my biggest supporter who gave me the birthday present of a  day course at ISCD; this is when I knew I had finally found what felt natural to me career-wise.  As they say, if you do what you love then you will never work a day in your life!
What does a typical day at work involve for you?
Wow, there is never a typical day in our world!  Work starts from the moment I wake up, checking email/texts/social media.  I wish I could switch off from technology but in this industry, it is such an important element – I have stumbled across amazing products, designers, etc on Instagram.  By the time my 4 boys are all ready to leave for school, it kind of feels like a whole days' work has already happened!!!  My first stop is to site, to check-in at Soul (a current project) to see the progress, what the plan of attack is, and any meetings with trades.  From there, it can be meetings with suppliers either locally or in Sydney, preparing for photo shoots or currently lots of meetings (need to stop having coffee meetings due to caffeine overload!) with some amazing businesses in Gerringong whom we are collaborating with, or who we can recommend to our guests.  Plus taking lots of phone calls and replying to booking enquiries for Soul …I love communicating with our guests so they can plan their stay.  I try to switch off from work when the boys finish school, but this is often not the case.  Working with your husband means dinner conversation turns to work..although we try hard not to.  Once the boys are off for the night, you will often find me busy replying to emails, preparing specs or searching the net for design inspo.
What can we expect from the Gerringong area?
Gerringong is a chilled out coastal town.  There are no traffic lights, no-one is in a rush and the coffee is great!  You can do as much or as little as you choose … spend your days at the beach or down at Boat Harbour; or if the coast isn't your thing there are beautiful wineries, amazing scenery and coastal walks.  The cafes and restaurants are awesome – using the local fresh produce – or head to Buena Vista Farm for one of their workshops.
Tell us the perfect way to spend a day at Soul of Gerringong.  
Wake up in the comfort of one of our Soul guests rooms; if you're an early riser, walk to the lookout to watch the sunrise.  Head to one of the great cafes for coffee and breakfast – The Quinoa Bowl at Quiet Coffee is my fave!  Put on your walking shoes walk the Kiama Coast Walk to take in the awesome scenery, and if you're lucky you will spot some dolphins and whales.  Arrive back at Soul for some chilled out time around the pool and arrange for an in-house massage.  If you're up for a spot of shopping head to the main street and you can pick yourself up an outfit.  Spend the late afternoon at the winery as you watch the sunset, and then head back to Soul where an in-house chef has dinner waiting for you.  Finish off the evening with a wine in front of the stone fireplace.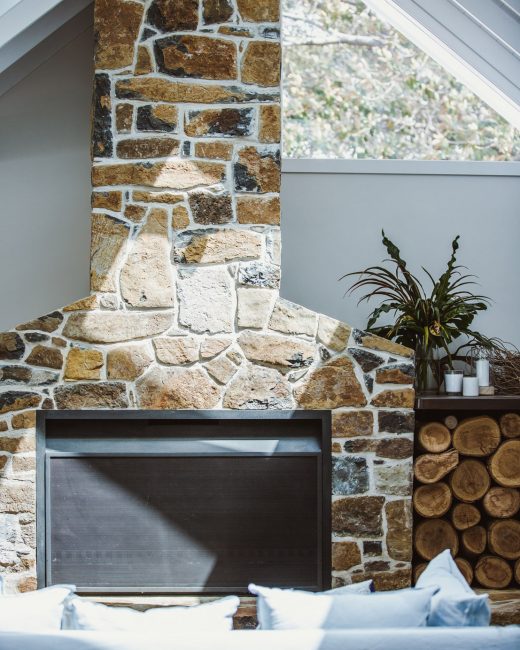 What and who has inspired you while creating these beautiful spaces?
I have been inspired by our own travel experiences; in particular Byron Bay and Bali.  I love how they have been designed with lifestyle in mind – spaces that are not too precious, you can walk in with sand between your toes and stay in style.  As far as people and places who inspire me there are a few – Kye from The Grove Byron Bay, Taliah from Byron Beach Abodes; The Atlantic in Byron Bay, I love Alanna Smit Designs style and I am very much inspired by Lisa Messenger!
When designing a room, what is the most important factor to you?
The way a space makes you feel…when you're in a room and it just makes you smile and you don't want to leave…  I want the space to evolve, nothing too on trend… a space that can grown over the years.
What advice would you give to someone wanting to add a personal touch to their own home?
If you love it, do it!  Don't follow trends, inject your own personality into your home.  I often ask myself or my clients what makes you feel relaxed, or smile – it could be the sound of walking on a gravel driveway, the sound of the ocean, or something picked up from a recent holiday.
Describe to us your perfect holiday…
Definitely a beach holiday!  Arriving at our accommodation and it being even more than I expected (I often have holiday anxiety as I arrive).  Spending days at the beach and poolside, massages and facials with a touch of yoga and exercise, followed by balmy afternoons sipping on cocktails as the sunsets.  Going to dinner with salty hair and enjoying fresh produce and locally caught seafood.  I would LOVE to have no contact with the outside world – no emails, no phone calls or texts, no social media – even for 24 hours.  Now that would be perfection! Actually – I just realised my perfect holiday is what we have created at Soul….might need to book myself in!  LOL.