We love our local community around Toowoon Bay and Long Jetty – it's become quite the hub of creative people doing great things!  Shakirra Rees is one such person.  After seeing Shakirra's work online, I met her at our local coffee hang, Flour & Co.  She is currently studying a Bachelor of Fashion Design and it's evident that this is influencing her textile art and illustration work.  I can see Shakirra's pieces as an edgy addition to any beautiful home with a neutral colour palette – she's certainly one to watch!
Could you tell us a bit about your background and the path that led to your current artistic endeavours?
Hello! My name is Shakirra Rees, and I am an aspiring Artist and Designer from the Central Coast. I am currently studying a Bachelor of Fashion Design.  I have aways been artistically inclined since primary, throughout high school and to this present day.  Developing from my book designs, studying textiles in high school, to then creating my first ever textile wall hanging series for my Higher School Certificate (HSC), which included my first ever hand-embroidered stitches. This has led me to my current artistic practice, which is textile art and fashion illustration.
What inspires you to create your art?
I am inspired mostly by the female form, irregular and unorthodox portraits and fashion design.  I also have a particular fixation on including imperfect lines and abstract shapes in my work to complement the central figure.
Where would we be likely to see your artwork?
You can find my works of art on Instagram and my website.  But I hope one day it will be hanging in break-taking designer homes!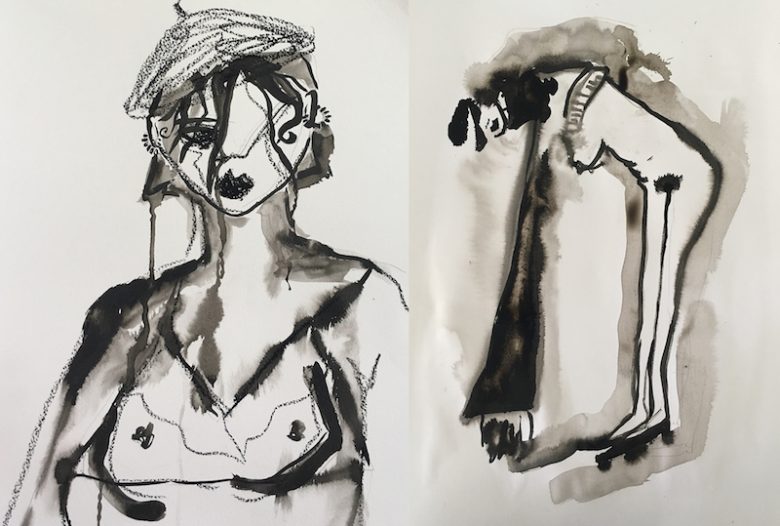 Can you tell us one of your favourite artists?
My number one favourite artist would be Del Kathryn Barton. I am most connected to Barton as her works inspired my first ever textile art series, which is how I began this creative journey.  But I also love artists such as Egon Schiele, Matisse, Rosie McGuinness, Amelie Hegardt, and Fipe Gouge-Merrall and many more.
Describe your dream home and location.
My dream location would be anywhere with an amazing view, open plan living with high ceilings.  Large doors and windows with a lot of natural light, and an interior of modern mid-century furniture. It would feel warm, cozy and inviting and have walls filled with my favourite art, shelves containing my favourite books and magazines full of inspiration, and many luscious house plants.
Do you have artwork displayed in your home? What kind?
I have my pink and red embroidered ladies in my bedroom – they were my first ever group exhibition.  Other than that I have sketches and inspiration taped to my studio wall….I should probably take time to create a work for myself.
Name one item in your home that you could not do without.
I probably couldn't do without my fiddle leaf plant that I received from my love. It's special – I hope it lives and grows to the ceiling!
When you're not creating masterpieces, where would we find you?
When I am not creating, you can probably find me in Sydney studying fashion design, spending all my coin at a vintage store or drinking coffee.