We first met Mark Tuckey in 2014 when he set the third week 'Block Challenge' for 'The Block: Fans vs Faves'. We had the absolute pleasure of spending the day at Mark's awesome Melbourne workshop. I loved it so much I told Mark I wanted a job there. We went on to win the challenge with our Industrial Style table – definitely a highlight from our time in Melbourne. We love the simplicity, strength and aesthetic of Mark Tuckey furniture – and the down-to-earth, friendly nature of Mark and Louella.
Your dedication to creating beautiful, sustainable furniture, and your commitment to quality and detail, resonates deeply with our own philosophy of craftsmanship. We think it is awesome that you use recycled and sustainably managed timber with each piece custom made at your workshop in Melbourne.
How did you originally get into furniture design and production?
My background includes a little experience working in some creative pursuits and a few years designing and producing my own range of men's clothing. After that I gained valuable experience as PA to the owner of a busy furniture business. I started Mark Tuckey because of a passion to design and make environmentally friendly and sustainable solid timber furniture. The very beginning was just me, my old F100 truck and a couple of hundred dollars.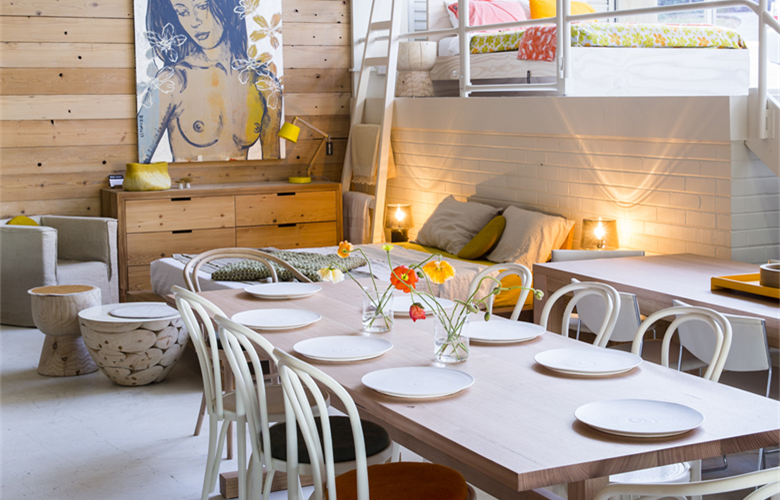 Where did your passion for creating such beautiful furniture come from?
The passion was and is always to be involved in a creative process that is environmentally friendly. The inspiration behind our design aesthetic stems from us making things we would have in our own home. It's minimal in its complexity, focused on quality, form and function. We love using solid timber.
How does your desire for sustainability affect your design and production process?
Our design process is about working with sustainable and recycled materials at hand, and of course designing things we LOVE. The inspiration for our designs used to be very much based on the materials at hand which were all timbers salvaged from demolition sites. These days it's bit of that and a basic design sensibility whereby we're inspired by a shape or form and we pare back that idea as much as we can to simplify both aesthetic and production.
What's one of your favourite pieces to design and make?
Tables. They are the core of our business and comprise our biggest turnover. Why? We think it's because Australians love to entertain – and doing it around a beautiful Mark Tuckey timber table makes it that extra bit special. It's usually a statement piece and focal point of the living/dining area. The dining table brings the family together and makes it feel like a home.
Can you give us a little insight into the inner workings of your business and creative process? How do you manage the day-to-day side of the business, while making all of your furniture and products in-house? 
It's always a juggle, and producing in Australia presents it's own set of challenges….
Our designs come from a sketch, which might turn into a tech drawing and then a prototype. Our team comprises over 45 people who have a passion for what we do. They help to keep the company true to its vision of hand crafting unique and original pieces of furniture for our customers. Lots of them have been working with us for many years and are more like family.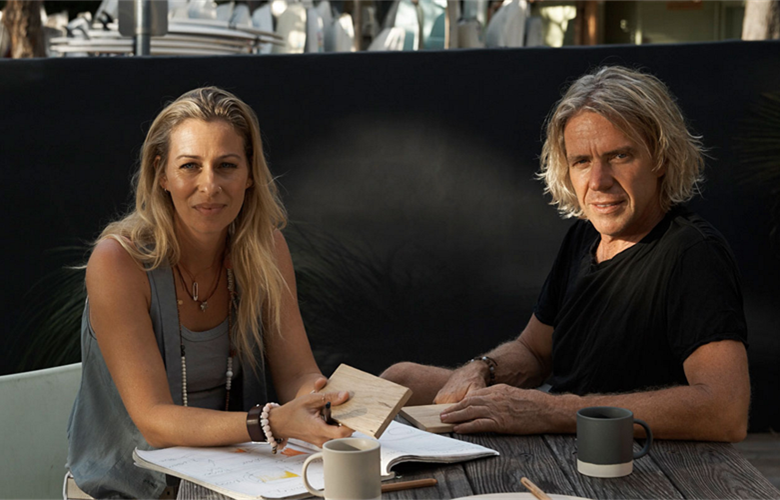 What does a typical day at work involve for you?
I get up, go downstairs and help our two girls get organised for school. I usually grab a coffee from one of our local cafes and catch up on any emails and phone calls that need sorting. Depending on where I am, I'll either be at Newport, Fitzroy or the workshop at Thornbury making sure things are running smoothly and orders are all on track. Other days I'm out sourcing timber in my truck with my dog Scribble, it's like an adventure every time – not knowing what I'm going to find and I do love getting my hands dirty.
Which other Australian designers, artists or creative people are you loving at the moment?
There are just so many great designers and artists in Australia. My list would be too long!
What has been your proudest career achievement to date?
Still being here after 25 years in the business! Running a business has a lot of challenges, in the early days learning to delegate was hard. Manufacturing in Australia is rare these days – some see it as a challenge, however we are passionate about the integrity of our product, maintaining a low foot print and supporting Australian business, so at the end of the day despite the challenges, it's an added bonus and makes what we do extremely rewarding and I don't think I would change a thing! Every challenge, mistake and success has gotten Mark Tuckey to where it is today.
What advice would you give someone when it comes to choosing the right piece of furniture for the home?
Buy what you love! We usually ask our customers what they are after, find a design they love, get a rough idea of the space they have, what timber and finish they like and then we make them their own unique and handcrafted piece. We can custom make if needed and our aim is always complete customer satisfaction. Our solid timber furniture is repairable and beautiful so it will last and be loved for generations, becoming part of the family.
Be sure to check out the Mark Tuckey Online Store for quality bespoke furniture and homewares.