Sandy tones, eucalypt greens and contrasting lines; these are a few of our favourite things! As a contemporary Indigenous artist, Lauren Freestone is inspired by stories of her father, great grandparents and the NSW Gumbaynggirr Country. Growing up in Scotts Head, the coastal bushland provided a solid foundation to inspire Lauren's native colour palette. Now based in Newcastle, NSW, Lauren has developed her style further to create custom pieces for clients, and gives back to a number of initiatives close to her heart including NAIDOC week celebrations and Indigenous Scholarships.
Can you tell us a bit about your background and the path that led to your current artistic endeavours?
I grew up in Scotts Head, a small coastal town on the Mid-North Coast of NSW, Gumbaynggirr Country. I moved to Newcastle around 12 years ago after living in Palm Cove and before that, Burleigh Heads. I was always creative, drawing and painting on things. I grew up watching my Dad create – he is also an artist so it was always something we did together.
What inspires you to create your art?
My upbringing was the beach and the bush so a lot of my inspiration is drawn from the natural world, but it's also important for me to keep my work connected to my family and our history. I love hearing stories of my great, great grandfather and grandmother and being around Dad and my Grandfather's art. I'm always busting to get back to paint after visiting my family's home at Scotts Head.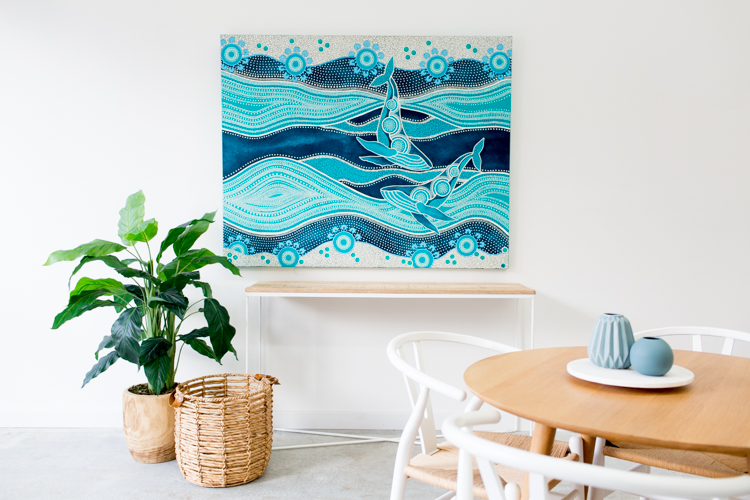 Where would be likely to see your artwork?
You can find all of my work on my website and Instagram.
Can you tell us one of your favourite artists?
I have too many! I love the work coming out of the Tjala Arts Centre in the top end of South Australia. The Ken Sisters Collaborative, I'd love one of their pieces!
Describe your dream home and location.
Location would be anywhere on the Mid-North Coast of NSW by the beach and the bush. Dream house would have a view and maybe a studio would be nice too!
Do you have artwork displayed in your home? What kind?
I have a piece of my Dad's work, it's a large Aboriginal artwork on canvas.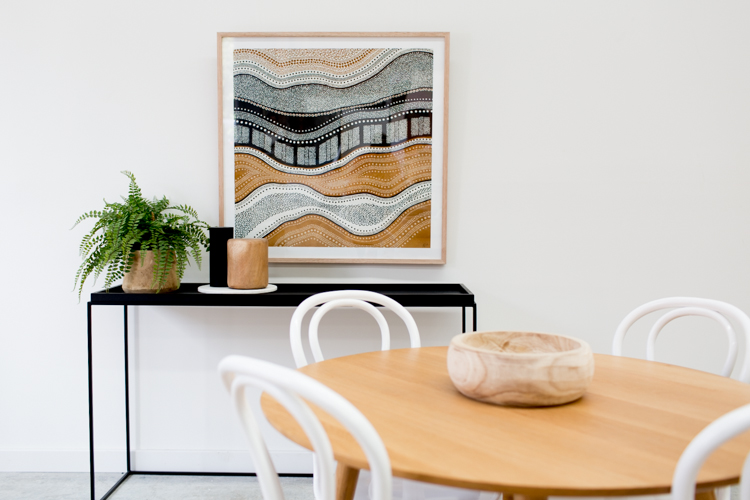 Name one item in your home that you could not do without.
Coffee, I just can't!
When you're not creating masterpieces, where would we find you?
I work as a Visual Merchandiser 3 days a week, but in my spare time I'm either at the beach or a local park with my family.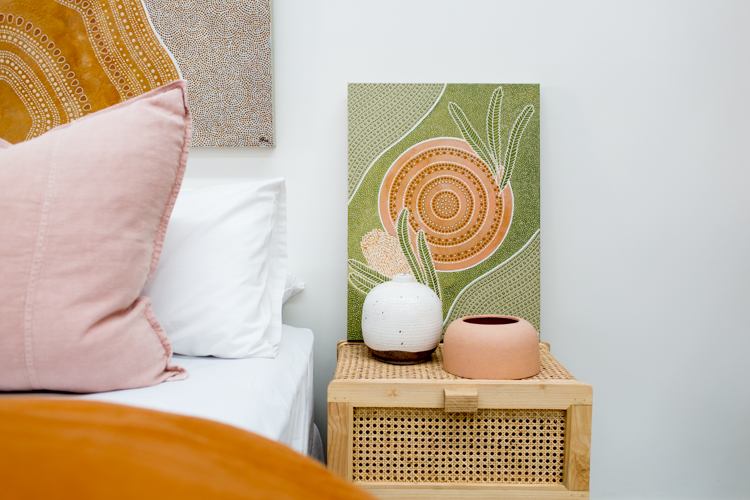 See more of Lauren's work here.