With everything that's happening in the world in 2020, it's no wonder that people are craving a sense of security and comfort within their homes. As Keti Lytras, Head of Creative at GlobeWest Furniture explains, it's the broader environment that shapes how people want to live and this ultimately funnels down into interior design. Here we chat to Keti about all things career, designing furniture for Australian homes and where she draws her inspiration.
Designing for one of Australia's leading suppliers of furniture sounds like a dream job. Are you able to share where your career started and where it's taken you?
I began working for a small Australian company designing homewares and fashion accessories while I was doing my first degree. I loved the process of designing, refining and making beautiful objects that you will have forever.
I then moved overseas and worked for an interior design company designing for exclusive contracts in the Mediterranean which was pretty wild! It encouraged me to study more and expand my skill set. I then returned to Australia.
In my first year after my 2nd degree I really wanted to get into buying so started work at a large department store, but after a while I missed the design process and needed a more creative environment, so I moved into trend forecasting for a fashion brand.
I then moved overseas again and freelanced for 2½ years as a trend forecaster before landing at GlobeWest.
I spent a long time trying to work out where home was and where was a good fit for me both to live and work. Probably because my family are from all over the place (Australia, Cyprus, UK) and growing up between them, I tried working in different places to be near them all.
Eventually, whilst working here I realised that home is where the heart is, and being drawn back to where I spent my formative years felt right.
What does a typical day at work look like for you? Has this changed since COVID-19?
It's changed quite a bit recently! As it has for everyone. Usually, it now starts with some morning rituals to get my head clear and ready to work from home.
I try and look at emails first thing and get them out of the way, and then a morning zoom meeting to say hi to the team and check in. It's been a transition working with our team remotely as we are very hands on – always looking at swatches and finishes together so it's been interesting creating ways to do this separately!
Throughout the day I have lots of meetings with the product team to discuss the range, decide on fabric additions, etc. and work with the design team to discuss ideas going forward,  and review specs and samples that are currently in work.
Where / what are you currently drawing inspiration from?
We are always aware of design trends, bit as we build each collection they have to be in line with who we are as a brand: beautiful, distinctive and timeless. I think understanding lifestyle trends is what allows us to progress and deliver inspiration.
For example right now in the COVID climate we are all craving a sense of security and comfort and that's not something that will change quickly so we need to build ranges that meet those needs.
We've been obsessed with curves for sometime – you may have seen a lot of ovular forms already in our collection and this response both from GlobeWest and the design industry more broadly came from an increased desire for human connection.
So, it's our broader environment that effects how we want to live and filters through into our homes and ultimately our interior design.
I know many people feel overwhelmed at the array of choices available today. Especially with the internet and social media so full of interior design inspiration. What would be your advice to someone looking to refine their style?
I think it's often easier to be sure of what we don't like, narrow it down that way and use the process of elimination.
A pinterest board is a great way to start because often you're subconsciously choosing things that you react to on an emotional level. After a while you'll notice that you keep choosing similar finishes or styles, whether that be in interiors of fashion too.
It's also important to be aware of the space you have to work with, and be true to that. What you love might not work with the architecture, the room size or with the finish of the floor unless you can change it up!
When embarking on a major renovation or fit-out, engage a design professional! It's a harder than it looks and so much more affordable than most realise. Designers and decorators can support you through colour, material, size and shape decisions whilst working within your budget. And you will save in time, hassles and mistakes.
What's been your favourite range to work on since we last spoke in 2018?
That's always a hard question, and it's usually whatever we are working on at the moment!  I've really enjoyed working our New Country theme and creating collections that will sit beautifully within it, like our Tully range. By the way, the Tully Bookcase looks amazing in your Blue Lagoon Build! What a house!
I also love working with new materials and the brown vein marble we are using in our Amara range has become a favourite – it's so beautiful!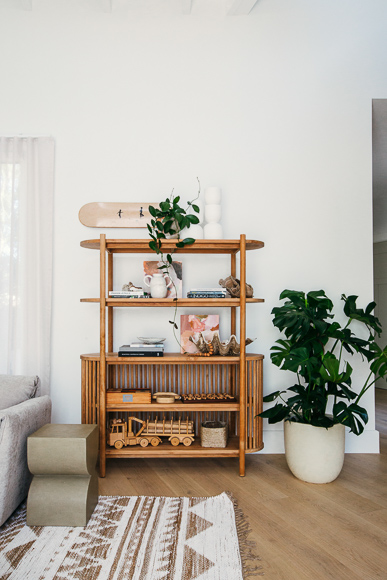 Could you tell us a bit about the GlobeWest 2020 Volume #02 Collection?
Our latest capsule has comfort, calm and positivity at its core and we hope people can see and feel that through its forms, textures, materials and finishes. These concepts have never had more significance than they do right now.
We have taken cues from country and coastal living to deliver a sense of retreat which is especially evident in the slouchy forms and pillowy silhouettes of the new sofa collections.
There's also a focus on artisan craftsmanship, hand-carved detail, and repurposed materials that meet a growing desire for authenticity and slower, more purposeful consumption.
Within your own home, what's your current favourite piece of furniture or décor?
My favourite piece at the moment is my Jagger buffet which sits in my living room. The storage is brilliant because the drawers are really deep and the natural timber feels really warm in the space.
It's a statement piece but doesn't overwhelm the room and I know it will sit beautifully in a bedroom too if I want to change things up.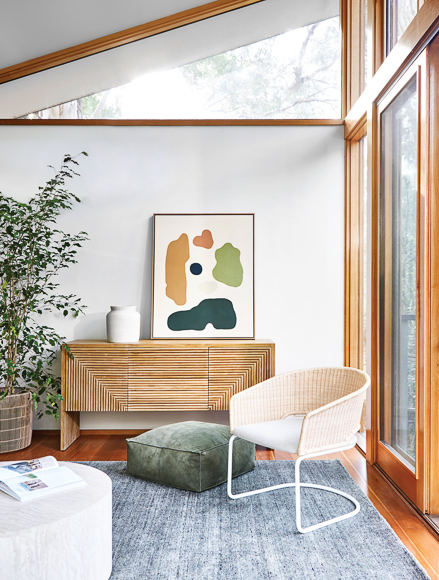 From the new collection, which piece(s) would you like in your own home and why?
Marley is a favourite of mine – it's a new range that reflects our New Country theme, combining contemporary and country elements that are honest, grounding and built to last. The Marley bedsides are built with the right amount of storage and features beautiful countrified panel detailing and quirky spherical feet – it would fit right at home at my place!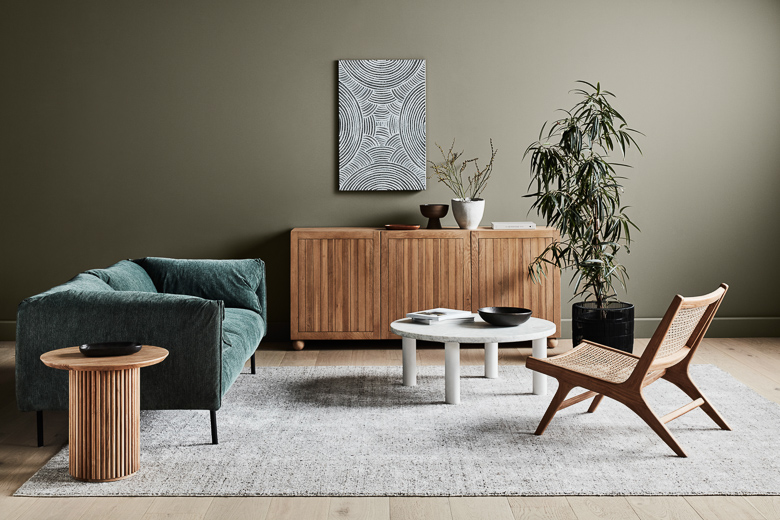 Our new Cove Sleek Sofa is another one I can see in my home. Comfort and relaxation are key with this piece and it's made in a beautiful linen that will age beautifully. I can imagine myself coming home after a long day and sinking into it's pillowy frame!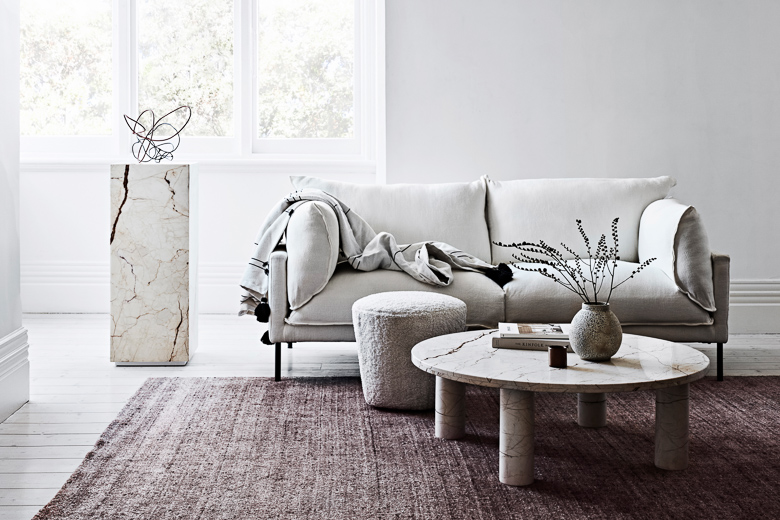 GlobeWest Collections 2020 Volume#02 is out now! Visit globewest.com.au 
For more inspiration from Keti, you can catch her interview for House of Style's Women in Design podcast via all good streaming services.