We stumbled across Jasmin's beautiful artwork on Instagram and were immediately drawn to the natural coastal aesthetic of her work. We love Jasmin's use of soft hues and feel that her love of the ocean is reflected in her work (no surprise as to why this appeals to us so much).
We currently have a beautiful interior styling job on the Coast with an amazing outlook to the sea. We needed a piece that would complement the view and Jasmin's work was perfect. Looking forward to sharing some shots of this artwork insitu. As always, we'll keep you posted.
Tell us a bit about your background and the path that led to your current artistic endeavors?
I've always been creative as far back as I can remember, always drawing or creating something, I've never wanted to do anything else. I studied art at university but found it too structured and computer based so I started painting and exhibiting in galleries around Australia and overseas.
What motivates you to create your art?
It's something I need to do. I just love creating art. I think artists see life through a creative lens so anything can trigger an idea and inspire you. I find I'm drawn to surface textures and patterns found in nature, more so than colour, and the play between different mediums and application techniques.
Where would we be likely to see your artwork?
I'm represented by art galleries throughout Australia, currently; South Yarra Arthouse – Melbourne, The Design Hunter – Sydney, Raw Art Gallery – Noosa, as well as my website and more recently Instagram
Can you tell us one of your favourite artists?
I love the work of Barcelona Artist Agusti Puig.
Describe your dream home and location.
My dream home would be as close to the ocean as possible, open plan minimalistic design with high ceilings, just a few pieces of worn ethnic furniture mixed with well designed contemporary pieces, large indoor planter pots and lots of room to paint – heaven!
Do you have artwork displayed in your home? What kind?
I have a few of my large-scale abstract paintings hanging, I love large scale art in a home. Also I have a few old maps and abstract prints I found in this little vintage book store in Florence Italy that I still need to have framed. Some of the paintings you see on Instagram were for my home but I always end up letting them go, so I'd still like to paint a few large-scale pieces to keep.
Name one item in your home that you could not do without.
Probably my old stereo, I love painting to good tunes.
You have an awesome dog, what's his name and is he a good studio companion?
His name is Chena, he's a ridiculously overgrown Alaskan Malamute. He's the best company, a little moody in the mornings but cracks me up daily. He weighs around 75kg so when he's over excited and running laps around the house you have to get out of his way or he'll take you out like a gridiron player!
When you're not creating masterpieces, where would we find you?
I paint almost every day but you could find me at the beach or travelling to an island somewhere. I'm a complete introvert so maybe a bookshop, plant nursery, or wandering around in nature.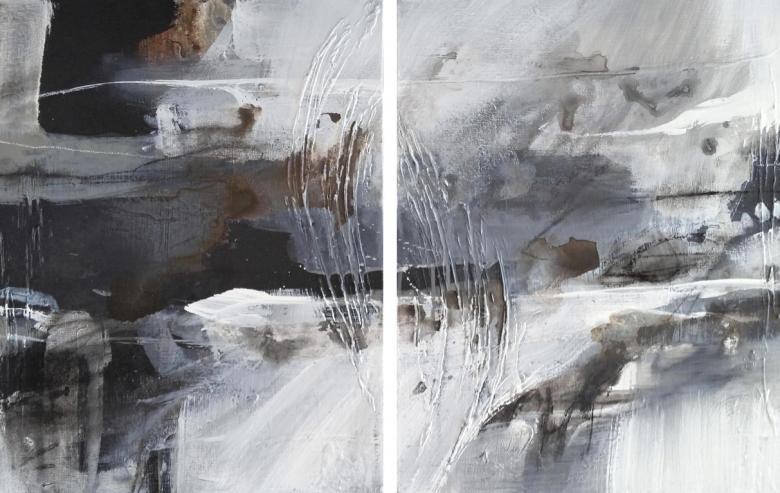 For more about Jasmin Zara and to view more of Jasmin's art, please visit her website andInstagram