Having spent the best part of my childhood in Newcastle, it will always hold a special place in my heart.  The gritty heritage, the juxtaposition of the ocean and the city scape – and the creativity that comes from the urban town.  Kristy is one such creative, and as a celebrated Newcastle artist her monochromatic 'industrial chic' artworks make a striking impression! Having experience in both interior design and property styling has given Kristy an eye for art placement, scale and flow; and as such she loves creating custom pieces with meaning for residential and commercial spaces.  HelloHOLT, we love your work!
Could you tell us a bit about your background and the path that led to your current artistic endeavours?
Even as a youngster, I was a favourite in art class….I can recall (waaaay) back in year 3 my teacher suggesting I go to art school, and being teased by my classmates who assumed my parents had completed an art assignment for me (which they hadn't!)  I just loved creating….
I had an opportunity to start a Fine Art degree at University once I finished school, but decided to let my practice naturally progress through experimentation, rather than work within the boundaries set by others (Teenage angst? Rebellion? Haha..) So instead of Uni, i chose the workforce…
As an adult I worked in various roles in the hospitality and retail industries, but would always seek out a creative niche…whether it was overhauling chalk boards, merchandising, or designing menus.  I love making things look their best, and thinking outside the square.  I always painted in my free time, enjoying success with art competitions and sales, but it was really a freak accident I had in 2009 that triggered the move into full-time art practice.  I figured I'd landed a second chance…and that I had to use the talent I'd been gifted with.
My repertoire has traditionally comprised large scale, mixed media works on canvas using a limited palette.  My passion remains with playing with paint and charcoal on canvas, creating movement with layers, texture, and exaggerated, impulsive lines.  Art surrounds us these days, so as much as I'd love to simply play in the studio each day, there is a business side to things – I want everyone to experience the joy that buying an artwork brings, so having a new collection of continuous line originals available at a lower price point goes some way to achieving that.
What inspires you to create your art?
As a creative, your sensory awareness is never turned off….so the answer to what inspires me is broad and ever changing:  I could say the work of other great artists before me, such as Picasso and Whiteley inspire me; I could say the female form if I am flicking through a high end fashion magazine; I could say nature if I've been for a stroll with Winfrey (our puppy) and found shapes in the cracks of the road or a building or even insects doing their little thing – creating movement and shadows.  Sometimes it can even be lyrics in a song that can inspire me.  It's endless really.  The world tops me up.
Where would we be likely to see your artwork?
I have a cute little studio/shopfront in a little Newcastle suburb called Mayfield.  I love it… The area has such a mixed history but is so progressive…. I guess it's similar to Redfern in some ways.  The population remains so eclectic, but young people are injecting their ideas into the once run-down spaces.  My artwork is also often on display in the Hunter Valley (wine country) and in Newcastle cafes.  And of course, in my online store and on my social pages.
I've been lucky enough to have sold artworks to buyers from Mount Tambourine in Queensland, to Mosman in Sydney.  For both people's homes and commercial spaces like vineyards and restaurants.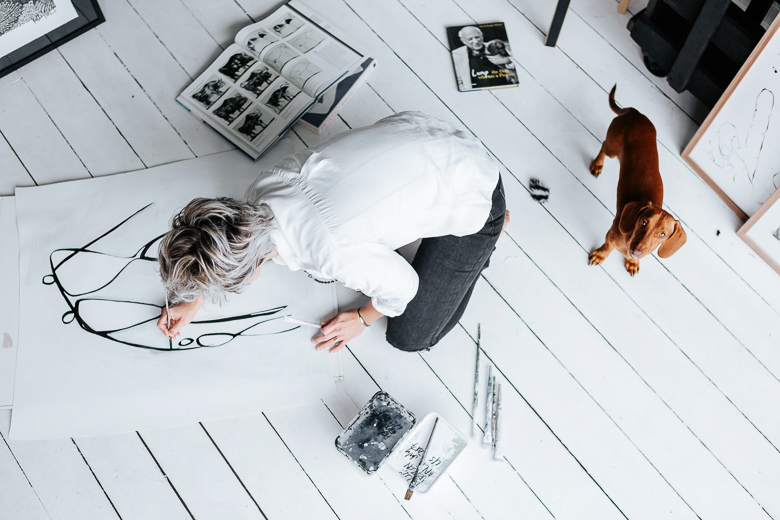 Can you tell us one of your favourite artists?
It has to be Bretty Whiteley.  A man totally connected to his talent, and immersed in his practice.  He was so eccentric… off the wall…. but remained so articulate and portrayed such a high level of intelligence.  I love how fluid his practice is, yet frenetic at the same time.
Describe your dream home and location
It would have to be an open plan warehouse conversion… Where I could play with scale and texture, and celebrate the original purpose of the space in some way (and have loads of space for a collection of artworks!)  As far as location… I always find a green view tops me up more than the ocean, despite living in a coastal city most of my life.  I guess Bangalow would be the dream!  Are there warehouses in Bangalow?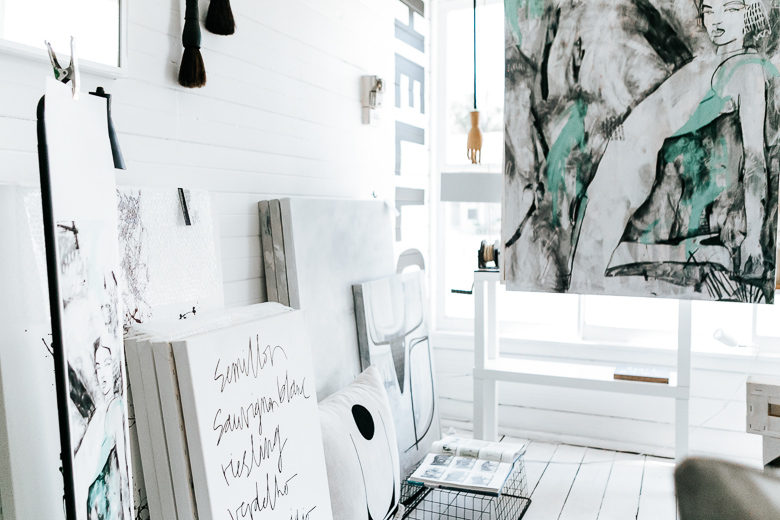 Do you have artwork displayed in your home? What kind?
I have quite a mixed collection in my home.  My first ever art 'treat' was an original piece by Brisbane artist Erin Flannery.  It's a limited palette female portrait that I fell in love with because it leaves so much to the imagination.  Some would say it looks unfinished, which is all part of the attraction for me.
I also try to make art purchases on my travels, so have a beautiful hanging rug from Uluru, an artwork from Melbourne based artist Sal Cooper, and a beautiful Victoria Aguirre shot from the "Highlands in the Hinterland" collection. Most of the artworks on display in my home are monochromatic… Which is my signature style with both creating artwork and in interior design.
My wife insists on my own works also being in our home, and claims her favourite pieces before they hit the online store!
Name one item in your homes that you could not do without
It sounds so lame but I would have to say my kettle!  I do love a good cup of tea as part of my morning ritual.
When you're not creating masterpieces, where would we find you?
My wife and I purchased a beautiful art deco building a couple of years ago and transformed it into a sharp hair and beauty collective and event space (with a cool food truck in the courtyard).  It's called Muster Point, and has so far launched some great young entrepreneurs.  When I'm not in my studio, we're usually either working in (or on!) Muster Point, or chilling at a breakfast cafe with our mini-dachshund puppy Winfrey.  We've just moved into the city of Newcastle in an effort to get a better work/life balance, so hopefully you'll find me at the beach or the harbour more often, soaking up some sun…and exhaling!
See more of Kristy's work here.