We've known Grant for years now – we first met out in the water as Grant is a local who shares a love for the ocean and good surf. As well as being an all round great guy, he's very well known on the Central Coast for his impressive surf cinematography. He now has a gallery at Forresters Beach on the Central Coast, which showcases both his underwater photography skills and his innate talent in putting ink to paper, canvas and timber.
Could you tell us a bit about your background and the path that led to your current artistic endeavours?
Growing up on the Central Coast in and around the surf, a love of the ocean came first. When my family wasn't at the beach I would find myself with pencil and paper, a readily available option to keep the mind amused. Basically I'm still that kid with those same loves and a camera.
You have quite a diverse portfolio, using multiple mediums and subject matter. Do you have a favourite?
Ink is the foundation. Black, even just a simple pen.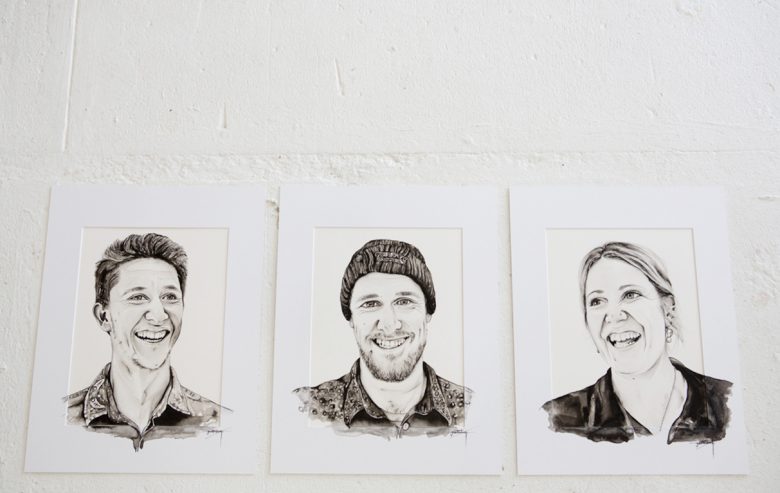 What inspires you to create your art?
The natural world is my biggest inspiration.
Where would we be likely to see your artwork?
My Archibald entry of Wayne 'Rabbit' Bartholomew painted in 100% beer got some attention but other then that you probably haven't.
Can you tell us one of your favourite artists?
Francis Bacon.
Describe your dream home and location.
Small, simple, open and light, off the grid at North Entrance.
Do you have artwork displayed in your home? What kind?
A few works from Cam Locklee, Adrian Turner and Nick Pont, then stacks of photos of my daughter Frankie.
Name one item in your home that you could not do without.
Custom made Cleave Japanese bodyboard.
When you're not creating masterpieces, where would we find you?
Hanging with Frankie or in the water.
For more about Grant and to view more of Grant's art visit www.grantmolony.com