Emma Gale's art makes my heart sing! It's vibrant, colourful and tells stories of a distant land. Emma has travelled the world, and her character-filled pieces seem to give a glimpse into her adventures, and the everyday people she's met along the way. If you're after art that sparks joy, these textural pieces are sure to deliver!
Could you tell us a bit about your background and the path that led to your current artistic endeavours?
All I wanted to do was be an artist and would dream of living a romantic bohemian life painting when I was a teenager.  I actually worked in graphic arts for a long time while I painted (I am self taught and don't have any degrees or diplomas) but I love the painting process because it is a landscape of layers of paint where I can be free and liberal; mess up and re-do.  I worship the mistakes and move on; let it speak for itself on the canvas: each painting is a story and a journey.
What inspires you to create your art?
I am inspired by cultures, colours and places.  All the amazing interested and 'off the beaten track' places in the world.  Travel is what I want lots more if… I try to take the viewer on a journey with my paintings; take them out of the ordinary.
Where would we be likely to see your artwork?
On my Instagram page and website, but my art and handmade ceramics are also in Nikau Storein Byron Bay – in store or on their Instagram.
Can you tell us one of your favourite artists?
Richard Lewer.
Describe your dream home and location
Somewhere old!  And rustic.  An old street in an old city.  I don't want to be isolated – I actually like the daily grind of a city – the colour, vibrancy, and people.  I fell in love with Barcelona Old Quarter, and adored Cairo where I lived for 2 years.  I really like being amongst that colourful chaos!  My ideal home is something with character, old and full of history where if the walls could speak, they would have stories to tell.
Do you have artwork displayed in your home? What kind?
I do have artwork that I have collected over many years.  I have vintage hairdresser signage art from West Africa which I adore!  I love masks, and have a collection of all different types from around the world.  I also have artefacts that I've collected during my travels – African jewellery and wooden musical instruments.
Name one item in your homes that you could not do without
My house is filled with indoor plants and greenery. I have a ginormous fig that reaches the ceiling! I also do love all the treasures I've collected – a home filled with living plants gives a home life. I also have a beautiful Burmese cat who is very special to me.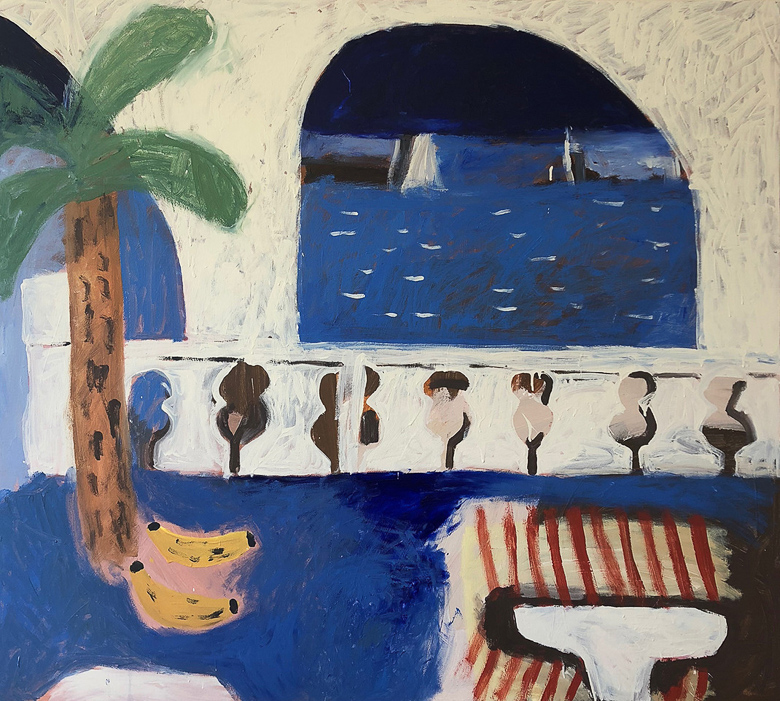 When you're not creating masterpieces, where would we find you?
Probably in an op shop somewhere or markets… I'm such a fossicker for old finds…or in the ocean… or reading!
See more of Emma's work here.