Bonnie Gray is a fun loving local artist based on the Central Coast of NSW.  We first came across Bonnie's work at a local art exhibition at Forresters Beach, where 20 artists banned together and presented work on skateboard decks.  Bonnie's work stood out from the crowd with its bright and playful feel – for us it evoked memories of balmy summer nights with colourful sorbets in hand. We've been hooked on following her artistic journey since. Mark our words, she's one to watch!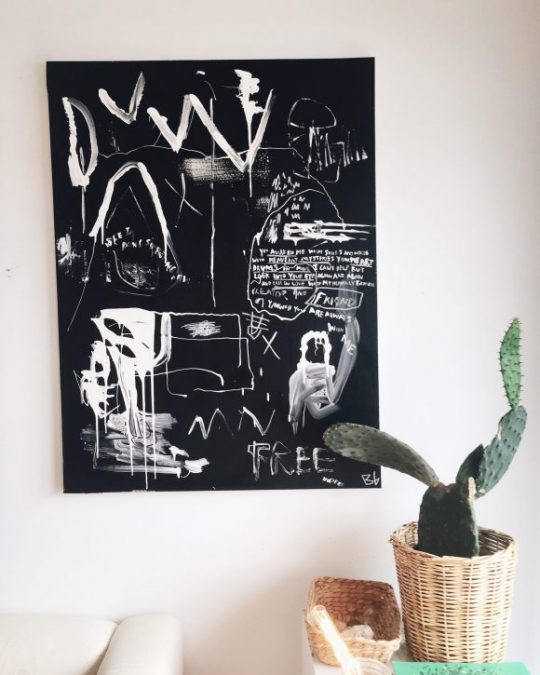 Could you tell us a bit about your background and the path that led to your current artistic endeavours?
I come from a little island near Melbourne called Phillip Island.  During school I had an undetected struggle with dyslexia.  Anyone who has a high level of dyslexia knows that concentrating, processing information and learning takes longer than usual.  My background seems to be one of educational pressures, but through these pressures I found creative outlets at school like dance, drama, music and art.  These subjects felt like a holiday for my brain and encouragement to the heart.
Sharing my art is quite a new venture for me, a journey I have been through the last four years whilst studying songwriting.  I was living in a little granny flat during this time in the northern beaches of Sydney where I didn't have a TV or sound system, and I found myself drawing, sketching and playing around with watercolours late at night to keep my sanity alive.  This little treetop home allowed time for me to dive right into painting and grow as an artist which as led into something I now share with others.  The adventure has been wild!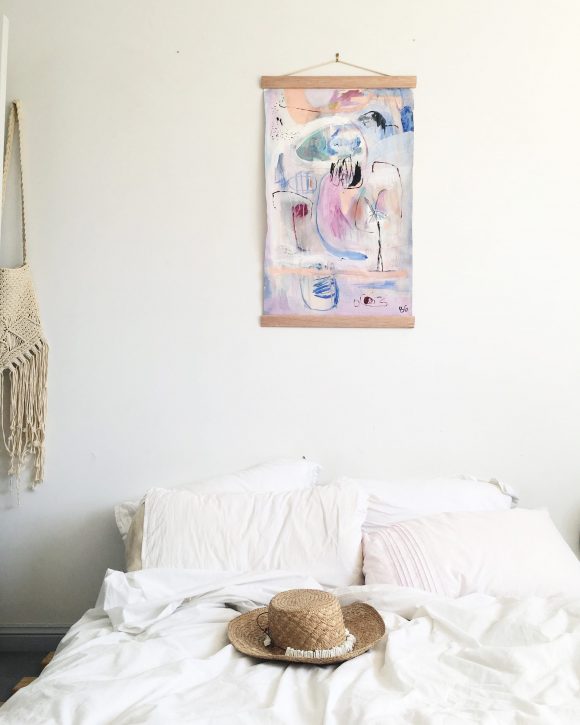 What inspires you to create your art?
Mountain-top views, people, music, 90's coloured t-shirts, ocean scuba diving, clouds, galaxy skies, tropical fruit salads, smoothies, summer and poems.  While painting I love to hide words that encourage and bring hope – it's like a 'Where's Wally?' moment for people.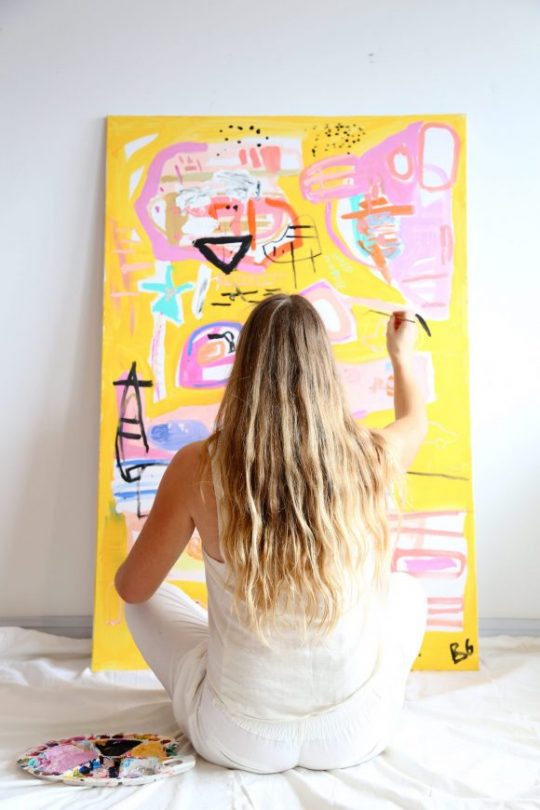 Where would we be likely to see your artwork?
Through instagram on @_bonniegray, and in Greenhouse Interiors.
Can you tell us one of your favourite artists? 
Jennifer Gauthier – her paintings are natural rain-kissed watercolour pieces.  Stunning!
Describe your dream home and location. 
My dream home would be in the cliffs of Sugiton, a blue lagoon in the south of France.  There is a tiny island I would love to live on that has a quaint bridge that reaches the main land.  The tropical dream!
Do you have artwork displayed in your home? What kind?
My walls consist of three different artists that inspire me : typography works by Stephen James Hart – a lover of words and lyrics; Georgina Skinner, 'Print – by George' – an adventurer in New Zealand who loves to capture beauty in outdoor surroundings, quaint tea drinking moments and families learning how to swim; and local Central Coast artist Nicole Berlach – a scientist of Australian nature who paints her discoveries.  I have one of Nicole's 'Seaweed of Australia' wall hangings.
In the lounge room I constantly rotate what I'm currently working on.  I like to have a piece in the room for three days before sending it away to clients, so I can see if anything needs to be added and make sure the colours look beautiful in the room.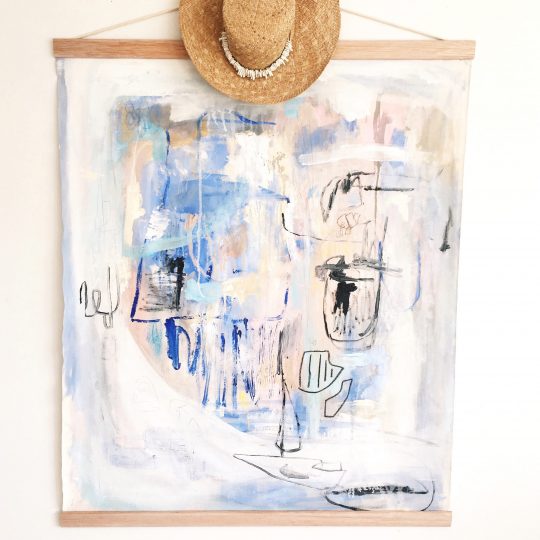 Name one item in your home that you could not do without.  
I couldn't live without my Maton guitar and yes, I have named him "STUD".  He is quite a handsome fellow.
When you're not creating masterpieces, where would we find you?
Most likely bike riding in Terrigal Beach with my basket full of sea prancing supplies and a freshly cut coconut.