Sydney-based artist Ashleigh Holmes' work embodies everything we love and look for when designing a home's interior.  Her (mostly) large scale work comprises of organic shapes, feminine silhouettes and natural landscapes; just the right vibe to complement a home with earthy tones and a relaxed feel – yes, it's our type of art down to a tee!
Could you tell us a bit about your background and the path that led you to your current artistic endeavours?
I gravitated towards anything creative when I was younger, I'd hang out for art class in school.  I think the passion for drawing and painting just grew stronger as I got older.  Once I had the vision in place for how I imagined my art would look and feel, I kept practising with that vision in mind until I felt content with my work.  Three generations of women before me, including my Mum, have had Artistic careers, so I feel grateful to be surrounded by their presence and knowledge.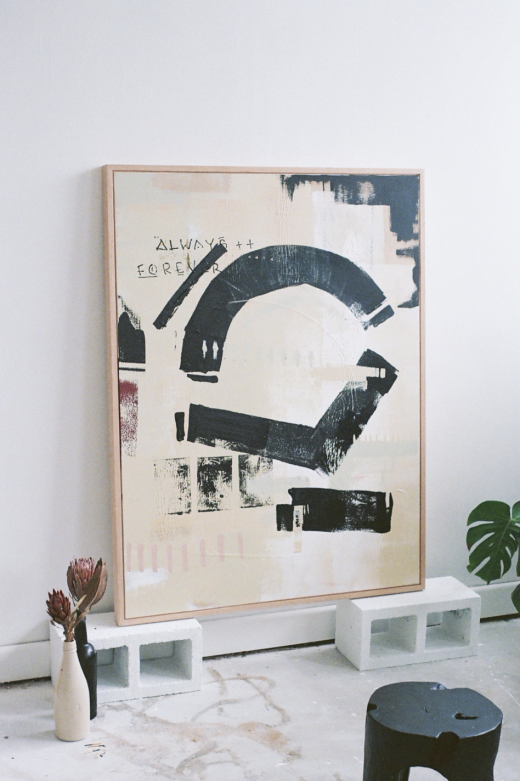 What inspires you to create your art?
Everything, really!  But I generally like creating concepts around the natural world like landscapes, oceanside, figures of people, organic shapes and poetic words.  My colour palette is usually neutral or pastel as I like softer, natural tones.  I also use music as part of my methodology as it helps trigger my creative response.
Where would we be likely to see your artwork?
Majority of my works have found their way to homes in either Sydney, Byron Bay or Melbourne, although you'll also find my works in houses in Perth and Denmark.  I have pieces on display in Smithmade, Balgowlah and Salty Avalon.  I'm currently working on a new collection that can be viewed in my studio in Sydney.  My work is also online.
Can you tell us one of your favourite artists?
Henri Matisse
Describe your dream home and location. 
Where do I start…. Somewhere on the water with a small jetty that has big windows and is filled with natural light…a fire place and a huge veggie garden!  I'm in love in the Fairlight-Manly area; however, I do have an urge to live in France…
Do you have artwork displayed in your home?  What kind? 
I have one piece at my house – one I can't let go of.  It's a large scale, watercolour cross acrylic paint.  I gifted it to my Mum so it will never leave the family.
Name one item in your home that you could not do without.  
Chemex Coffee Maker
When you're not creating masterpieces, where would we find you? 
Assisting on a photoshoot, sitting at a cafe with friends, going for a swim or sitting somewhere in Manly having a margi with my favourite bunch.
See more of Ashleigh's work here.