Anyone who is familiar with our style would know that we love natural, earthy textures and tones, and draw inspiration from our amazing Australian coastline. But when it comes to art, we love the injection of colour, vibrance and personality it can bring to an interior. Especially when that art is by intuitive Australian creatives like Annie Everingham. Annie uses a mixture of acrylic, ink and oil pastels to create dreamy scapes with beautiful colour and texture. Annie was completing a fashion and textile degree when she found her passion for abstract textures and prints, and is the perfect example of someone who has allowed her passion and skill to lead and direct her career.
Could you tell us a bit about your background and the path that led to your current artistic endeavours?
I studied fashion & textile design at Uni and had plans to try and break into the print design industry for fashion.  After finishing my degree and a couple of internships in that field, I began selling prints and some textile pieces at the local markets here in Newcastle, just to keep myself occupied creatively while I figured out my next steps.  With the help of my partner Chris, I took my business online shortly after that and also had my range picked up by a local homewares store.  The store were stocking some amazing artists and had a great following in the insta community.  After a challenging 18 months or so juggling a few jobs, my business had grown and I found myself in a position to consider working on it full time – so I jumped in!  It's been really hard at times and such a a steep learning curve but I'm really proud to be generating an income from my art and feel so lucky to be doing what I love while I can.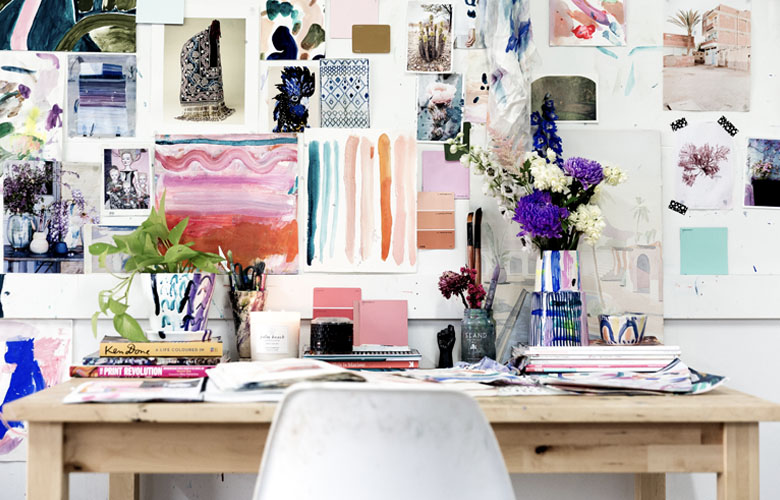 What inspires you to create your art?
I've always been obsessive about creating and completely glued into the visual world around me.  I was lucky to have parents (both school teachers) who really helped to foster our creativity from an early age, and I've pursued a creative path for as long as I can remember.  Flowers and the natural world, fashion, colour, pattern and photography as well as the interior design world are all sources of inspiration for me.  It feels intrinsic for me to be constantly consuming beautiful imagery and surrounding myself with interesting things to look at – and that drives my need to create.
Where would we be likely to see your artwork?
Fenton & Fenton in Melbourne, and Jumbled in Orange, NSW.
Can you tell us one of your favourite artists?
A few of my favourites at the moment are Stan Piechaczek, Idris Murphy and Adam Lee.
Describe your dream home and location.
I've just bought my first house in Newcastle and hope it will be our dream home once we renovate!  It's a 1930's Spanish Mission-style home with lots of arched windows, art deco ceilings, gorgeous light and a cactus garden out the front.  It has so much potential and we can't wait to make it into our forever home.
Do you have artwork displayed in your home? What kind?
Having recently purchased our first  home we're very much in the early days of starting our art collection.  I currently have a beautiful small scale floral still life by Amy Wright, an etching by my talented aunty who's also an artist, a limited edition print by Lisa Lapointe and an indigenous artwork gifted to me by my sister.  A painting by Jai Vasicek and Stan Piechaczek are both on my wishlist and will hopefully be our first big ticket purchases in the art department.  Obviously I love abstract work, lots of colour, and anything botanical!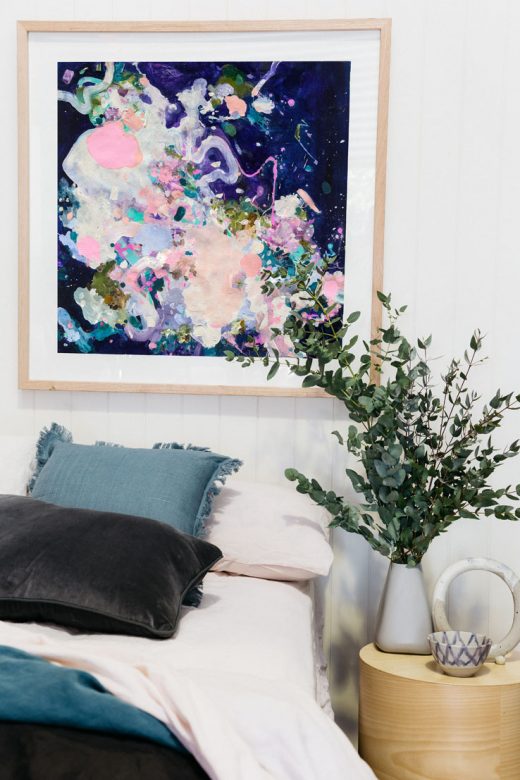 Name one item in your home that you could not do without.
A small gold antique carriage clock that's sitting on my mantle piece.  It's a very treasured possession I inherited from my grandfather, who restored and collected antique clocks for most of his life before he passed away.
When you're not creating masterpieces, where would we find you?
I love travelling and the ocean, so probably a beach anywhere…and I also love food, so wherever Newcastle's latest cafe has popped up – you'll find me there!