We've had so many questions over the past year about Ziya's favourite toys; what he loves, and how we store them (which we'll cover in a separate journal).  It's taken me a little while but I've put together a list that I hope will give other families with little ones some ideas, or inspire gifts for family and friends.  For me, it's been really important that I'm mindful not to fill our home with toys that (a) won't be used or (b) eventually end up as landfill.  Where possible we've tried to make sustainable choices.  I'd rather a couple of quality products that we can get plenty of use out of than have a bucket-load of toys that are played with a couple of times and then forgotten about – or break- the sort of hardwearing and quality toys that can be passed down from sibling to sibling, kept for friends or even passed on to the next generation!
Here are Ziya's top ten picks….
This was a combined family present for my baby shower with Ziya and it has honestly been the best toy at every stage of Ziya's development so far. When Ziya was a newborn, he loved laying on the floor and looking up at the different shapes.  When the time came, we encouraged supported sitting in front, whilst he reached for shapes and colours.  Eventually, supported sitting moved to independent sitting – and this would often be my saviour in keeping him entertained so I could get dressed/finish breakfast/do my hair – you know, all the luxuries you take for granted before you have a baby!
I've since seen a few different versions of these, and what I particularly like about this activity cube is how solid it is.  There is no denying Ziya is a bruiser; he learnt to stand and cruise around this and never once has it tipped over or even moved!  He's a bit older now, and it's definitely not his 'go to' toy anymore, but we'll often sit together and go through the numbers or shapes together.  It's also handy if you have younger kids come to visit – and I look forward to watching Vada hit milestones around this cleverly designed toy!
We can vouch that this dump truck is built tough!  Ziya has loved this truck from the moment he lay eyes on it.  When he was learning to crawl, he'd kneel behind it and scoot along the ground…now he loads it up and zooms it around the house.  We've also had fun sitting him in it and pushing him back and forth between us.  We ordered the extra large wooden log truck at the same time, and now that the crane arm makes a bit more sense to him he's become more interested in this one, so in hindsight the log truck could have waited till he was older.
The good ol' fashioned blocks really are a winner!  We've had hours of entertainment (and still do) stacking them up together and then laughing as Ziya knocks them all over again!  It's also been really lovely watching his motor skills develop as he becomes more skilled in stacking higher, or pulling blocks out as if we're playing Jenga.  This particular set of blocks come in a few different shapes and sizes, so we've been able to begin teaching Ziya about circles versus squares and rectangles etc.
4. Scooter
We bought this scooter from a local bike shop – the brand is 'TORKER'.  Admittedly, Ziya has taken a liking to the scooter unlike any other kid his age I've seen.  He is a little daredevil and surprisingly very coordinated!  The scooter has been great for those mornings (and afternoons) where I just need to get him out of the house and burning some energy.
5. Colouring-in Station
Setting up this little 'colouring-in station' has  been such a great way to keep Ziya entertained. He'll often come in and just start colouring independently, or ask me to come and draw with him.  I bought the paper roll and holder from Ikea and the wooden pencils are from David Jones.
These books are black and white – but once placed in water, turn colourful!  We read them most nights in the bath and it's been a great way for Ziya to learn about his water animals.  The submarine, sea plane and tug boat are from 'Green Toys' and I love these as they've provided hours of entertainment both in the bath and outside in the sandpit.  A great thing about Green Toys is that they are produced using recycled plastic – primarily milk jugs – and use food-safe, mineral-based colours.  They are also packaged in 100% recycled cardboard – I love a forward thinking company who are committed to doing the right thing for the environment.
Ziya is car (and truck, digger, fire engine, train, helicopter, plane..!) mad.  Anything that has wheels, an engine or propellers fascinates him.  This is the IVI Interactive Play Rug – Mini City Large, from Urban Baby Shop which we've had out on our covered deck for almost a year now! He'll happily sit there and drive cars along the road, line his trucks up or fly his planes over.  I have to say, his road knowledge is a bit sketchy – lucky he won't be driving for many years to come! 😉 When we first lay out the rug, it was more about him finding a comfy place to sit and play, so it's been nice watching him discover the little road tracks and begin to get creative with his play.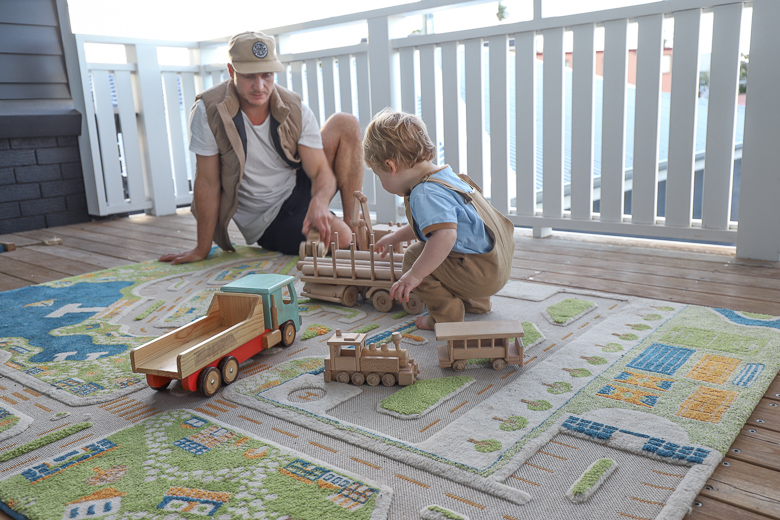 8. Train Set
To say we were excited to give this train set to Ziya was an understatement… He's absolutely loved playing with this since the moment he saw it!  We keep the train set in a jute basket that we pack away at the end of each night.  I'd say on average, 5 out of every 7 days he'll carry the basket out of his room and set it up on the lounge room coffee table. I mention this because I feel linking the tracks together and creating different configurations is most of the fun for him. Once it's set up, we'll leave it on the coffee table for the rest of the day, and it's something he usually comes back to for short amounts of play throughout the day.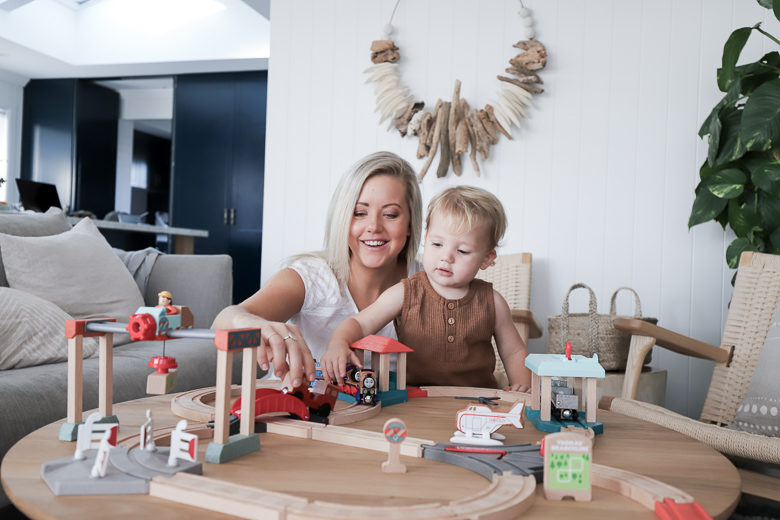 As loud and annoying as percussion toys can be, it's pretty darn cute watching Ziya make some noise. Especially when you catch him singing his own little jingle that seems to be a mash up of Twinkle Twinkle and Bruno Mars 24K Magic! These toys are from Baby Noise and are great for creative play as well as doubling as beautiful wooden decor display items.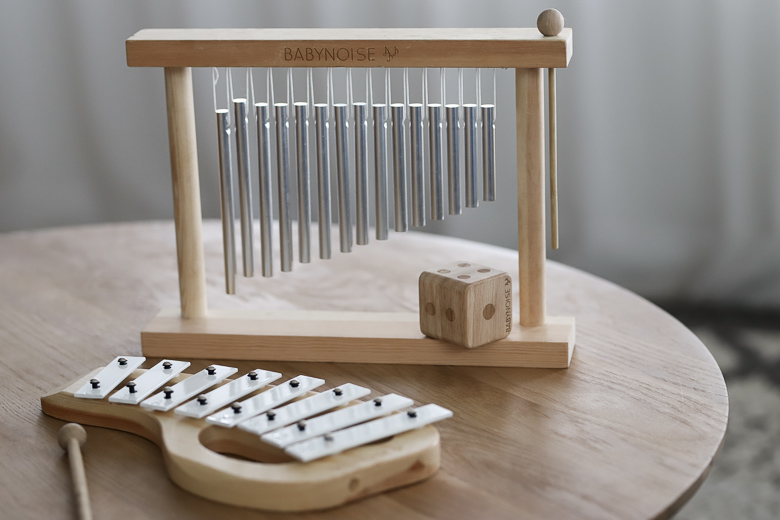 How many times have you seen a baby open up a present and they're more interested in the wrapping paper or box than the actual gift?! These Emy Meets Lulu play houses are genius!  We set one of these up for Ziya's first birthday and it's been absolute gold!  Your imagination really is the limit when decorating these cubby houses – admittedly, ours isn't very exciting – but it hasn't changed the fact that Z (and his friends) have loved playing in it.  We've kept ours on the upstairs deck and we've had a few strong coastal winds come and blow it right off the deck so it's definitely seen better days, but it was a great indoor cubby house before the 'real deal' cubby was built outside (Reveal coming soon!) These houses are designed with solid cardboard, come flat-packed (so can be stored flat) and are fully recyclable and biodegradable when the time comes.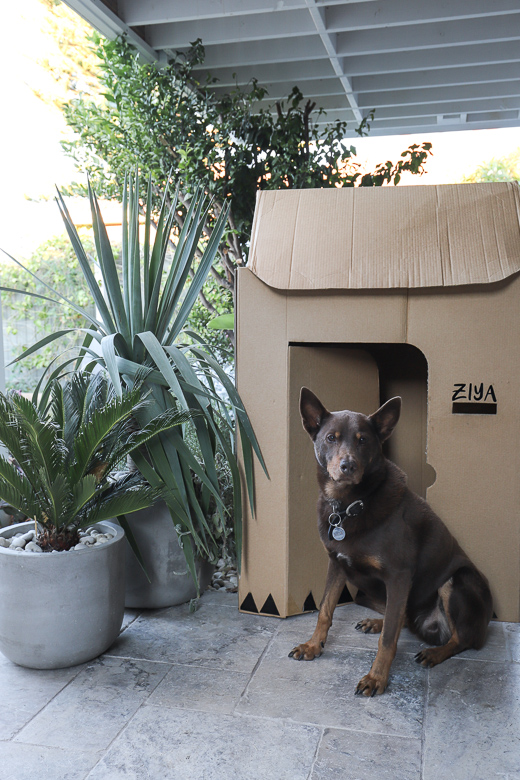 Disclaimer:  Please note that this is not in any way a paid journal post, however, some of the products have been gifted to us from companies, some we purchased ourselves and some have been gifts from friends and family.