I'm sure families with young kids all over Australia can relate to the Design Challenge we recently completed on The Living Room:  Kyal and I have been struggling with this exact same issue over the past 12 months – how do you store kids toys so they don't take over the house?!
Michael and Betty have a large family room at the back of their home where they spend most of their time.  The room doubles as a TV room and a kids play area.  Slowly over time, the toys have taken over the space.  When looking to 'clean up', all the toys are pushed into the corner which is enclosed by baby gates.  The problem is that there are no storage solutions for the ever-growing toy pile, and they have ended up being the not-so-pretty elephant in the room.  Michael and Betty's three children are now at an age where they are leaning to pack things away – but the issue is that there is nowhere to actually pack the toys away to!
Michael and Betty also have a large extended family and enjoy entertaining, so they'd love for the room to be a place that the adults can also enjoy.  The large modular sofa they currently own is functional in that regard – it seats a lot of people! However, we all agree that the room is not very adult-friendly for entertaining from an aesthetics point of view.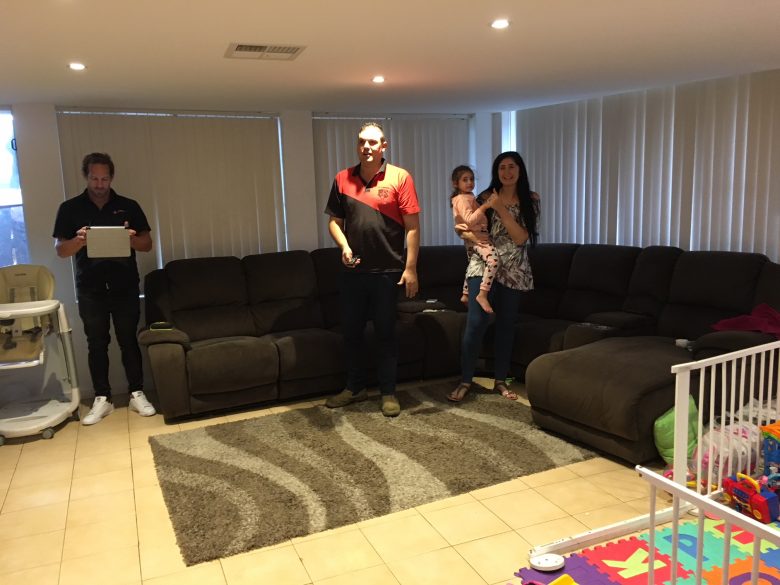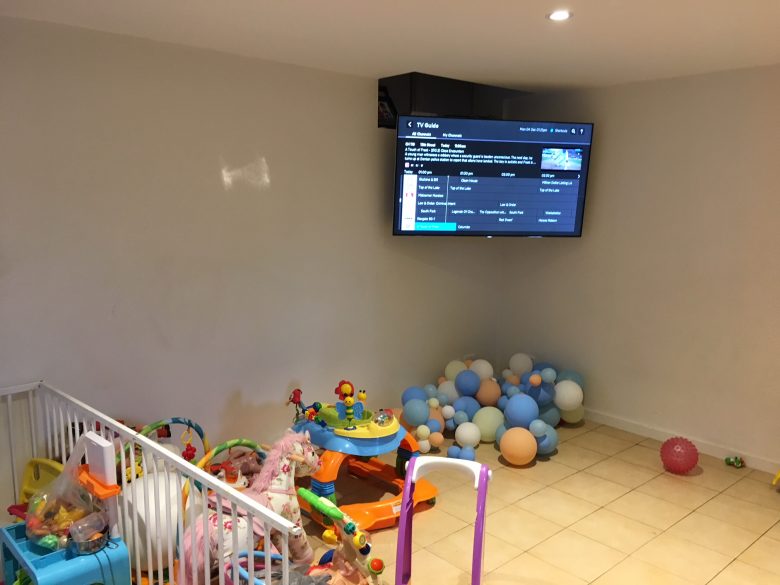 As with all our Living Room design challenges alongside designer James Treble, our brief is to create two different looks in the one space – and for the homeowner to decide their favourite. Keep reading to see what Kyal and I did with the room…
First things first, we locked in a fresh new paint colour for the room – Taubmans 'Misty Lake' – a gorgeous grey-based sage. Next, while a modular-style sofa works well for Michael and Betty, we felt the existing one was too dark and overbearing in this room.  We replaced it with a grey modular from Ikea which turned out to be such a great choice as it has both storage and a fold out bed underneath!
We noticed that the kids had created their own 'custom artwork' on the walls….eeeek!!  (I dread the day Ziya starts to do this…) With this in mind, we decided to keep our build really simple and create a blackboard wall for the kids to get creative on.  We 'hacked' the Ikea Flisat Dolls House and attached it to a section of the blackboard.
Next up was to address the toy storage issue.  Creating a wall of Ikea Trofast storage in pine was the winner for us.  These are great as you can separate toys into categories and label the drawers – excellent for teaching children to how and where to put their toys away.  We weren't lacking space in this room – so it really has turned out to be the ultimate wall of storage – every parents dream!  What we also love about this wall, is that there is room on top for displaying toys, and this can be changed up regularly to keep the room interesting and relevant to the kids.
As always, these design challenges are about presenting two different looks for the homeowner that both address their brief and James Treble also produced a great room.  To watch the full episode, or to check out the fact sheet on our blackboard, head to The Living Room on Tenplay.