Let's face it, everyone loves a good before and after – especially when it's done on a budget! Strategically investing your dollars into key areas such as kitchens, bathroom and main living areas is a great way to add value to any project, but especially investment properties, where you're looking for as much return on every dollar as you can – and this is the perfect example.
This project, however, wasn't about adding a dollar value, but instead creating a haven for the Take 3 for The Sea team to grow and nurture a new generation of sustainability leaders. Given that many good ideas stem from conversations over a tea or coffee, having a fresh kitchen in an office space is a must. I'd also like to point out that in this particular project these materials and products were kindly donated, but I've added together the RRP of each product used to makeover this kitchen. A HUGE thank you to all the generous suppliers and trades that have donated their time, resources or products.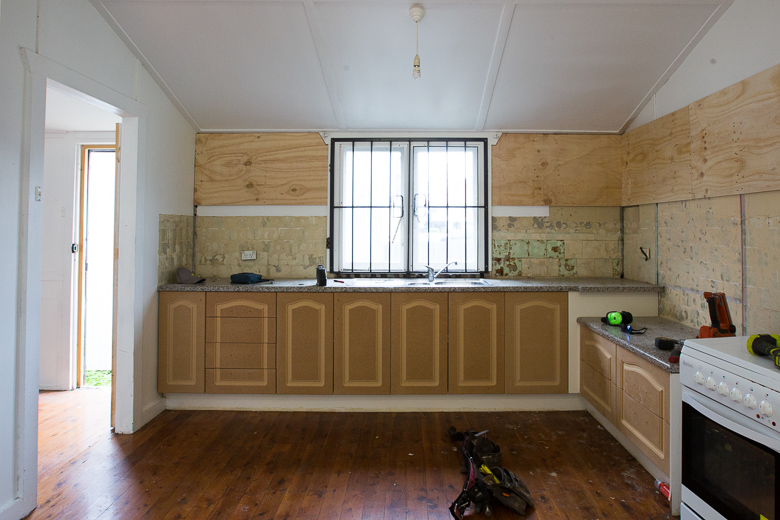 Although the original base cabinetry in the kitchen was in good condition, it needed a freshen up, so we painted the door fronts in Taubmans Endure in 'Gravel' using a semi-gloss. Kyal also replaced the original bench tops with 34mm Ecoply (2 x 17mm ply screwed together) from Kincumber Mitre 10. We then did two coats of whitewash over the bench tops (using our wall colour – Taubmans Endure in 'Cotton Ball') and finished with a clear marine grade timber varnish.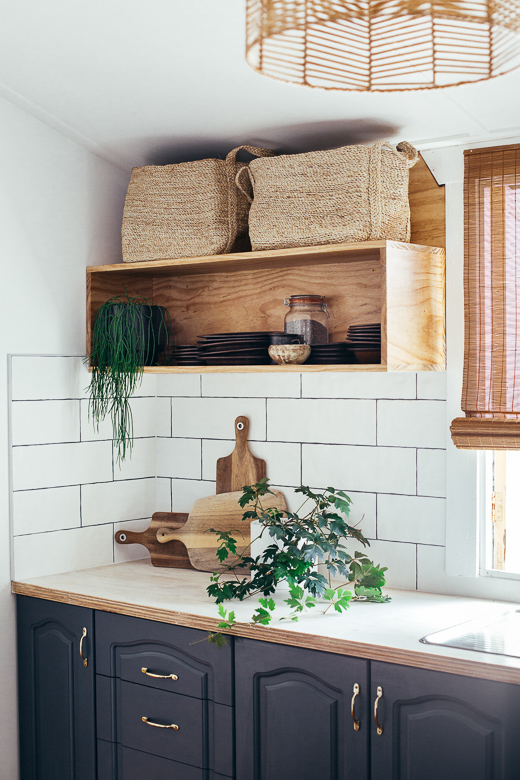 For a more cohesive look, we removed the original overhead cupboards and built some shelving using 300mm x 18mm pine. We kept the original sink, but replaced the mixer with a new chrome piece from Beaumont Tiles. The splash back tiles from Beaumont Tiles are a larger take on your average subway, and I originally wanted to run them vertically but the space didn't allow for it, so I'll save that idea for another job!  Sparky & Co donated time to install the natural 'Stella' pendant from Wanderlust Lighting, which has added texture and more personality to this space.
When it comes to styling, The Dharma Door baskets are a practical and stylish solution for storage. I've used a mix of vintage plates, crockery and recycled glass jars to style the shelves. The vintage floor rug from The Moroccan Bungalow adds just the right amount of colour and personality.
Here's a list of products we've used:
Please note that the $1500 does not include trade work or styling pieces.