Whether you have a designated guest bedroom or you've temporarily evicted your kids from their room to make way for guests, it's always nice to give your visitors a nice, fresh space to retreat to throughout their stay – especially if your household is as busy and can get as noisy as ours can get. I've recently restyled our Toowoon Bay Renovation to holiday let and have some tips to help you create that holiday feeling for your guests when they're visiting your home. This doesn't mean rushing out to buy a whole new bedroom suite, but rather some key steps to help create a crisp, clean, holiday-ready room.
Declutter & Clean
Yes, it's likely been on your 'to do' list for a while now, so here is your push to put it at the top of the priority list. For me personally I have three piles: donate, rubbish and move. 'Move' for an item I want to keep but feel it belongs better elsewhere, such as the linen cupboard or another bedroom. Everything else I take out of its place, making sure to wipe surfaces before returning them to their place. Moving everything allows you to not only give the room a clean but also to edit and move items around. I feel this is an important step as it allows you to see the room with 'fresh eyes'. I work well when I know I have a deadline, so guests arriving is a good one to have in your mind when you're doing this to ensure the process doesn't drag on!
Fresh Sheets & Layers
I think we can all agree, one of life's simple pleasures is jumping into a bed with fresh, crisp sheets! For Toowoon Beach House I've chosen Dri-Glo sheets and cover sets, an iconic Australian brand known for quality fabric and sustainable production processes. A fresh quilt cover set is one of the easiest ways to completely refresh a bedroom and there are so many options to choose from depending on the style that you're after.
When it comes to selecting quilt cover sets, I always go up a size. For example for our queen beds I've paired Queen Dri-Glo cotton sheets with King quilt covers, to allow for enough overhang on either side of the bed. When it comes to selecting quilts for guest accommodation I would always recommend a machine washable quilt for ease of care.
Beside Tables & Lighting
A bedside table and light are next on the guest essentials list. When it comes to a bedside remember it doesn't need to be a traditional bedside. You can get creative here – a timber stool, log, occasional table or even an antique wooden chair – although remember you want it to be a flat surface suitable to sit a glass of water on top if needed.
If you have the opportunity to design a guest bedroom from scratch, powerpoints with USB ports and light switches on either side of the bed are ideal. I also love designing bedrooms complete with pendants or wall sconces for each side of the bed. It allows an opportunity to bring in another styling element such as these handmade ceramic pendant lights by Mayclay Ceramics available online at KK Homewares. But of course we're often working with the constraints of exisiting bedrooms in which case ensure that your guest has access to a powerpoint somewhere in the room. Remember when it comes to lighting, that you don't need to spend a fortune! One of my favourite lamps in our home was an upcycle from a roadside pickup.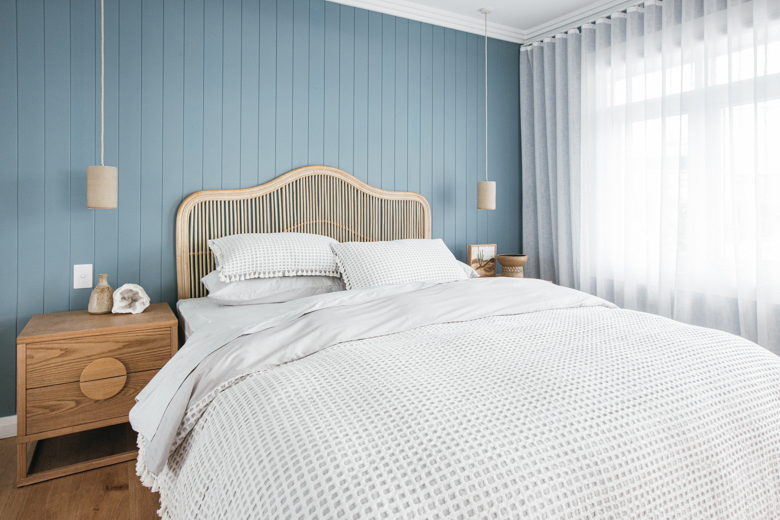 A Touch of Nature
I have to admit my track record for keeping indoor plants alive isn't great, but that doesn't change the fact that I love using them to add some life to a bedroom. I've had great success in keeping the Hoya Carnosa thriving in the studio at Toowoon Bay and it adds so much personality as a climber on the bedhead. Some other indoor plants I love include the Zanzibar Gem, Ficus Elastica, Epipremnum Aureum (or Devil's Ivy) and the Monstera Deliciosa.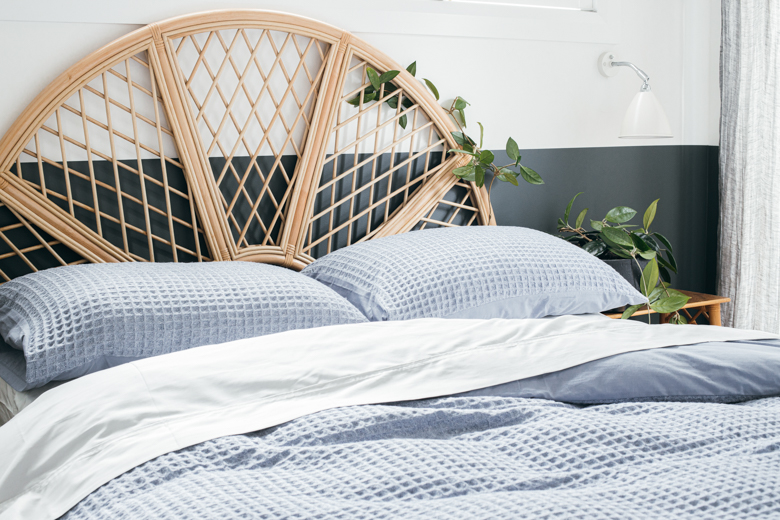 The Finishing Touches
Next up on the guest ready list…towels! I like to neatly fold at the end of a bed or hang ready in the ensuite so that guests don't need to ask or search. When it comes to scents, a small essential oil diffuser, incense sticks or a candle is a great way to create an olfactory experience. I also like to leave something in the room for guests (particularly female guests) to use as a jewellery holder, and I generally use small handmade ceramic dishes. Other ideas include some boutique chocolates and a nice book or fresh magazine to enjoy.
Looking forward to sharing more Dri-Glo linen looks with you over our socials over the coming month!