This bedroom has been created with the ultimate parent's retreat in mind, and designed to be as social or as private as you'd like.  A space for escaping the hustle and bustle of the rest of the home; or to relax in bed while watching others in the pool.
The 'his' and 'hers' walk-in robes are a decadent addition and certainly have me lusting for some more wardrobe space in my own room!  Our favourite feature of this room is definitely the highlight windows, where you can lay in bed and watch the clouds go by – after you've used your remote control to open the block-out blinds, of course!
Gyprock: Gyprock Superchek
External Wall Insulation: CSR Bradfords Gold Batts
Internal Wall Insulation: CSR Bradfords SoundScreen
Architraves: Corinthian 92×18 half-splayed
Skirting: Corinthian 140×18 half-splayed
Bedroom Door: Corinthian Moda PM0D1
Door Handle: Westminster Lane, Matte White
Sliding Doors: Wideline Windows and Doors
Highlight Windows: Wideline Windows and Doors
Wall Colour: Taubmans 'Cotton Sheets'
Architrave Colour: Taubmans 'Brilliant White'
Ceiling: Taubmans One Coat White Ceiling
Flooring: Godfrey Hirst Villa, Sand Drift
Wall Panelling: Easycraft Easyline
Walk-in Robe1 Door: Corinthian Moda PM0D1
Sliding Door Hardware: Rustica Hardware
Walk-in Robe1 Cabinetry: Affordable Wardrobes
Walk-in Robe1 Carpet: Hycraft Textured Loop Pile Ravine, Oatmeal
Skylights (Walk-in Robe2): Velux
Switches & Powerpoints: Clipsal Iconic
Ceiling Fan: myfan Spitfire 60″, white washed
Pendant Lights: Ruby Star Traders
Blinds: DIY Online Blinds Electric Thermal Insulated Roller Blinds, Kew Range, Natural
Curtains: DIY Online Blinds Morton Range S Fold Sheers, Ice
King Sized Mattress & Ensemble: Sealy Posturepedic
Bedhead: Byron Bay Hanging Chairs
Sheets, Standard Pillow Cases: Linen House Nimes Natural Sheet Set
Quilt Cover: Linen House Queenscliff
Throw: Linen House Somers White Bed Cover
European Pillow Covers: Linen House Queenscliff
Throw Cushion 1: Linen House Fergus, White
Throw Cushion 2: Linen House Riverbank
Bedside Tables: Globe West Universo Positivo Bedside
Bedside Table 1 Styling
Feather Dish: Target
White Vase: Aleida Pullar
Textured Vessel: Vintage
Bedside Table 2 Styling
Round Tray: Zakkia
White Vase: Imprint House
Urn-shaped Vessel: Blackbird Bateau Bay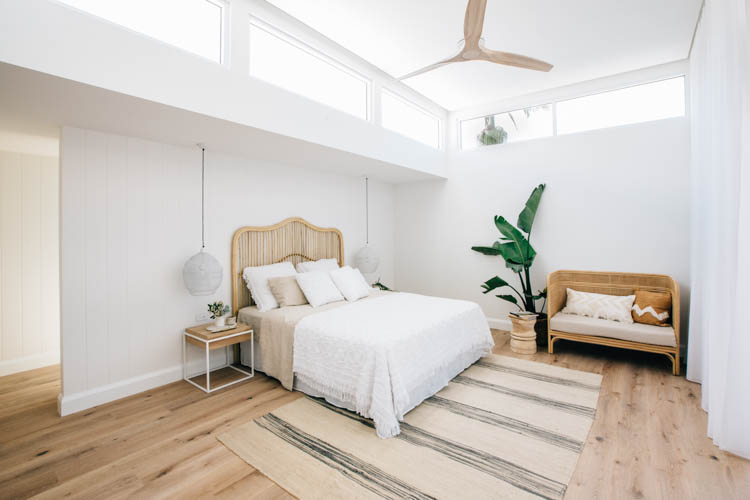 Floor Rug: Vintage
Love Seat: Byron Bay Hanging Chairs
Square Throw Cushion: Langdon LTD
Rectangle Throw Cushion: Langdon LTD
Timber Stool: Globe West Southport Curve Stool, washed
Plant & Basket: The Local Leaf, Strelitzia
All other items Kara's own.
Read more about the Master Bedroom here.