Well…here we go again! We treat all our projects with love and care, but this one is especially close to our hearts – it's going to be our family home! With every decision we make, how we want to live is at the forefront of our minds. We want a well-connected home that has plenty of room to entertain, cook and enjoy family time. For me my number one wish was that my kitchen, living and dining opened out to the backyard. I have visions of sending the kids outside to play independently, whilst we watch from the kitchen. There's plenty more to tell you, but I thought I'd start from the beginning…
Ever since we began our property journey, our goal has always been to live as close to the beach as we possibly could. When we finished The Block in 2014, we were on the hunt for our next house to renovate. This little beauty popped up and the location was exactly what we were after. The day our Block prize money settled in our account was the day of the auction – we took this as a good sign! The house didn't meet reserve and we successfully negotiated the sale that evening.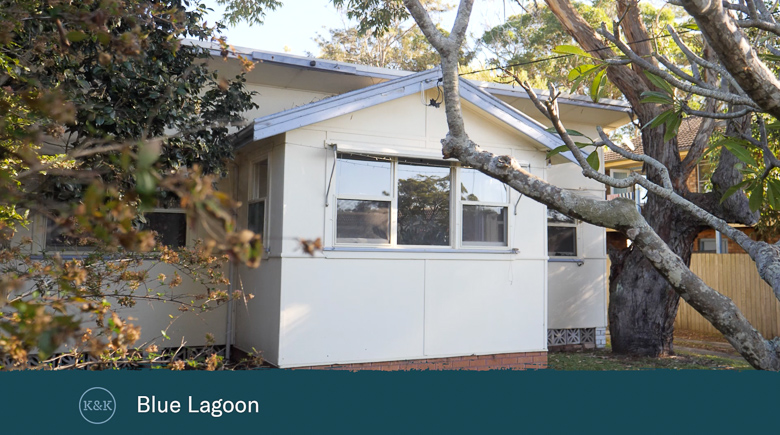 After a brief stint in Melbourne filming Reno Rumble, we returned to the Central Coast, sold our Killarney Vale renovation and decided it was time to move into the shack and start planning our dream family home. We enlisted an architect whose work we admired to begin the process. This was early 2015 and the trouble was, although we liked to imagine how we wanted to live with kids, the fact was that we didn't have any and hence didn't really feel ready to commit to the 'forever home'. We leased out the shack, found our Toowoon Bay Reno and started documenting that via our first online series.
Fast forward 4 years and 2 kids, and we had a better idea of what we were after in a family home. Although we loved the shack, and had some great memories there as a couple all those years ago, it was primarily asbestos with mould galore – by the time we tried to work out what was left, we realised it wouldn't be worth keeping.
Our first new build! Unchartered territory for us. We've always loved the challenge of 'working with what you have' when it comes to a renovation. The thought of a new build was a bit daunting in that we could have ANY style of home; the trick was narrowing in on exactly what we were after.
Essentially, we wanted the quintessential beach house, which for me conjures up images of a white weatherboard home with plenty of timber and greenery. After building a guest house at our Toowoon Bay Reno we knew that we wanted to do this again. It's so nice to have a space for family and friends to enjoy as needed, but to also allow the opportunity to holiday let as needed for extra income. We also wanted to ensure we still had an office space with separate access. We love the flexibility of working from home, but also wanted to be able to shut the door at night and (attempt!) to leave the work behind.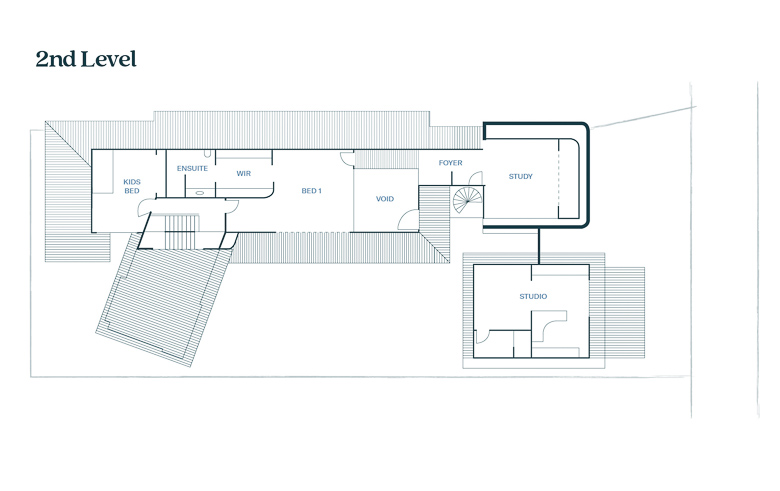 We spent the summer of 2018/2019 revisiting plans we'd begun all those years earlier. Kyal and his step dad even spent days building a timber model of the house to get the floor plan just right for us. We then enlisted Etchells Building Design to bring these designs to life. We've worked with Etchells on numerous projects over the years and love that they're always up to the challenge of working with us on ideas we have, usually in record time! At this stage we also enlisted Mon Palmer to assist us with landscape design. For those who are building or undertaking major renovations, I highly recommend enlisting a landscape designer early in the design phase. Mon Palmer suggested moving the pool over to the studio wall and it was a light bulb moment for us as it freed up space off the rumpus room for an outside entertaining zone.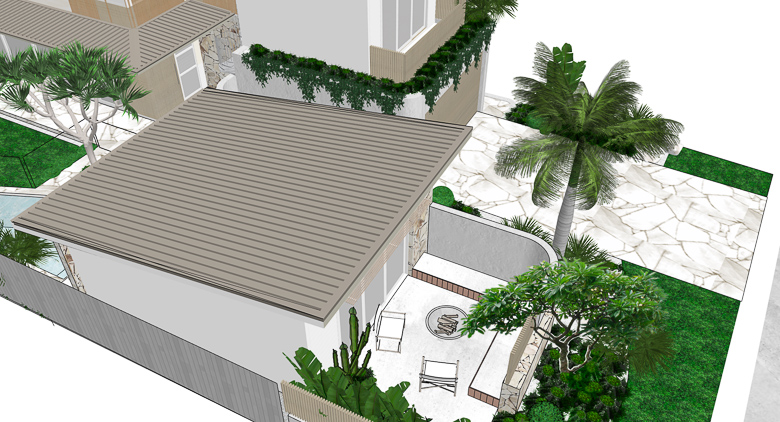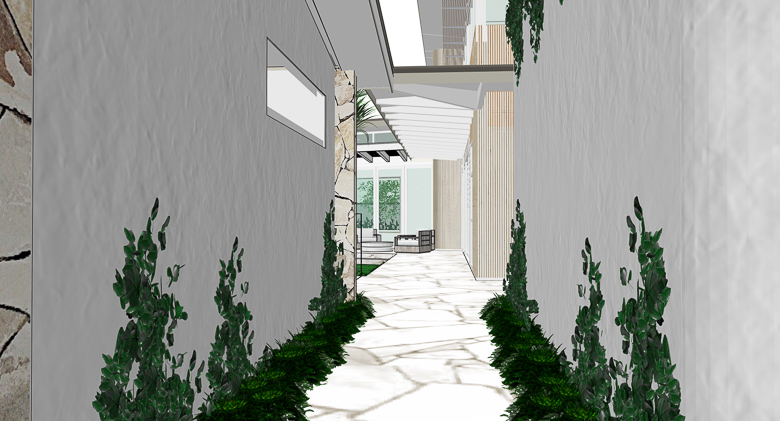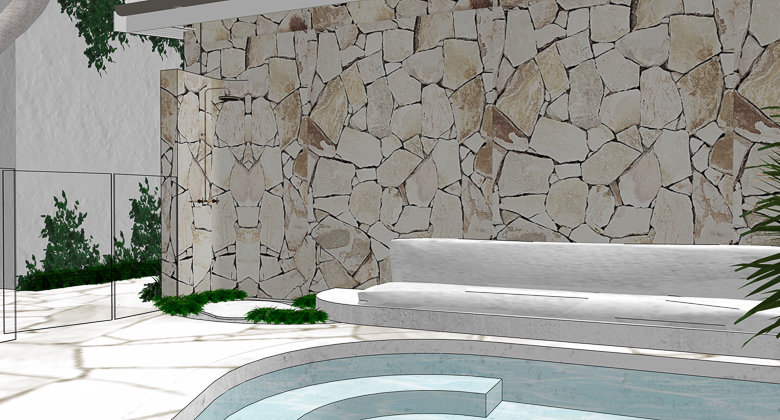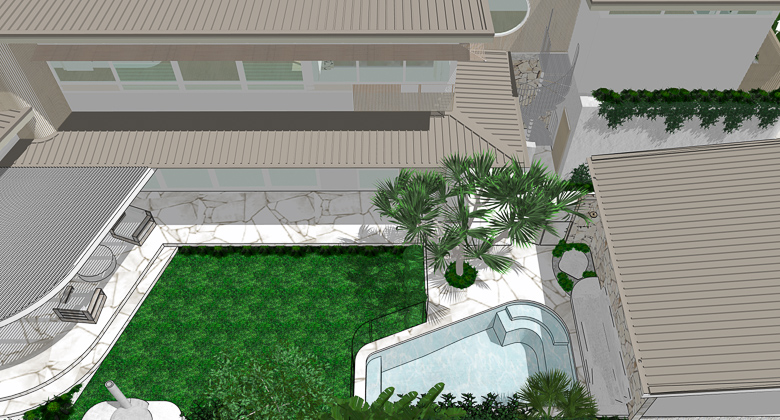 There were a few 'must haves' for me from a design and materials selection point of view. I wanted to incorporate exposed beams, some internal and external stone walling and James Hardie Linea Weatherboard. From Kyal's perspective, he wanted to incorporate Blackbutt timber cladding, and a crazy pave. When we put these materials together on a mood board, we coined our #BlueLagoonBuild style as 'Australian coastal meets Mediterranean villa'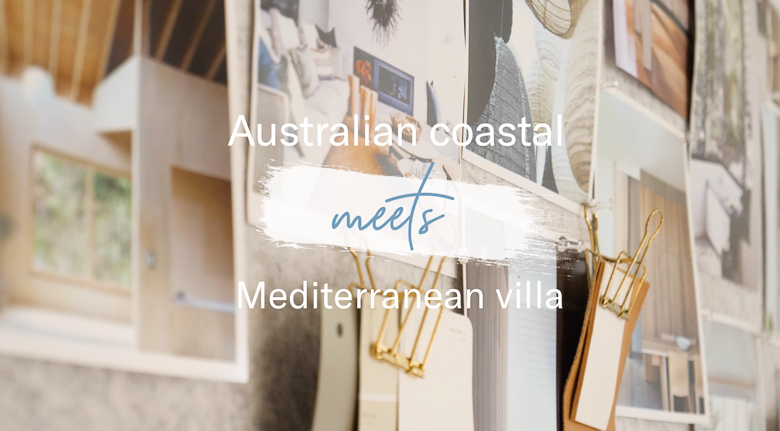 Once plans were finalised, we wasted no time getting them into council. We were held up about a month longer than expected, however looking back on this time, it moved pretty quickly overall! The day demolition started was bittersweet. We know so many amazing memories had been made in the shack over the last 50 years. The end of an era, but many more to be made as we undertake the build of our own family home. We've saved hardwood from the original home to create some features in the new home which will be a nice way to pay respect to the shack.
Over the next 8 weeks we're going to take you along with us as we share this build via our next online series. Next week we've been sharing our guest studio with you all, and she's a beauty! We'd love to hear from you after each episode and will endeavour to get back to all your questions as quickly as we can. As always, thank you for following along!
Click here to to watch Blue Lagoon Build Episode 1 – Let's Build This Dream!
Blue Lagoon Build series is proudly brought to you with the support of RAMS Home Loans.