It was time!  This kid loves being outside, and I'm not going to lie – we've been excited to build a cubby since the moment we found out we were having a baby. We spend a lot of time in our front yard as it's fully enclosed and receives beautiful northern sun all year long – with the perfect amount of shade in summer.  It's also really visible from the front balcony and porch, so we can keep an eye on the kid's shenanigans.
Getting Started on Design
Let's face it, kids will honestly play in anything!  A cardboard box, crates, a pile of leaves – you name it and they will play in it!  Although any of these options would occupy Ziya, we wanted this cubby to compliment the rest of the house.  Ziya is marine life obsessed right now so we thought a nautical-inspired theme with some real maritime features would be perfect.  Once we had a rough idea of what we were after we took to sketch up and did some 3D modelling to determine the scale – and then it was time to bring this bad boy to life!
Building from the Ground Up
The base of the cubby is built on a traditional timber frame and then decked over using 138mm wide Blackbutt, with a sand pit at one end.  We built the floor frame for the 2nd storey with the front angled out to emulate the bow of a ship.  Once the decking was screwed down, we made the wall frames and roof on the ground in modules, so that we could simply lift each module into place.
We've made the handrail using the same profile as our house but on a smaller scale and used a mix of COLORBOND® Windspray with weatherboards for the exterior cladding, painting the weatherboards with Taubmans Mojo.  The colour palette and handrail feature really help tie the cubby in with the main house and keep in with the coast feel.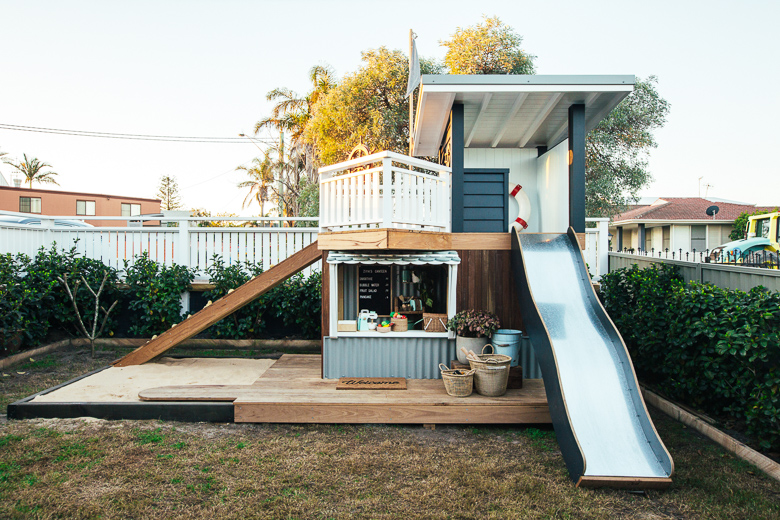 To access the top level we created a timber ramp.  It was hard to know what was going to be too steep or not steep enough; I mean we wanted it to be a little bit challenging for the kids but also wanted them to not be petrified of going up, LOL!  Once happy with the angle, we installed some rock climbing holds.  These have been great as we've noticed Ziya having to really think about where he needs to put his hands and feet – great for gross motor skill development.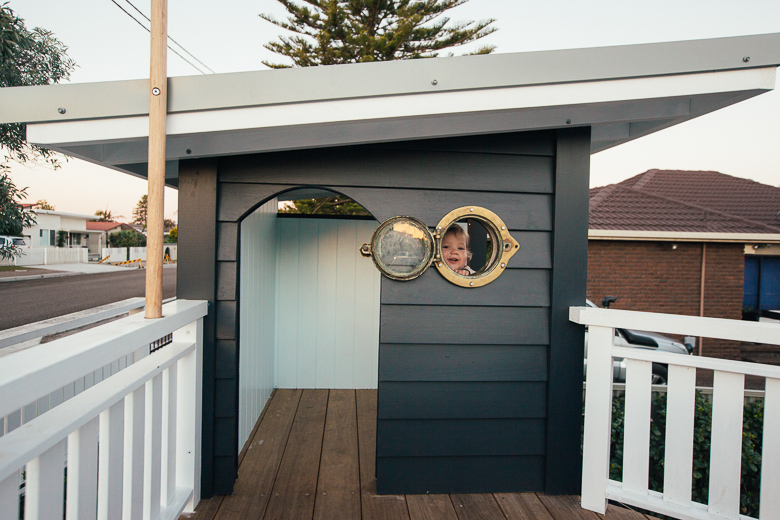 In keeping with our nautical theme, we installed a porthole and a flag pole on the top level, as well as a wooden ship wheel, all from Merchants of the Sea.
Climbing and Sliding
We could not for the life of us find a decent looking slide (except for a European slide that cost an arm and a leg) and had decided that plastic wasn't for us.  So I made one! It was actually pretty easy, and it meant we were able to paint the sides the same colour as the house.  I didn't want the ride to be lame and slow, so I guess you'd say it's more on the steep side…judging by the way the kids seem to crash into the ground at the bottom..LOL!
The bottom level of the cubby is set up as Ziya's kitchen, he just loves it.  However, I'm hoping he will expand on his menu in the near future!  The cute little servery awning was made from weatherboards and offcuts of pine.  Kara wanted to paint them alternating colours and it's such a great little feature.
To create a sandpit at the end, we created a frame using sleepers and lined the area with geotech fabric before filling the space with sand. It's not only used as a sandpit but as a great source of 'food' for the canteen…!
Making Memories
We've had a lot of fun making this cubby for Ziya.  We visited second hand shops to find pots and pans for Ziya's canteen and a real life saving ring.  I feel like this cubby is a work in progress as we gather and create new imaginary worlds.  It really is rewarding when we see him playing in it for hours with all his little buddies.  Especially when they refer to it as 'the big happy house'!