This week we finished off our front, north facing deck. As mentioned in Episode 5 – 'Let There Be Light' we've used Australian Blackbutt 140mm x 18mm wide with stainless steel batten screws. The handrail has been painted with Taubmans Endure Exterior 'Miss Universe.' The brickwork and CSR Cemintel 'Scarborough' weatherboard has been painted with Taubmans Endure Exterior 'Mojo'.
The Wideline casement windows without a doubt make the biggest statement at the front of the house. The thick white window frames look great against the dark wall colour! I cannot wait for summer to sit on this deck and enjoy the sea breeze (not to mention I'll have a baby in my arms eeeekkkk!!).
The ceilings have been lined with Easycraft Easyclad and painted with Taubmans Endure Exterior in 'Surfmist' – in keeping with all other eaves. Watch more of Wideline window and Easycraft installation at the front of house in Episode 4 – 'Get your Mojo on'. Searching for exterior fans was a tough one but I found one I love. The 'Tropical Windpointe Celing Fan' with all-weather white blades is my exterior fan top pick! Ordered through MyFan.com.au – who were great to deal with and offered fast delivery.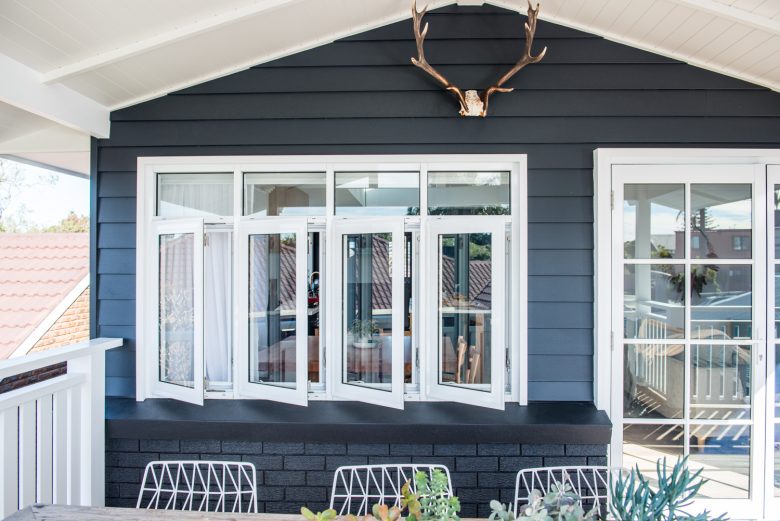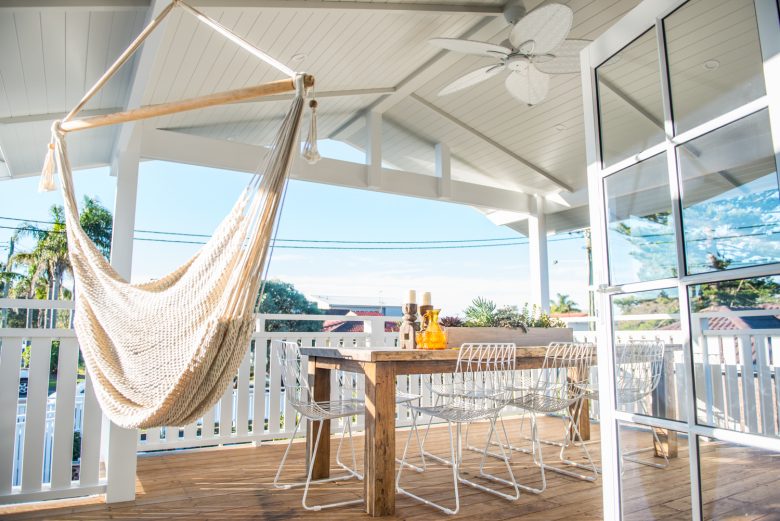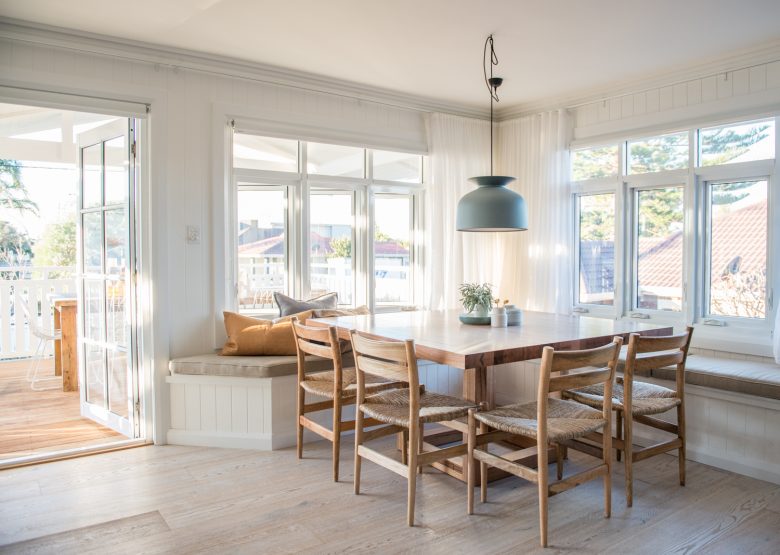 I imagine this space will evolve over time. I'd love more exterior plants and herbs growing in close proximity to the kitchen. This beautiful timber bench is from Loughlin Furniture and the hammock was a birthday present from Kyal about 5 years ago that I've never hung! Don't let these shots fool you though, downstairs is a whole different story with plenty more work to be done!