You know when you can't agree with your partner to the point where you stop being open to their ideas and opinions?! I'm sure it's happened to most couples who renovate together at some point! We've found that – lo and behold, once you start listening to each other – good things happen! You see one of the important things we've learnt over our years of renovating is that – before making rash decisions about knocking out walls and installing permanent cabinetry (such as kitchens) – is that you need to have a rough idea of your furniture plan. There is no point installing a monster kitchen, only to realise you have no dining space. This usually involves a sketch pad, scale rule, tape measure and if the space is ready, some masking tape. It also means having a rough idea of dimensions of KEY pieces of furniture – such as the sofa and dining table.
So before finalising our kitchen plan all those weeks ago, we marked out where we envisioned our furniture would go. We both agreed that bench seats would work best within the dining space. What we couldn't agree on was the size of the table, the size of the rug or the sofa. We got there in the end though and couldn't be happier with how everything works!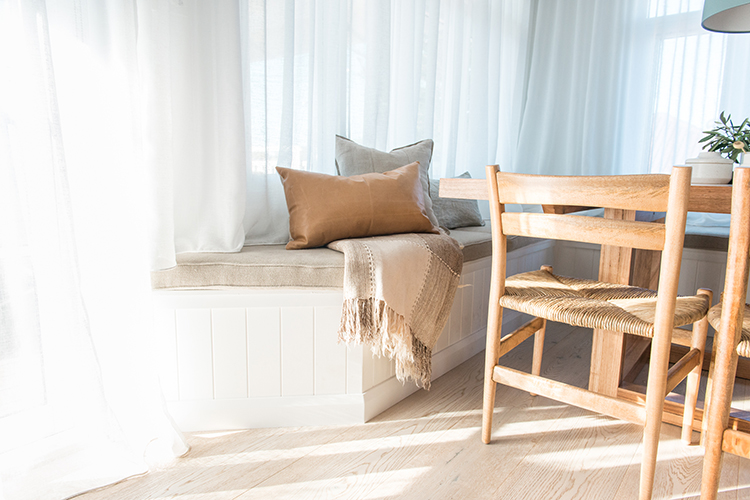 Kyal and Jay (our first year apprentice) built the cabinetry on site using MDF and Easy VJ boards. I then had custom cushions made by Central Coast Upholstery. Using our Godfrey Hirst Regal Oak 'Doulton' floorboards as the primary colour base, we selected the 'Hamilton' 150 x 150 dining table and the 'Porto Kodak' dining chairs, both from OZ Design Furniture.
The pendant is the 'Gubi Ronde' light in pigeon grey from Urban Couture Design and Homewares – which works well to centre the table and create mood lighting at night.
We've chosen an S-fold sheer curtain in 'Nettex Cannes – Pearl' from Central Coast Curtains & Blinds. This room has a Northerly aspect, so the sheers are great way of letting in all that beautiful Northern sun, whilst also providing privacy during the day as required. All these curtains open into the corner – displaying the coastal casement windows from Wideline Windows.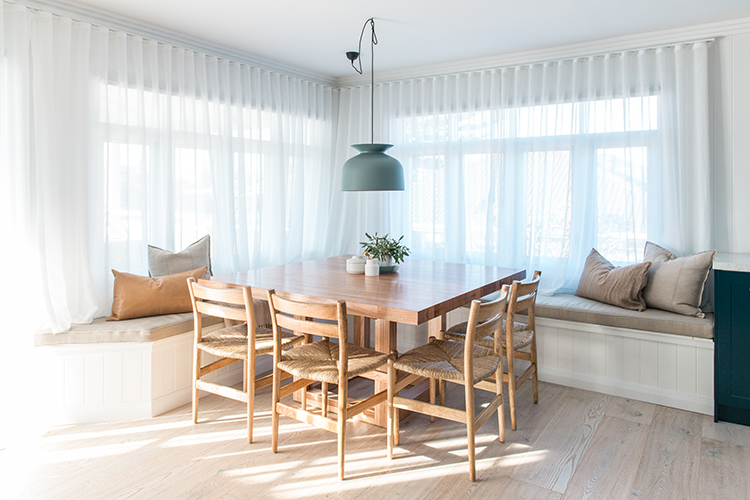 The majority of walls within the kitchen, living and dining are Taubmans 'Cotton Ball' with 'Miss Universe' trims. We've used Gyprock 'Trio' Cornice throughout the main house. I've never been a fan of a television on a white wall so I was really keen to do something about this – Kyal was not. We've been so busy that I think Kyal assumed I'd let it go – but he should know me well enough by now to know that if I say I'm going to do something – I'll make it happen! For these walls, I've chosen  Taubmans 'Timbrell Grey'.
The Alana Entertainment Unit from OZ Design Furniture is an Australian made piece – and the sizing works perfectly within this nook. We've broken up all the squares and rectangles with the round 'RAW' coffee table.
The 'Sling' armchair and 'Nova' sofa are also from OZ Design Furniture. The great thing about these beautiful pieces, is you can customise the fabric to suit the look you're after. We've chosen Warwick 'Ardo Riverbank' to link the deep turquoise of the kitchen. For the sofa fabric, we've chosen Warwick 'Liam Cement.'
The rug is from Bo Concept in Sydney and cushions are a mix of Linen cushions (OZ Design Furniture), Pony Rider & leather cushions from St Agni. I'm sure amongst all this information there is something I've missed, so if you have any questions – feel free to ask! We'll be sharing more pictures of other rooms upstairs over the coming fortnight – and in the mean time – we're busy with work downstairs and the studio out the back! Fun Times!