We've done it before and we'll do it again – BUT… I will say living in this renovation has been one of the hardest. I just haven't had the stamina to see past the chaos as I normally would. Kyal's been referring to our downstairs living area as 'the rats nest' – I wouldn't go that far (for the record we don't have rats). I've tried to keep it as tidy and comfortable as I can but it's been impossible to keep clean with so much work going on around us. As the weather gets cooler I would love a shower that wasn't in the hallway and I would also love an oven! I've been craving baked potatoes, so the thought of a roast dinner makes my mouth water! As we get closer to finishing upstairs, its like time has slowed down and suddenly I just want everything to be done! Or maybe I'm just being a tired, emotional pregnant women – and that's ok too because it's not going to happen too many times in my life.
So, with the Velux skylights installed upstairs, we're ready to start sheeting. For insulation and sound proofing, we've used CSR Bradford's SoundScreen – this is a low allergen product endorsed by the National Asthma Council. We've installed Gyprock Sensitive Board for all ceilings and a mix of this and Easycraft VJ panels for the walls.
I've chosen our flooring – we're going with Godfrey Hirst Regal Oak 'Dolton' in the 240mm wide board. We're laying this over the top of Arriba Plus underlay, which is designed to provide superior sound insulation and reduce foot noise.
But…before we can lay the flooring, our floors need to be levelled. With a height discrepancy of over 50mm from one side of the living room to the other, our goal was to make sure the flooring sits flush. After doing a bit of research, we found Adex NA Self-Levelling and Smoothing Compound was the best product to use upstairs. However due to the size of the area, and how quickly the product sets, it was best to leave this to the professionals. We had a team of guys come in and apply the product one evening and our floating timber floors were ready to be laid the next day.
The timber flooring upstairs went down super quickly with the boys finishing upstairs within the one day. What a difference it makes to the space having finished floors!
With the gyprock hung and set, and the flooring down, Kyal and the boys complete fixout of skirting, architraves and doors. Its paint time! As much as I love to get in and help where I can, painting on this renovation is just too much for me with our timeframe, work commitments and my belly growing daily! With Kyal and Jayden (our first year apprentice and my younger brother) doing the bulk of the preparation work and taping, the painters can get stuck into getting the paint on the walls. Although our painters have been flat out, they've put in some long days to get upstairs painted for us, which we're extremely grateful for. Can't wait to share some finished rooms and paint colours!
The kitchen has been in our thoughts since we purchased the house. Originally, the kitchen was a U-shape. We really needed to think about how we could best utilise the space and after much deliberation, we shifted the kitchen to incorporate an island bench. Then one night, it occurred to me that the awkward shaped sunroom that had been closed in by the previous owner would work perfectly as a butlers pantry. With six bedrooms in this house (plus the studio), the option is there for a large study or office to be set up in another bedroom if need be.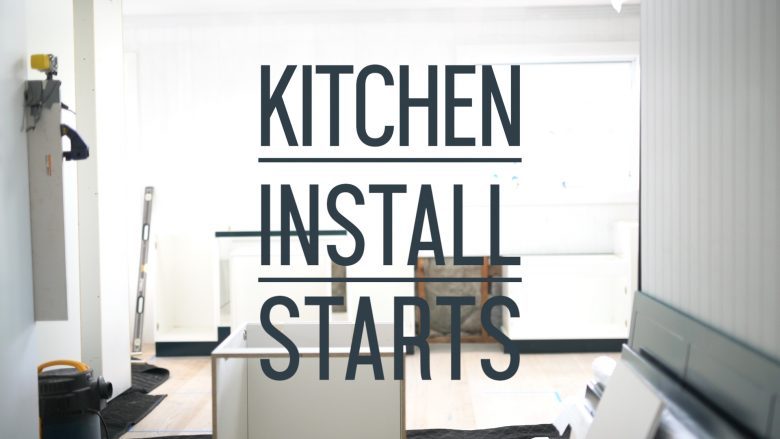 What an exciting day it is when the kitchen arrives! I've done something a bit different with this kitchen and chosen a Taubmans colour called 'Midnight Hour' which is a deep turquoise colour. With the cabinetry sitting in the full sun on delivery day, I did have a bit of a freak out – what have I done?! Once I saw the colour in the space, with the timber floors my mind eased again and now I just can't wait for it all to come together!
I'm so excited to finally have a kitchen again that I could sit and watch them install all day – but there is way too much to be done! With work progressing upstairs, we quickly have to re-focus our energy on the studio.
The bathroom for this two bedroom studio needs to be designed right as it's small and will also incorporate a washing machine. With all my bathroom ware selections made, the plumber can now rough in.
We head into Beaumont Tiles with a bit of a shopping list. We need to lock in tiles for the studio bathroom, studio kitchen splash back and outdoor tiles for the entry way of the main house. This is the fun part for us – excited to share!