There's a reason we believe the bedroom is the best place to start when renovating or refreshing your home : it's the place you begin and end your day and should be a haven that brings you joy, sets you in a positive mood of a morning and helps you feel calm of an evening.
I've always loved our bedroom but for a little while now I've wanted to add some extra colour and warmth. Of course, life gets busy and there are always other priorities, so it became one of those things "I'll get to when I have time…" But let me tell you, now that it's done, I can say that putting the time and energy into a room where you spend so much of your time (the bedroom) does wonders for the mindset!
Above is a photo of our bedroom from when we first completed the home in 2020. I'll also share the disclaimer that it hasn't been this tidy since this picture was taken! It is by far the biggest bedroom we've ever had. It's stunning and there is nothing individually that I don't like in here. The thing is, I've just always felt that it needed some more colour on the walls. The original wall colour was in Taubmans 'Aspen Snow' which is one of our favourite whites – especially for an interior wall – as it's nice and creamy and not too stark.
Kyal made the bedframe out of recycled timber kept from the old Blue Lagoon Beach Shack, and I've never really loved the contrast between the dark bedframe and the white walls. So my mission was simple… paint the walls, refresh the bed styling with a few new pieces of linen and do a wardrobe cull (which to be honest is still very much a work in progress).
The first step is deciding on a colour….so where to start? It's a question we receive daily. My biggest piece of advice here is to think about how you want to feel within the room you're painting, and what other places or things conjures up those feelings for you. Your inspiration can come from anywhere: your favourite park, the beach, a city cape, a piece of clothing from your wardrobe, or even a photo from your travels. I used Blue Lagoon itself as the inspiration for this bedroom. I love the sandy tones and settled on Taubmans 'Safari Suit' which is a warm beige with a green undertone.
The bed is moved into the middle of the room, drop sheets are down, the walls have been given a clean and a light sand and are now ready for some colour. We're using Taubmans Endure 'Safari Suit' in a low sheen finish for all the walls. To avoid any contrast between the new wall colour and skirting and architraves, we've continued the new colour onto the trims using Taubmans Water Based Enamel in a semi-gloss which provides a smooth, washable and abrasion-resistant finish.
As soon as that paint had gone onto the walls I knew I'd made the right decision with the colour – it was like it was always meant to be that colour! After two coats of the Endure, it was time to replace the furniture and restyle the bed. I always complete a rough mood board for styling items no matter the size of the job. It's a great way to ensure I'm staying true to the style I'm looking to achieve and avoid any impulse purchasing on my part!
Using our existing sheets, doona cover and Moroccan throw I swapped out some pillowcases then selected an additional feature cushion and throw from Hale Mercantile Co that both work well with the wall colour.
I'm super happy with the colour! I haven't changed anything structurally or swapped out any major furniture pieces in the room – simply painted the walls and included a couple of extra pieces of linen to add some extra colour and texture to the room. When I walk in, I feel so happy – the colour and refreshed space brings me so much joy! Culling my wardrobe has also contributed to feeling refreshed and being in control of my space.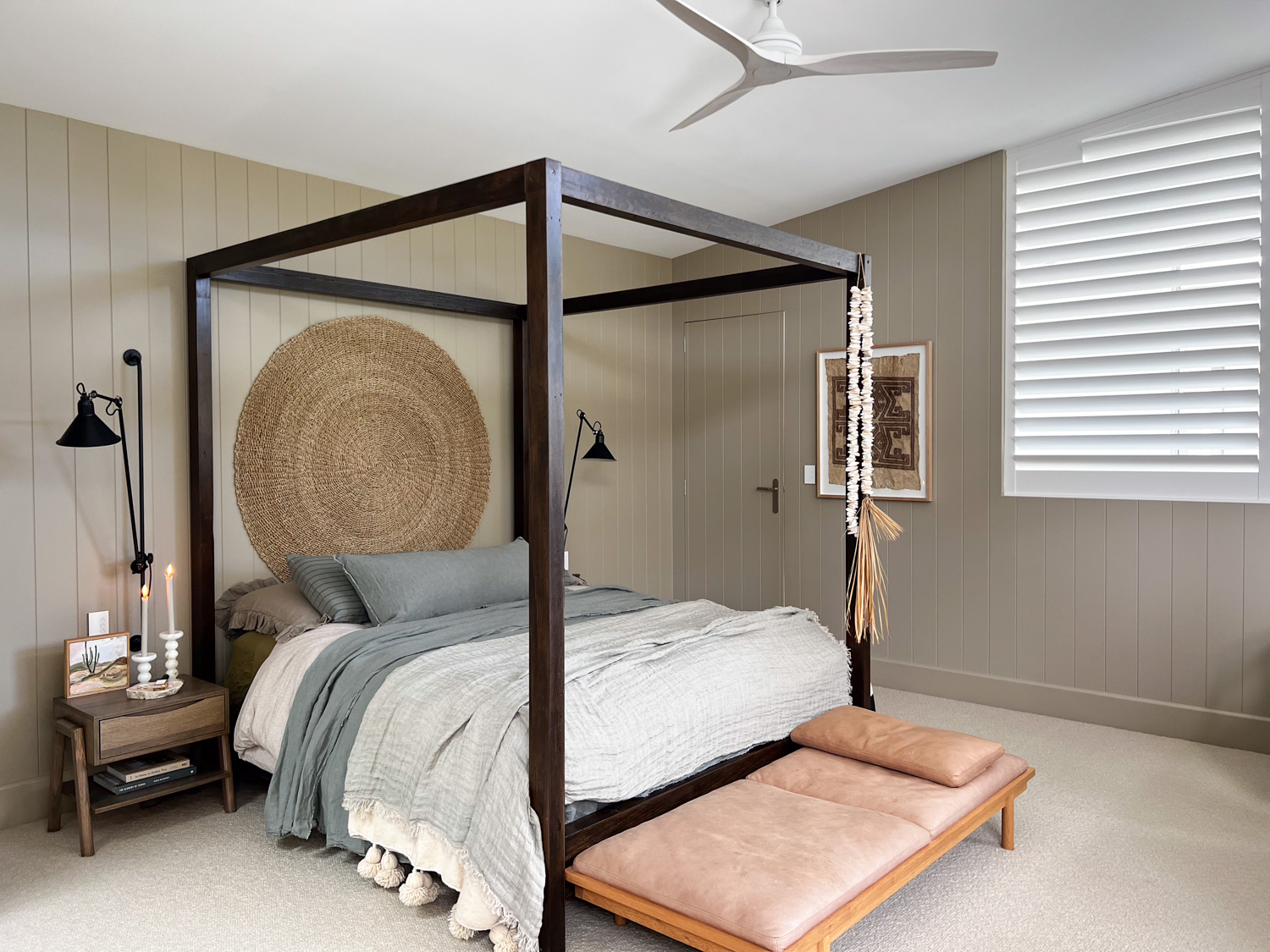 So if you're looking for encouragement to refresh your bedroom, this is it! You can watch the full video below, and make sure you've subscribed to our YouTube channel as we have a whole new series coming early in 2024 that we're so excited to show you guys!