We'll use any excuse to get together with friends for a good spread – I can't think of anything better than enjoying a long lunch with close friends.  We try and do this regularly, but as you know – life just gets so busy!  Locking in a day is always the hardest part, and to be honest, our typical get together involves a BBQ or a picnic at the local park, but putting in that extra effort to enjoy a special lunch is always so lovely!
We've put together a few tips to help you style the perfect Christmas table this festive season, and there's not a Christmas cracker or bauble in sight!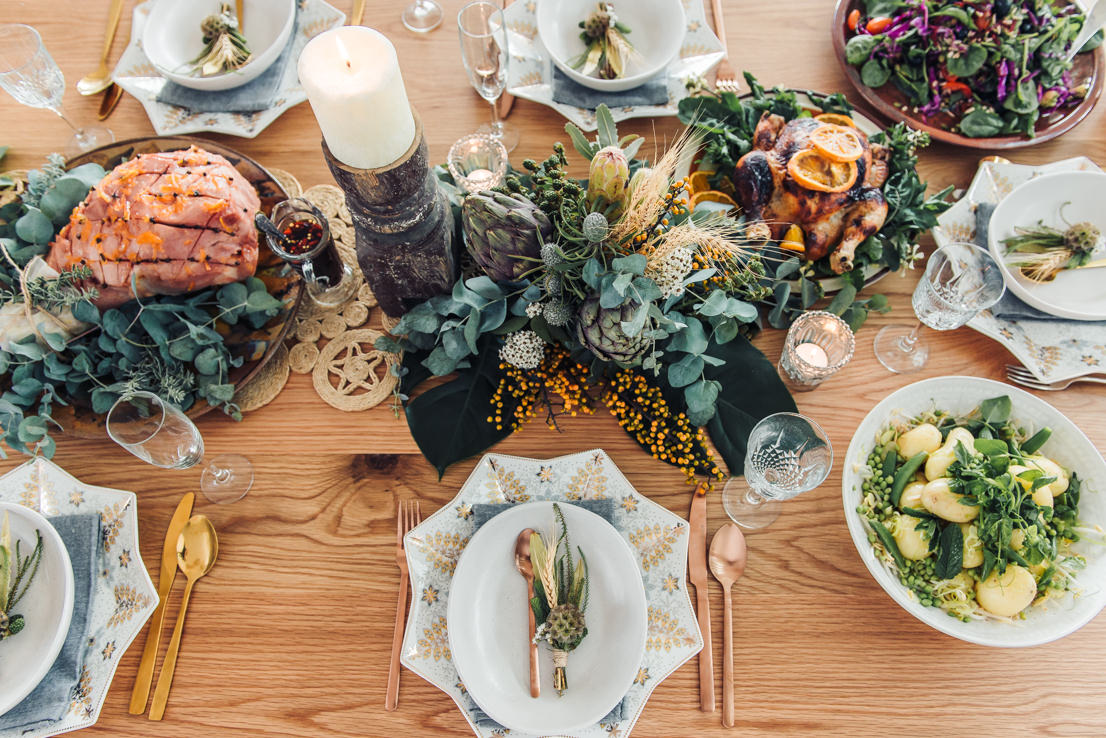 Layer
Layering is the perfect way to create a table with interest.  You can do this in lots of different ways.  For example, use a table cloth, and layer with a table runner and placemats of different materials.  Have a think about what you already own and use this as a starting point – it's not about rushing out and buying a whole new set of napery.  If you are looking to purchase some new linen, neutrals are a great starting point and will ensure you can re-use in lots of different settings.
For us, we've used this gorgeous oak dining table as our starting point.  We've then layered with a sisal table runner. These gorgeous Maxwell & Williams star plates are such a great festive plate to work with – and we've layered with linen napkins and simple asymmetrical bowls.
Flowers & Foliage
I admit that it helps when one of your besties is a florist – I'm not even biased when I say that Merrin from Merrin Grace Floral Design is one of the best!  To create a centrepiece, Merrin has used a mix of artichokes, wheat, nutty leucs, South Australian daisy, blackberries, scabiosa pods, proteas, mini monster leaves and gum.  We've also used the extra gum to decorate the Christmas ham.  Choosing foliage that is seasonal will ensure your flowers last and will help to keep costs down.  If using artichokes, be sure not to throw them out afterwards – they open up to become the most amazing bright purple flower!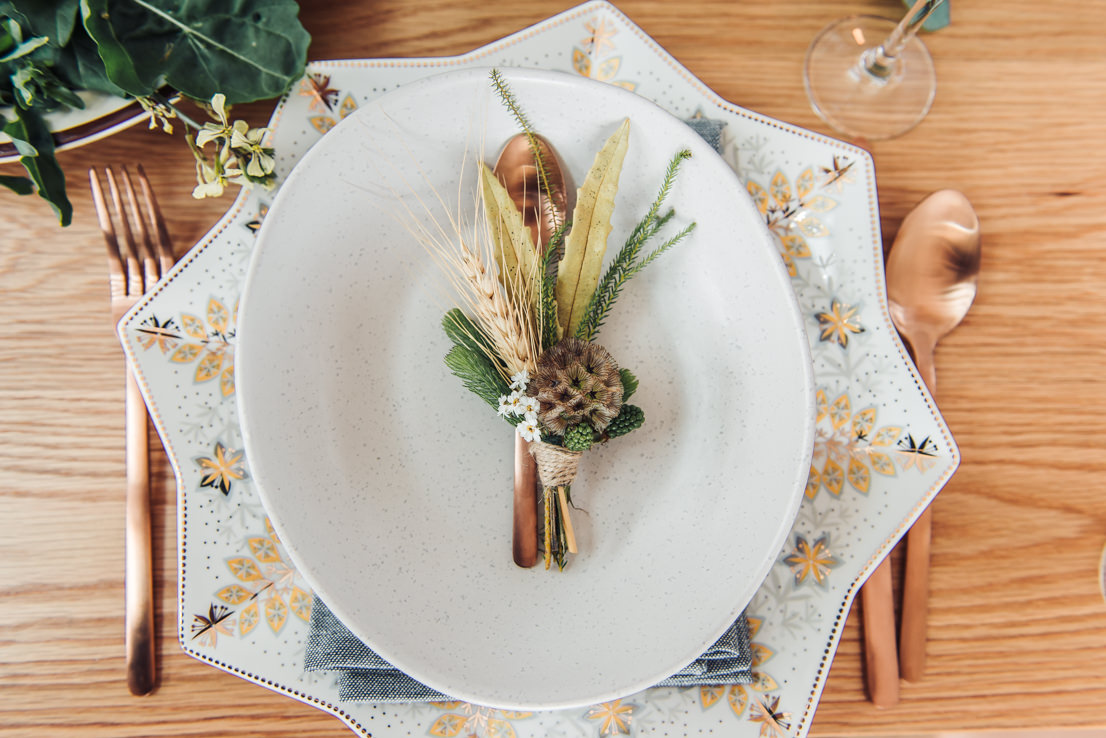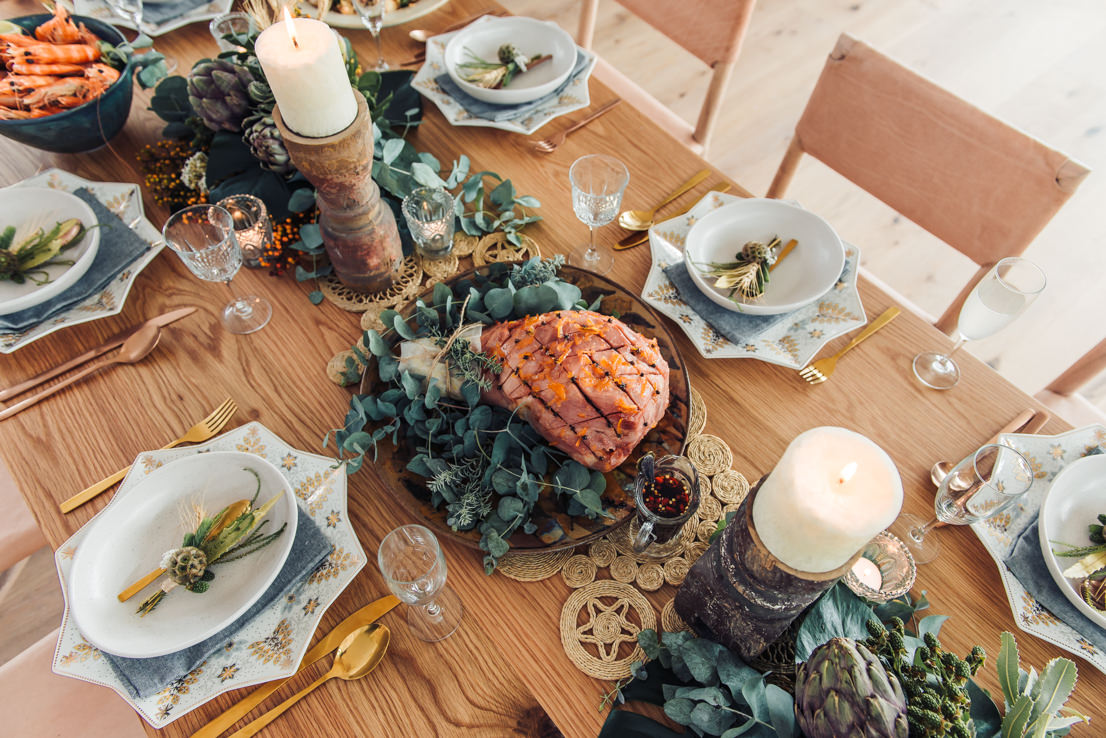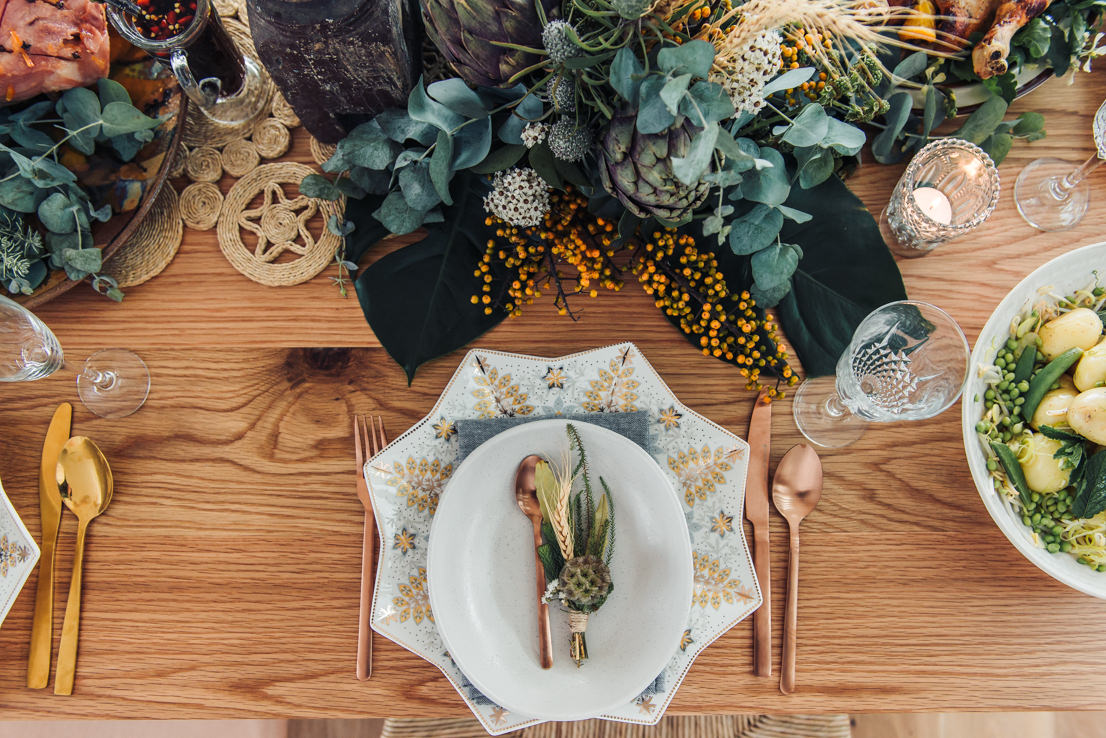 Rustic Touches & Mixed Metals
When entertaining for a group of people, it's sometimes hard to ensure everything is matching.  But don't let this worry you, as it's often the 'mismatched' feeling of a table that can add charm.  Here we've used a mix of bronze cutlery from Maxwell & Williams with gold cutlery from Kmart.  As a centrepiece we've used rustic timber candle holders with scattered vintage glass tealight candle holders.  Again, we've used a mix of simple champagne flutes and more detailed vintage crystal glasses.  Don't be afraid to head to your local second hand store and look for mismatched glassware – the key is to find similarities, so that the table doesn't start looking messy.  For example, we've stuck to glassware for drinks.
Let the Food Shine
Don't forget that the food plays such an important role in adding colour to a dining table. Putting food on the table is also a social way of serving food, with food passing from one person to another!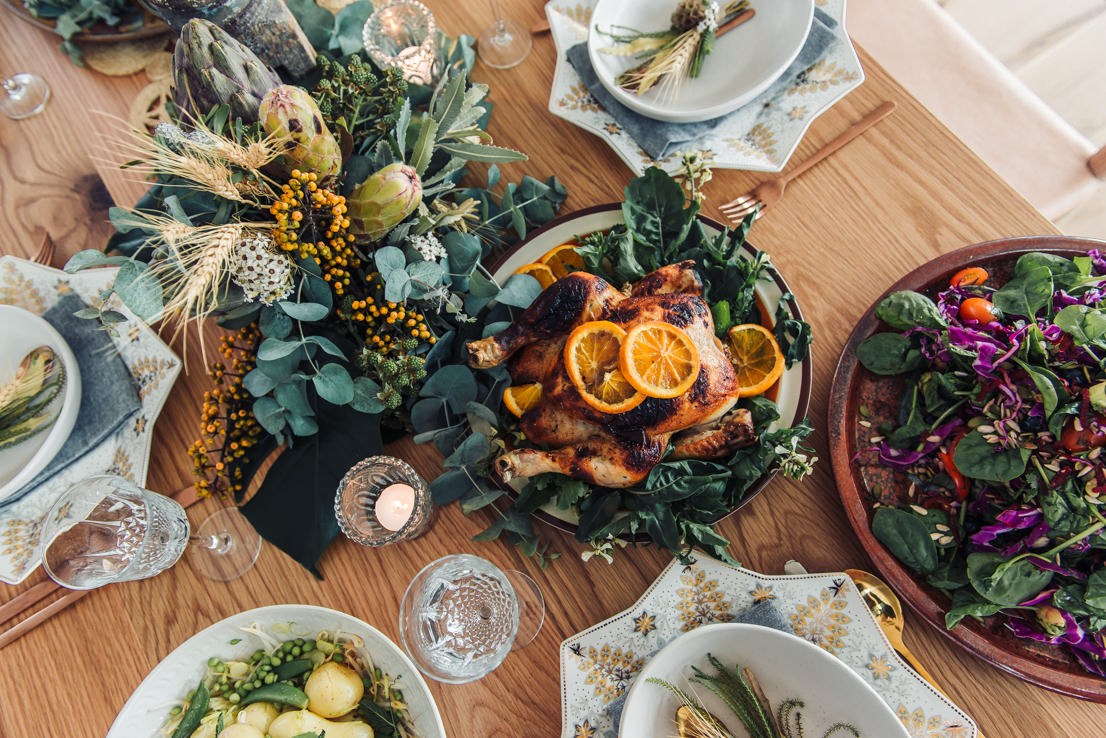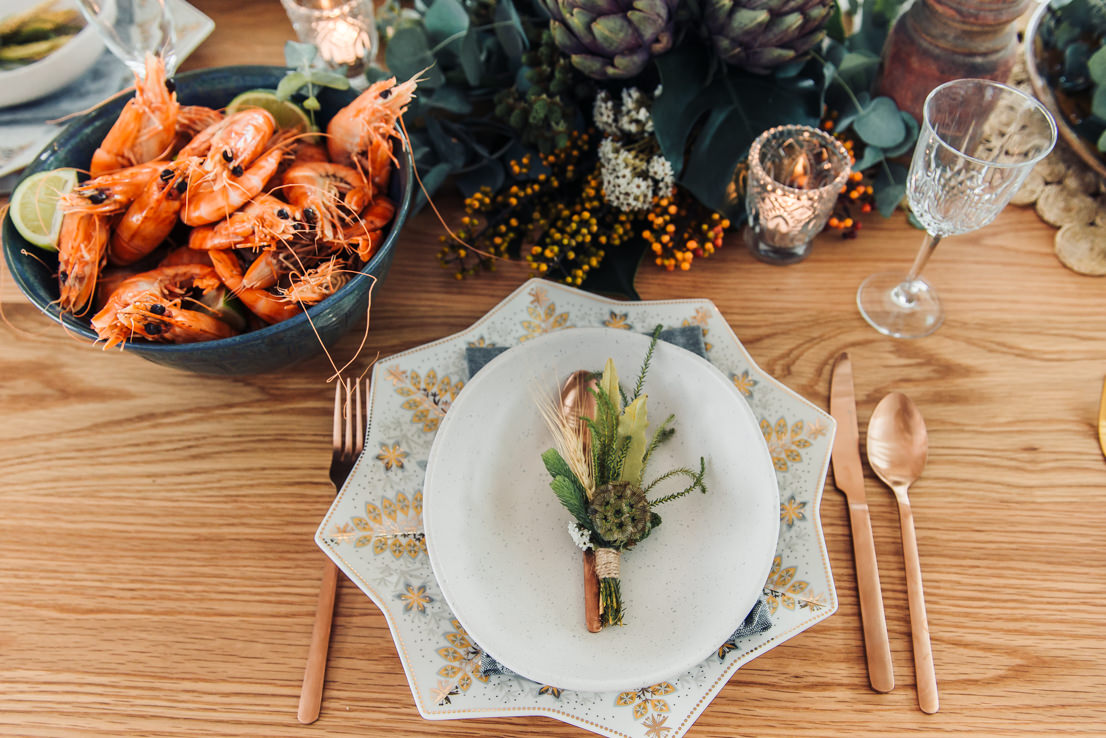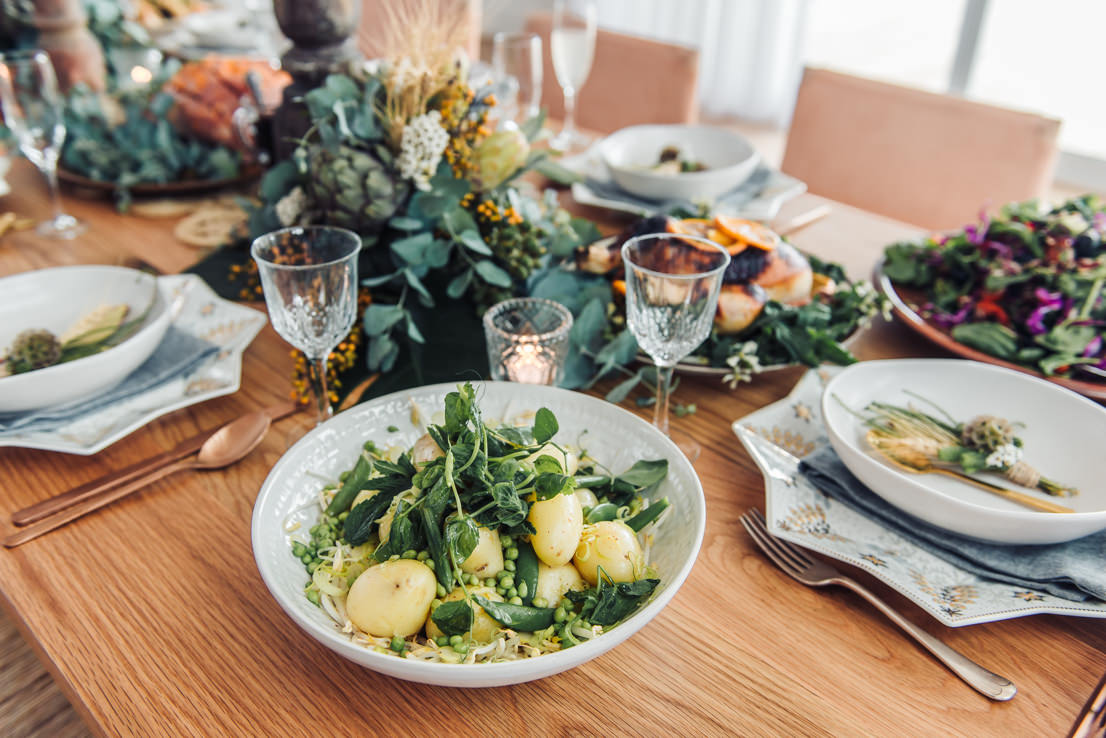 Dessert Station
Set aside a separate drinks and dessert station for after dinner.  We have a festive pavlova, chocolate tart, brownies and a cheese board with a fruit punch.
Enjoy your Christmas feast, and if we've inspired your Christmas table, be sure to tag us in your styled table pictures!
K x