A Rustic Autumn Breakfast
I'm just going to put it out there and start by saying, I love food. Apart from the obvious, that most food tastes good to me, I also love that when presented right, it can look so good! I'm not so much talking about my weekday run-of-the-mill dinner, but more so the weekend cheese platters, hearty winter stews or summer seafood platters. I have some ridiculously creative friends who share my enthusiasm, so when we're together, it's all about the food!
You'll often hear me say 'when I'm finished the house I'll have everyone over for a beautiful feast' but my problem is, we're always renovating and when we're finished, I know we'll find another renovation, so my mantra is now 'just do it!' So, last week in the midst of the gyprock dust and tradies, my gorgeous girlfriends and I had a breakfast feast inspired by the rustic colours of Autumn.
My obsession with buying ceramics from second hand furniture stores has certainly come in handy with this palette. The napkins were 'handmade' by us. And when I say 'handmade' I mean we bought 2m of fabric from spotlight and cut in sizes to suit. The fabric was a bit too 'white and bright' for our subdued rustic theme so we soaked them in tea bags for a few hours the night before.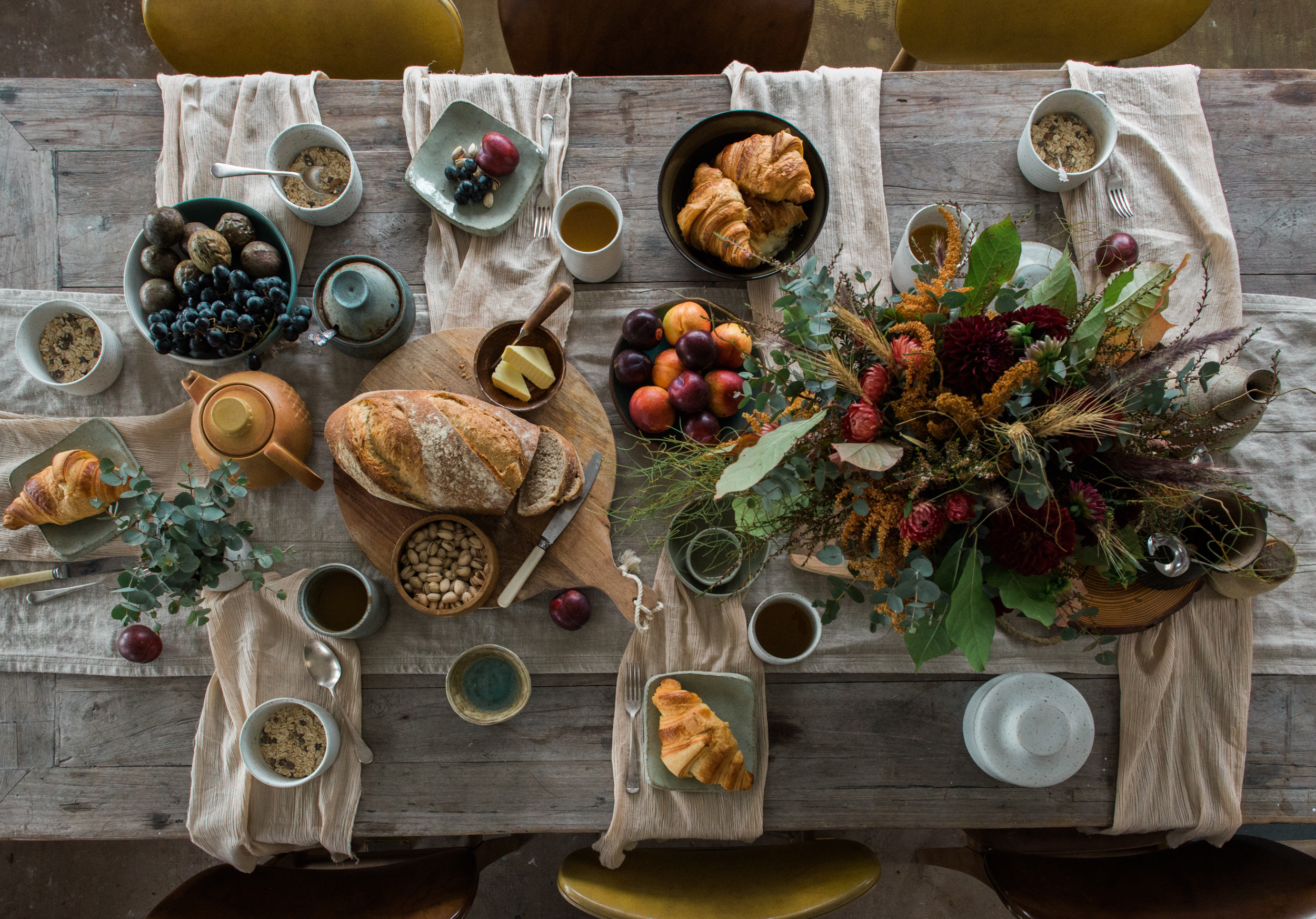 It's also very handy having a florist as a friend and I may be biased but Merrin is one of the best (Merrin Grace Floral Design). She's put together a seasonal arrangement that really is the hero of this table.
This arrangement includes:
Dahlias
Paper Daisies
Amaranthus
Willow
Zig Zag Vine
Autumn Leaves
Purple Fountain Grass
Wheat
Tea Tree
Gum
Remember you don't need to spend a fortune on greenery, especially with this theme – some of the most beautiful arrangements have been sourced from foliage in our local area.
Our vintage ceramics along with some beautiful new Zakkia pieces and some fresh pastries from the local bakery certainly created a simple, yet beautiful feast for the eyes. So after Rose Jane took these beautiful shots, we ate. And yes, the tradies were hovering so they of course joined our feast and it made it all the more enjoyable.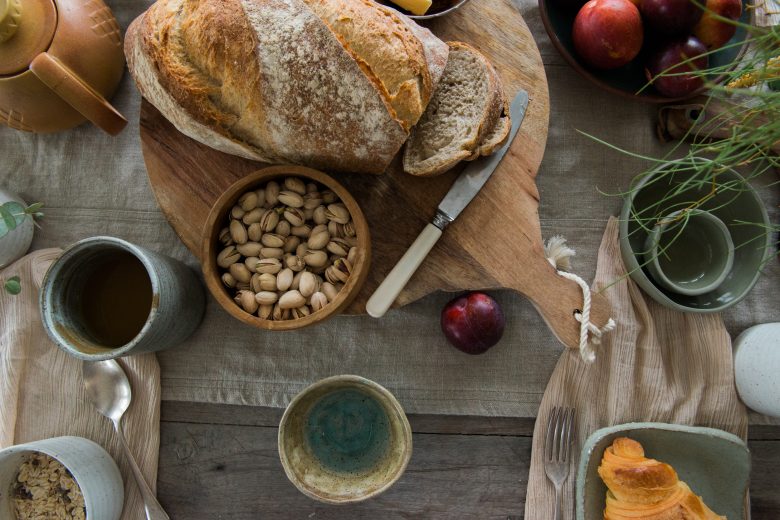 There's a few points to this story:
An arrangement of seasonal flowers can set the most beautiful tone for an Autumn inspired table setting.
You don't need to spend a fortune on matching ceramics and crockery. The eclectic mix of second hand ceramics works so well with a rustic autumn (or winter) themed table.
Feeding tradies will keep them happy and working hard – although they won't appreciate the styling like your girlfriends will!
Looking forward to a winter inspired feast as the weather gets cooler (if it ever does).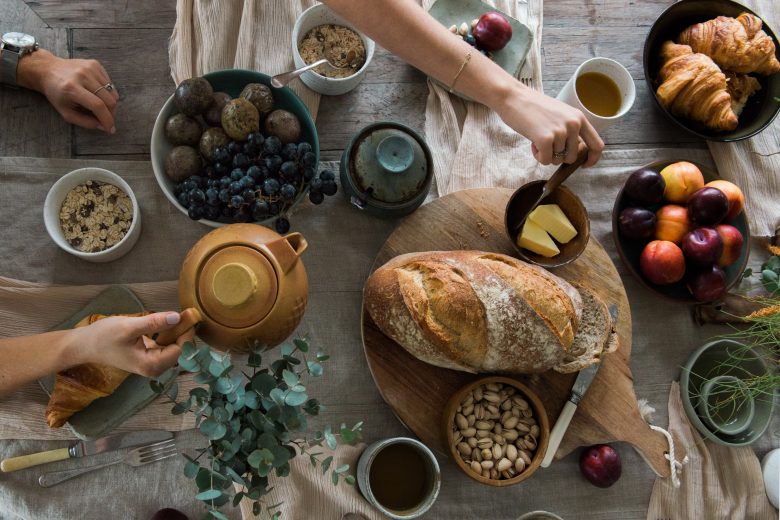 Get the Look!
Zakkia
Oversize Tumblers in White and Seagrass
Containers in White and Seagrass
www.zakkia.com.au
Hunting For George
Brushed Cutlery Set
www.huntingforgeorge.com
Eadie Lifestyle
Luca 100% Pre Washed Linen Table Runner in Natural
www.eadielifestyle.com.au
Marmoset Found
Cloud Bowl Charcoal
Cloud Oval Plate Chalk White
Etchings Jug Black