I think it's always nice to take a step back and appreciate your own journey, achievements or cross roads that have led you to where you are in life.  If you'd have told me 10 years ago that I'd be where I am today, I'd be pretty amazed.  Yes, we've had some big highlights (i.e. our amazing Block journey), but what people don't often see are the sacrifices, hard work and after hours time that go into achieving goals and setting yourself up.  One of the two most frequently asked questions I receive are: "How did you make the switch from full time physiotherapy to running your own Building and Design business?" and "Would you recommend study?"  So I thought I'd answer these questions with a bit of background information from my career perspective and my study at ISCD.
If you've followed our journey, you'd know that Kyal and I absolutely love a good before and after.  Whether that be a complete home renovation or simply a great up-cycling project.  And that's exactly where it started for me.  In my garage, sanding back an old timber table so that I had a cool looking desk to study on during my Uni days.  That desk got me through my Bachelor of Physiotherapy and years of working as a Physiotherapist.  When we purchased our first home, we absolutely loved chipping away at the renovation.  The whole process including the design, selections and actual works really fascinated us and we felt we made a great team.  We would often talk about 'the next project' and how good it would be to do this full time.  One of our personal goals has always been to renovate and sell homes to get us ahead and beachside.
As much as I loved working full time as a physio, I still didn't know what I wanted to do "when I grow up"…(do we ever though?)  Around the six year mark post university, I was thinking about my next move career-wise, and was really at a cross roads: do I further my physio study and specialise further?  Or look more broadly? Which is when we were successfully shortlisted for The Block (Whaaattt?! Yes, I still can't believe it), I literally had no idea it would change our life, and had every intention of heading back to full time physiotherapy where I would make a decision on my next move.
As 'The Block' neared completion, we realised we had a great opportunity to capitalise on our successes and publicity and make our passion an everyday reality.  Kyal had previously completed his Certificate IV in Building and Construction to obtain his Builders License, and had some great experience under his belt.  I decided to further my studies with a Certificate IV in Design at ISCD.  I loved the experience and have nothing but positive things to say about the course and the team.  At the same time I was studying, I was still doing casual physiotherapy work, undertaking interior design and styling consults for new clients all over the country and working in our new roles as Bisley Workwear and Beaumont Tiles ambassadors.  Oh, I'd also signed up to do the 100km Oxfam walk so my weekends usually consisted of at least a 15-20km training bushwalk.  So to say we were busy was an understatement (although now I can appreciate that adding kids to the mix adds another element to the meaning of busy!)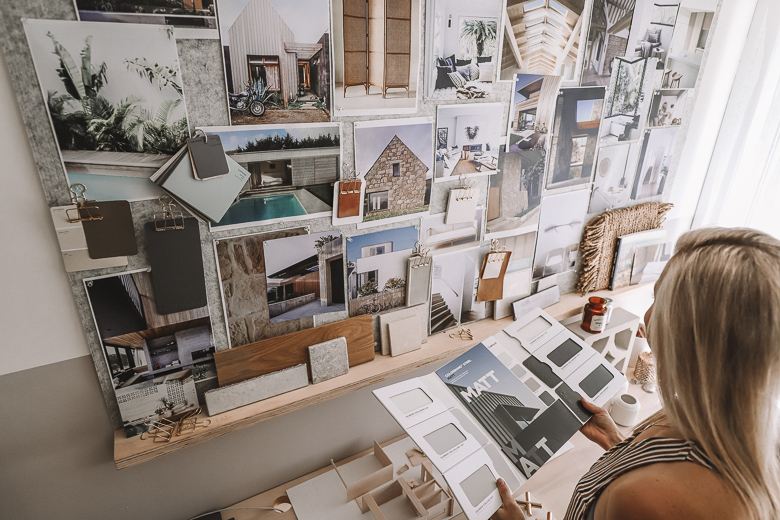 Throughout my study experience, there were a few things in particular that I loved.  Although I have always been more interested in design from a home renovation and styling perspective, I really enjoyed the holistic approach – in particular, I loved learning about textile design and working on the industry briefs.  The experience was also invaluable from a networking perspective.  I've met some amazing people who I still keep in contact with today.  It's been great to see how everyone has gone off on their own design career path.  When I'm speaking to people about furthering their education, one of the main concerns I hear are around how you fit study into an already busy schedule, or around current work commitments.  For me personally, I work better under deadlines and completed most of my assessments after hours at home or while we were travelling.
ISCD offers the Diploma of Interior Design and Decoration (delivered on behalf of Academy of Information Technology ABN 35 094 133 641; RTO 90511; CIRCOS 02155J) online and is focused on providing a collaborative and connected environment.  Just like my experience studying on campus, the online daily discussion boards are there to ensure everyone feels supported – and you can be as active or passive in this community as you like, depending on your learning style and needs.  I've popped some past students work below as examples.  One thing about the ISCD online platform that sets it apart from others is the fact that all students receive individual video feedback on assessments, which is a great lead into working collaboratively and receiving feedback from clients in 'the real world'.
My experience and work as a Physiotherapist and that of our Design and Construction business have had some great crossover during the past few years – most recently in our involvement with #SafeWorkMonth with SafeWork NSW.  I mention this because I love that my two careers have merged into something I really love, and I'm a firm believer in people using their experience and passion to its full potential.  So, if you've been thinking about making a switch, you've got my thumbs up!
Enquire about studying online with ISCD here.