On the 2nd of October, we attended the launch of #SafeWorkMonth with SafeWork NSW.  With a focus on making sure people are safe in the workplace, we were thrilled to be involved in this initiative.  This issue is so important for us – we're a small business and we want to encourage others to employ the culture into their own businesses of putting safety first.  As a young family we want to make sure that we ourselves, as well as our employees and contractors can go to work in the morning, and come home safely to their families each night. It's certainly something we're passionate about, and appreciate the initiative by SafeWork NSW!
One of the biggest aspects of running a successful business is ensuring that everyone understands what's happening and has their opportunity to contribute.  Good communication leads to jobs running on time, client's expectations being met, and overall – running a safe business that has a culture that ensures we do a good job and we do it safely.
To do this, we need to ensure everyone understands that safety is quite literally the top priority.  We want to be open with our team and contractors about each job, and we have found that implementing pre-starts or toolbox meetings is the way to go.  It's not a new method, ground-breaking technology or a fancy app, but it absolutely works!  During this time, we may address goals for the day, allocate tasks and expectations and discuss whether there is any speciality work being carried out.  We will also assess what has happened the previous day and re-iterate the fact that we are a team and we look out for each other – we want to go home uninjured at the end of the day!  These meetings ensure we're not just working more safely, we are more efficient and the quality of work improves.
Creating a culture where everyone feels entitled to speak up also promotes productivity.  Everybody has a voice – if you see something that's unsafe, it's your duty of care to report it, and if we've been successful at creating that culture then everyone feels confident to speak up without fear – knowing they will be heard.
As business owners, it's our responsibility to demonstrate leadership and set a good example in all aspects of our work, especially safety aspects.  It's vital to make sure contractors are up to date with their own insurances and are inducted on to our site.  In our industry, the work differs from job to job so we are responsible for identifying potential risks or hazards for each task.  This may include identifying whether extra machinery such as a forklift is required for handling materials, and ensuring you have planned ahead for it.  We have had cases where we've chosen to employ a scaffolder to provide safe access in a particularly hard-to-access area, and have even been required to find another contractor when someone wasn't adhering to the safety precautions that had been put in place – the risk just isn't worth it.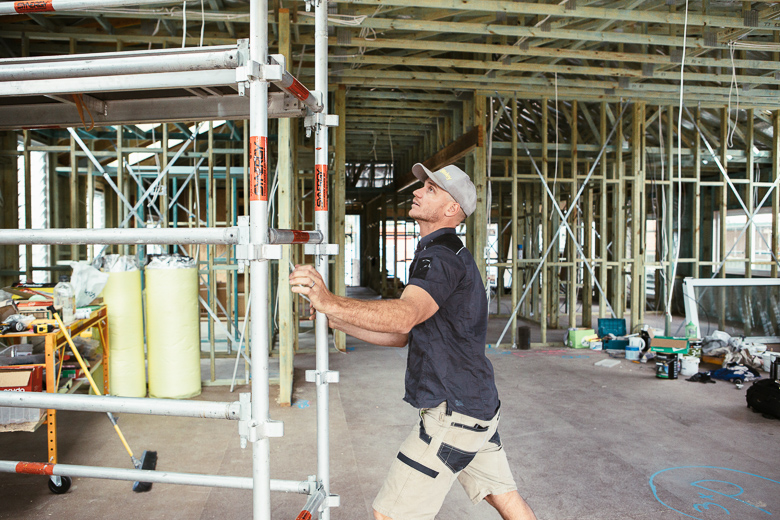 With a physiotherapy background, my main priority is ensuring we're eliminating any hazardous manual tasks.  Prevention is always better than cure, so consider how to eliminate repetitive or strained forces, sustained or awkward postures, or the handling of materials over a certain weight.  Maintain a good safety record by considering the resources available to you; what equipment is going to be most functional and ensure the safety of employees? If you are using plant and equipment, make sure it's in good working order, the workers are familiar with its operation and they have the correct personal protective equipment.   Make sure your employees are continuing to carry out correct movement – this might mean engaging a physiotherapist or other professional to educate staff.
Use checklists and involve yourself in campaigns to remind employees about safety on site.  Overall, we are aiming to establish a culture of health and safety, and at the end of the day we want to make sure that our whole team can go home and live life to the fullest – go surfing, run after the kids and enjoy a healthy and injury-free life!