This little powder room has no external windows, so we've played on the moodiness by opting for darker tiles, creating a different feel to the other light-filled rooms in the house. The combination of these indigo tiles, Easycraft wall panelling and brass light have created a nautical feel. Now I'm on the hunt for a vintage sea-themed piece of art; one of those pieces where you'll 'know it when you see it'!
Gyprock : Gyprock® Aquachek™
Ceiling : Gyprock® Superceil™
Internal Door : MODA PMOD6, Corinthian Doors
Door Architraves : Bullnose 117×18, primed, Corinthian Doors
Wall Panelling : EasyVJ 150mm, Easycraft
Wall Panelling Colour : Taubmans Endure Low Sheen 'Platinum Grey'
Ceiling Paint Colour : Taubmans Endure Flat One Coat Ceiling White
Internal Door Paint Colour : Taubmans Endure Interior Semi Gloss 'Tinseltown'
Floor Tile : Serie Grafton Tawny, 200x200mm, satin, Beaumont Tiles
Floor Grout : FG8 Sandalwood 216, Ardex Australia
Wall Tile : Clay Indigo, 62x260mm, matt, Beaumont Tiles
Wall Tile Grout : FG8 Pewter Blue 252, Ardex Australia
Timber Rail : Oak, Custom built and installed by Kyal
Vanity, Integrated Basin, Splashback : Silestone Eternal Desert Silver, suede finish with washbasin, Cosentino
Vanity installed by Edstein Creative
Basin Outlet and Tapware : Phoenix Vivid Slimline Wall Top Assemblies and Wall Basin Outlet, brushed nickel, Beaumont Tiles
Bottle Trap : 40mm, chrome, Beaumont Tiles
Mirror : Taj Round Bone Mirror, natural bone, GlobeWest
Wall Light : Montego Wall Lamp, brass, Emac & Lawton
Toilet Pan : Koko white pan & seat, Beaumont Tiles
Toilet Cistern  & Buttons : Gerberit Sigma 01, satin chrome, Beaumont Tiles
Toilet Roll Holder : Radii Round Toilet Roll Holder, brushed nickel, Beaumont Tiles
Hand Wash : Al.ive Body Wash & Lotion Duo + Tray, Coconut & Wild Orange, KK Homewares 
Decorative Coral : Blackbird Bateau Bay
Artwork (on vanity) : Brittany Ferns
Vase : Kara's own
Plant : Hoya Carnosa Wax Flower, Mowgli Studio Long Jetty
Wall Art : Jai Vasicek tiles, Common Circus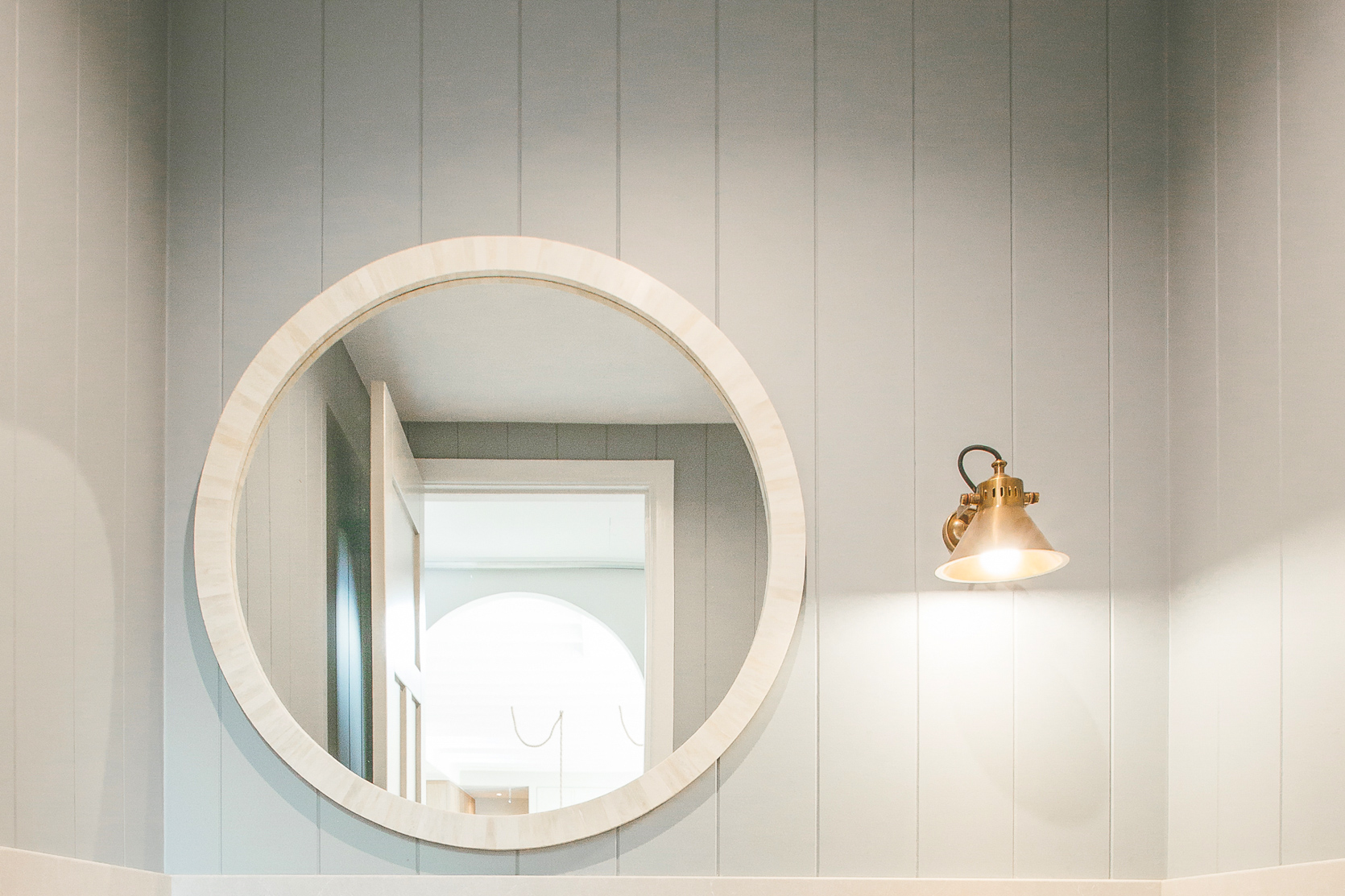 Click here to see our gallery images of Blue Lagoon Build's Powder Room.