What a luxury it's been designing a bathroom with a generous amount of space.  I've always loved a walk-around shower – not only because it conjures up feelings of grandeur, but also as you don't need to include any glass.  The large format tiles we've used are a gorgeous natural tone and work beautifully with the custom American Oak vanity, mirrors and beam.
Find all the supplier details below:
Walls: Taubmans 'Cotton Sheets'
Ceiling: Taubmans Endure Interior Kitchens & Bathrooms
Gyprock: Gyprock Aquachek
Internal Wall Insulation: CSR Bradfords SoundScreen
External Wall Insulation: CSR Bradfords Gold Batts
Door: Corinthian Moda PM0D1
Door Handle: Lane Westminster, Matte White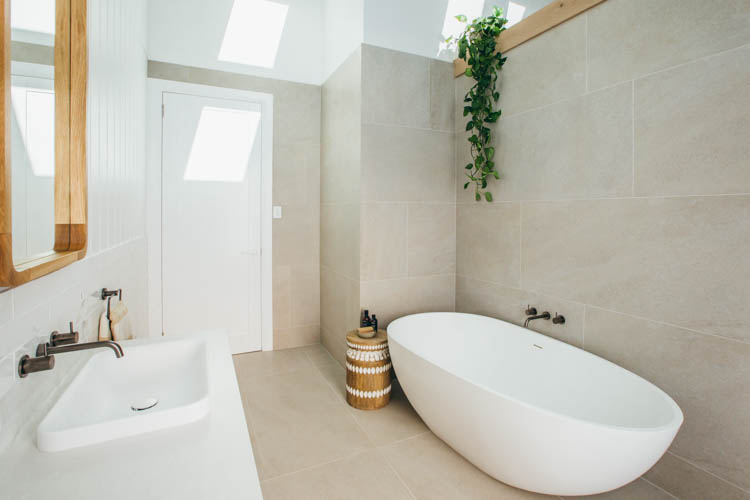 Skylights: Velux Windows
Window: Wideline Louvre Windows
Large Format Tiles: Beaumont Tiles Elmina 597x1197mm, White
Subway Tiles:  Beaumont Tiles Devonshire 300x75mm, White Gloss
Cladding: Easycraft Easygroove
Vanity: Custom piece from Loughlin Furniture
Vanity Top: Silestone by Cosentino, Yukon, Suede
Basins: Beaumont Tiles Pride Basin Semi-Insert 550x370mm, Matte White
Tapware: Beaumont Tiles Phoenix Vivid Slimline, Gunmetal Finish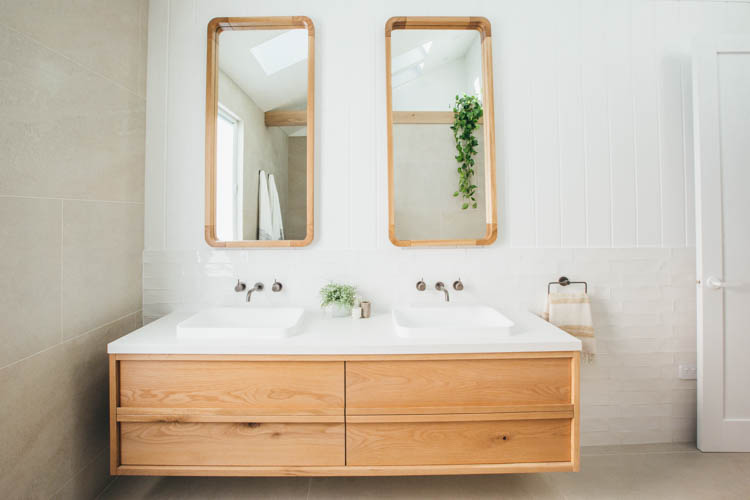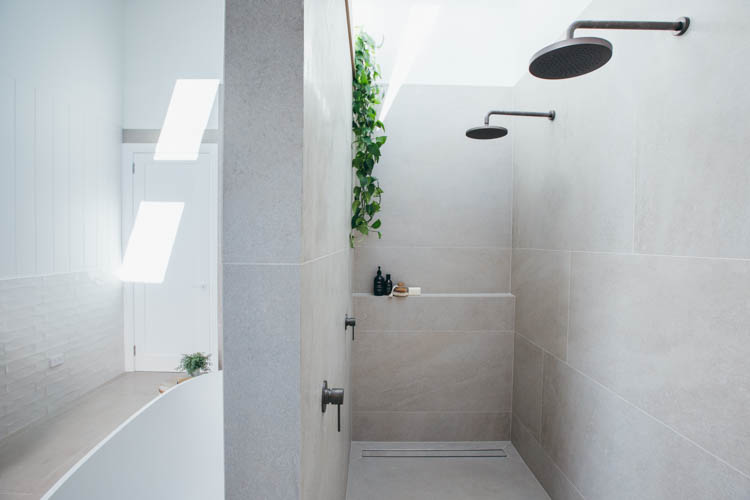 Bath: Beaumont Tiles Bahama Bath, Satin Finish
Shower:  Beaumont Tiles Phoenix Vivid Shower Arm 400mm; and Rose 240mm round, Gunmetal Finish
Body Wash: Saya Skincare
Timber Stool: Globe West Vionnet Painted Stool
Towels: Imprint House
Hanging Plant: Flour & Co
Decorative Vases: Blackbird Bateau Bay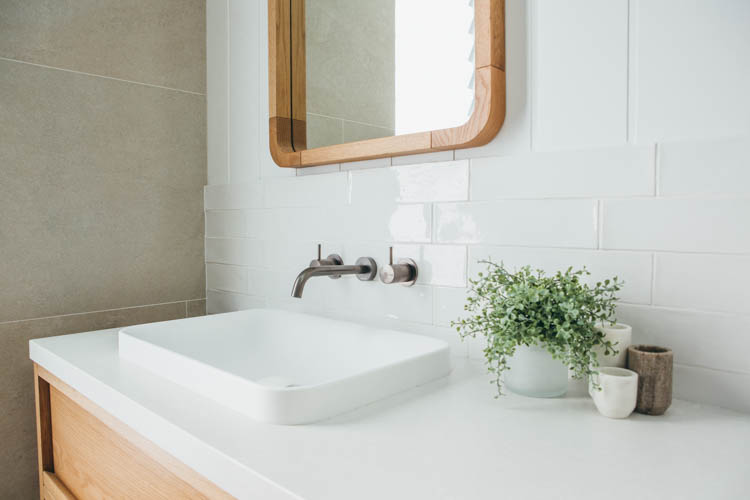 Read more about this room here.