One appealing aspect of purchasing this house was the established trees on the property, and in particular the Canary Island Date Palm out the front.
The original home was a small weatherboard cottage with lots of tack-ons, including a carport, shed, back verandah and outdoor laundry. Originally you had to walk down the driveway and found the front door on the side of the house – this is one of the first things we knew we had to update moving forward with our renovation plans. First impressions count, and having a clear and inviting path to the front door of your home is important to us.
Every modern family home needs a double garage! So while our priority was to move the front door to a more accessible and inviting position, we also wanted to allow for a double garage at the front of the property.
With our mood board developing, we loved the idea of a flat skillion roof inspired by the mid-century architecture of Palm Springs however, we felt a gable roofline at the front of the house would create a much more appealing street presence for this area. Producing a timeless front facade appropriate to the area meant creating a quintessential beach house look, and cladding is an important detail in doing this. We've chosen the Scyon Linea 150mm weatherboard to help with that, which has a small profile, giving it a defined shadow line.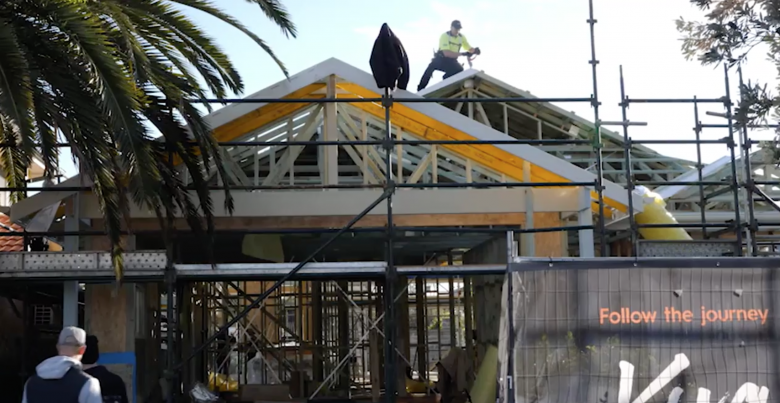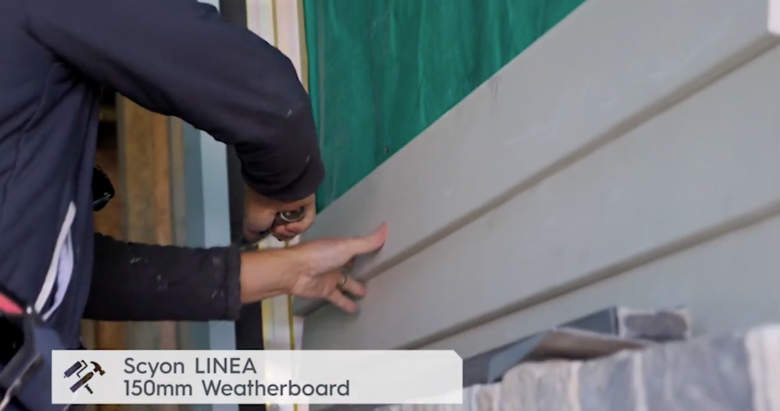 When deciding on the exterior colour palette for any renovation, I generally start with the roof finish. Wanting to keep everything light and fresh,  COLORBOND® Surfmist was the obvious option. We were pretty darn exciting to see the new Matt Finish had just been released so we were keen to incorporate this into our design! The matt finish has a more subtle and refined finish, so we've been so keen to see the front come together with this feature, and we haven't been disappointed.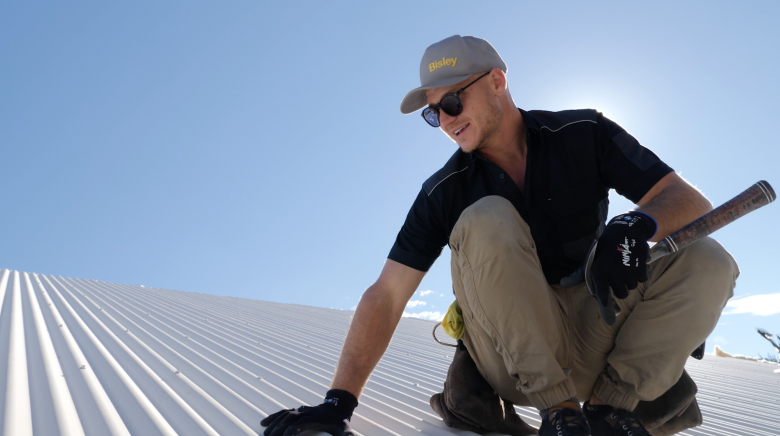 After a big day of roof installation we get cracking on getting the home locked up, and you can read more about this at Long Jetty Renovation Episode 3 – Locked Up. To briefly recap, we've used limestone from Cinajus, painted the weatherboards with Taubmans 'Barely Beige', and all timber trims with Taubmans 'Brilliant White'. We've installed the most gorgeous casement window from Wideline Windows – a quality look for a great first impression.
Next up, it's driveway time! Anyone who has renovated will know that walking dirt through the house becomes so tedious! So as lame as it sounds – getting a driveway was a very exciting day for me! Similar to our shower screen installation inside, when it came time to organising the driveway, we used the hipages app. After entering the job details, we received three local trade quotes and were able to select the right local contractor for the job.
We've chosen an exposed aggregate driveway and Kyal has also formed up some stepping stones that we will our in the same finish.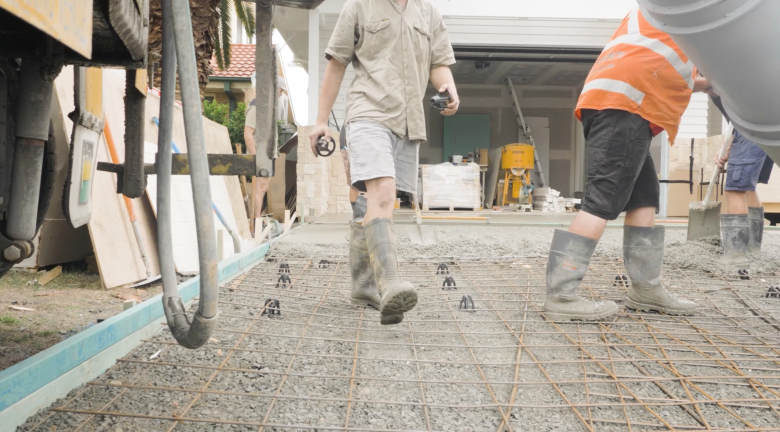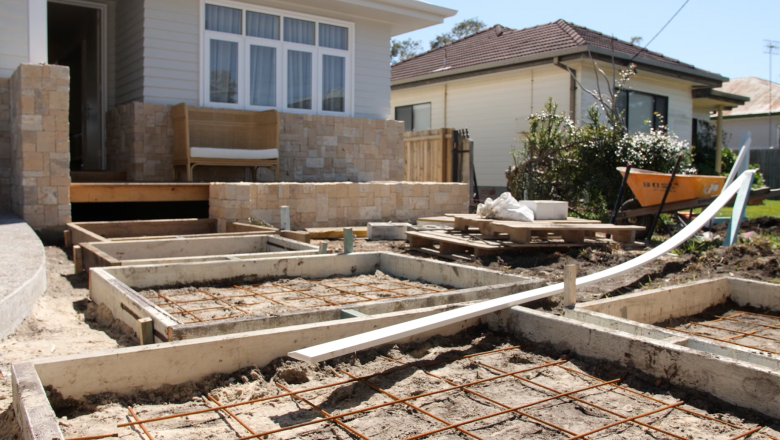 Moving on, we're ready to install what every coastal home needs – a front deck. We've chosen 140mm-wide Blackbutt decking from Mitre 10. To produce a rustic coastal touch, Kyal's using a 14-gauge stainless steel screw. He's also using a smart tool with pre-drills and counter sinks and the same time, making the job fast and neat.
We get so many positive comments on our garage door at Toowoon Bay Reno and we honestly feel that this has helped create the character and charm of the front facade, so we were keen to do something similar at Long Jetty Reno. We had the door custom made by Doorcraft in western red cedar with a shiplap paneling profile.  After this was installed and primed, Kyal has installed the extra timber detailing and we finished it off in Taubmans 'Snow Olive' in a 50% tint, which ties it in with our huge 1150mm-wide Corinthian Deco front door.  Even though Kyal was initially worried about my colour choice, now that it's all done we couldn't be happier.
Either side of the garage door I found some gorgeous up-down lights at BG Lighting & Design, and we had these installed by our good mate at Sparky & Co.
After months of construction and hard work, it's time to landscape!  It's not until we start bringing the plants in that our vision really starts to come together…. We've had the team from Sprint Horticulture to assist in sourcing all our plants and it feels like Christmas Day when they arrive with plants in tow!
Although the Canary Date Island Palm was the inspiration for our Palm Springs theme, we wanted to create a classic coastal look for the front facade using some of our favourite materials – white weatherboards, timber and limestone – and these plants certainly complete the look.  We're so happy with how it's all come together and we believe we've created the facade to die for – but wait until you see the pool area!!
For a full list of what we've used and to see all the finished shots, head to Long Jetty Renovation Front Facade Reveal.
Watch Episode 8 of the Long Jetty Online Series, brought to you by RAMS.