With the house locked up, our attention has now shifted inside to keep everything moving!  First things first: we need to firm up our electrical and lighting plan. This is such an important part of any renovation or build – and yes, we do say this about a lot of things – but the lighting really does set the mood for the home, and a poor lighting plan can detract from the overall look you are aiming to achieve. We have chosen a mix of downlights, wall lights, can lights and pendants which we'll share with you along the way. Another reason to get the lighting and electrical plan right is because once you start sheeting, your plan is locked in! Well…that is unless there is accessible roofspace and you can have your electrician do some variations – but the costs of these variations will start to add up, so be aware!
When designing an efficient home, insulation is a must! We've used Bradford Gold Batts for all exterior wall cavities. In winter up to 25% of the heat in your home can be lost through the walls, and on the flip side, a similar percentage of heat can enter through the walls in summer. The Gold Batts essentially act as a barrier against this process.
On the inside, we've used Bradford SoundScreen, which not only provides thermal insulation, but also assists in reducing noise transfer between rooms. Perfect for busy families, people who work shift work, or perhaps those who have an office set up at home that requires a quiet space. This product is also a National Asthma Council Sensitive Choice Partner.
With the electrical roughed in and our insulation installed, it's gyprock time! I love our team of gyprockers as they come in like an army and get it done! Going from bare frames to gyprocked walls is great for the renovation morale – so much changes in such a short space of time! We've used Gyprock Superchek which is manufactured with a high recycled content, which in turn increases the density and board strength. This has two benefits – improved sound and impact resistance. Between the gyprock and insulation, we have a very well insulated and QUIET home!
Moving into the front two original bedrooms, our goal was to pay homage to the 'traditional' front half of the home. The front bedrooms and media room will all feature Easycraft Easyascot panels which are an excellent Do-It-Yourself project and a great opportunity to add personality to any space. We'll be sharing a 'How To' video on this product very soon so stay tuned!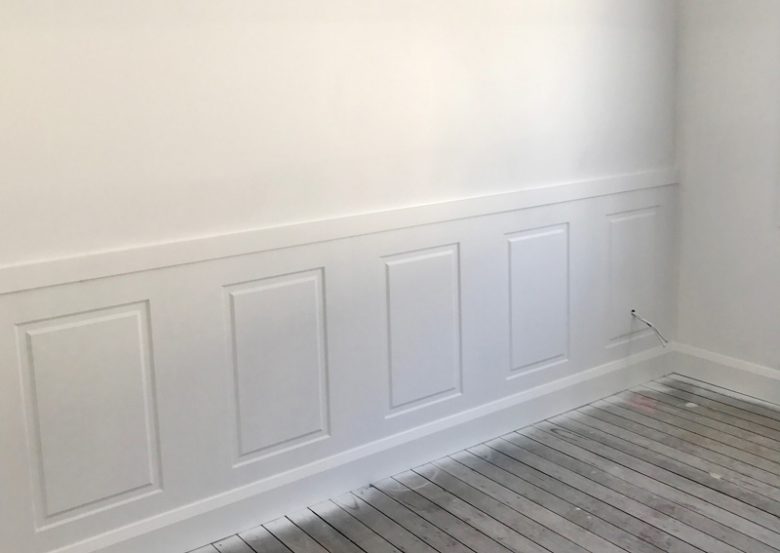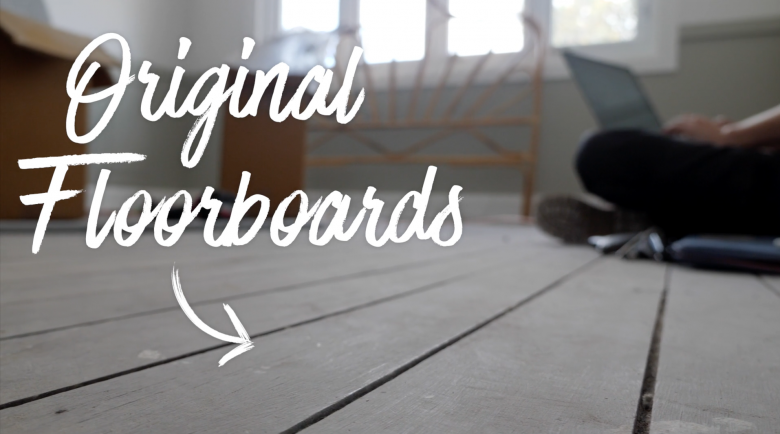 The timber floorboards in the front two bedrooms are absolutely gorgeous, however, due to the fact that they are the only two rooms that feature the timber, we've made the executive decision to keep everything consistent and carpet the bedrooms. It's a decision made easier since I've found the most divine wool carpet – Hycraft Ravine in the Oatmeal colour, which has a textured loop pile.
If you followed our Toowoon Bay Reno journey, you'll know how much of a fan we are of a casement window. Especially on the front facade of a home as it adds a quality look and feel – and first impressions count! We've replaced the window in the front bedroom with a casement window from Wideline, which ties in nicely with our Easyascot panels and dado rail at 900mm up around the perimeter of the room.
There are a few other key design elements that provide a beautiful link in the front bedrooms, including the Gyprock 'Alto' cornice which is a nice mix between a modern and traditional cornice. We've selected the Corinthian Moda PMOD1 door in a 2340mm height for both the entry doors, as well as the robes. Such a timeless, simple design that adds character without detracting from anything around it.
Both these bedrooms have walk-in robes (storage goals!) and we've used a great system from Rustica Hardware to hang the Corinthian Doors – the Cellar Hanging Track – which we've ordered in a matte white finish. These tracks add a point of difference to an otherwise standard cupboard opening and it's elements such as this that create a point of difference in a home.
We've undercoated using Taubmans 3-in-1 prep and for the 'hero' white internally, we're using Taubmans 'Cotton Sheets'.
Check out all the finished pictures and supplier details of the first two bedrooms complete – Guest Bedroom & Kids Bedroom.
Watch Episode 4 of the Long Jetty Online Series, brought to you by RAMS.