It's been a big 9 months for us!  After purchasing this renovation, we set about planning, and then building this gorgeous family home. This is the first reno for ourselves that we haven't lived in whilst we do the work, and we naively thought that it would be a breeze. Yes I had a little one in tow, but the reno was a short walk from home and it's not that hard to work with a baby, right?!  WRONG! Anyone that says that is kidding themselves. And let's not even mention the scale of the renovation itself…!
Yes we bought a flat block and designed a single storey renovation – but there is absolutely nothing small about this house! I just don't think we can help ourselves – we're "all or nothing" type of people.
We keep two bedrooms and the hallway at the front of the original cottage, so there was a significant amount of demolition, including asbestos removal. The pool shell was one of the first things to be done, and gosh it looked lonely in the back corner before the extension was built. Foundations were laid, walls were stood and a new roof pitched. There's been countless big days to get to where we are and if we've made it look easy, then we're telling you now: it hasn't been!
A turning point in the renovation was the day the COLORBOND® roof went on. This meant we were able to work regardless of the weather, get the house locked up, and begin working on the inside. Remember you can catch up on all the progress in previous episodes here.
Now that we're down to the final days of this renovation, our focus shifts to the backyard, pool and outdoor kitchen. Kyal and Jayden have built a timber frame for the BBQ area, and we have the guys from Edstein Creative Stone installing the bench top. As this area is protected from the elements, we've chosen the Cosentino Silestone 'Yukon' in a suede finish – the same as our kitchen bench top. One important thing to note is that Silestone needs to be protected from UV rays – our outdoor kitchen has full coverage from UV exposure due to the roof shielding above, and the high splash back screening on the sides. Cosentino do not recommend placing Silestone outside and suggest using their other surface, Dekton. For us though, because the area is fully protected, we've chosen the same surface as our kitchen to really assist in bringing the spaces together and creating a consistent flow.
The moment I've been waiting for finally arrives and the pool is being tiled! We have an inground concrete pool that we've decided to pebblecrete with a tiled waterline border. We've selected the Marrakesh Mist Ash 200x200mm tile from Beaumont Tiles, and we're using a white and clear glass bead pebblecrete.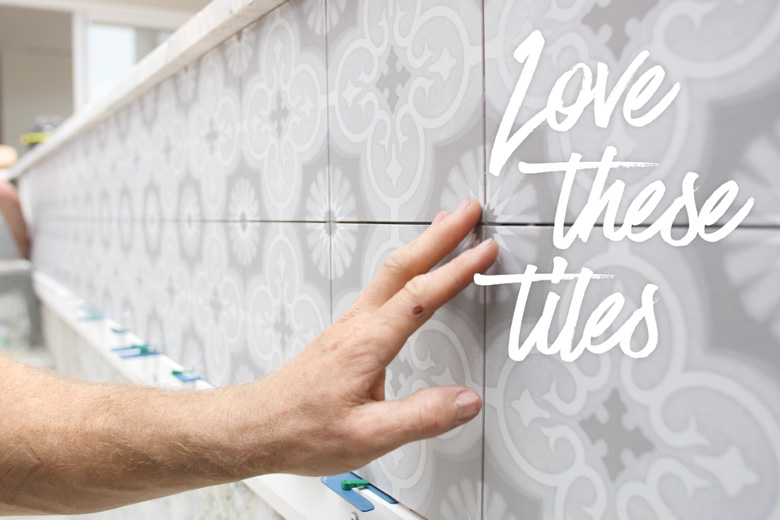 Moving to the backyard, the team at Sprint Horticulture have sourced our plants for us and as with the front yard, we couldn't be happier. We've worked with the existing greenery where possible, and filled out the garden as required to create a lush, full backyard garden. Along the fence we've planted Achmena Smithii (Lilly Pilly) hedging and incorporated some more tropical-looking plants including the Cycad, Fan Palm, Australian Palm, Plectranthus Variegated and the Carex Everoro. Nothing like a bit of sweating it out in the garden all day and seeing it all come together at the end of it all!
With the house complete, we invite Greg and Lisa from RAMS to come and have a look at the completed renovation. As our personal home loan specialists, they've been with us since the beginning of our Toowoon Bay Renovation. We've essentially borrowed against the equity in our last property to undertake Long Jetty Reno – so they really have been such an integral part of this journey.
Looking back at the past 9 months and what we've accomplished, as always, we would say the hard work has paid off and we're so incredibly proud of another beautiful home. So what's next? Auction day is looming and no matter the outcome, we'll be sure to share all the details with you – so stay tuned! With baby number two on the way, 2018 is set to be another busy year!
Read more about this space in our Journal post – Pool and Backyard Reveal.
Watch Episode 10 of the Long Jetty Online Series, brought to you by RAMS.