It's no secret that kitchens and bathrooms sell homes, and for most Australians, kitchens are the hub. Given that we spend so much time in there, it makes sense that we create a functional space that we enjoy being in.
We're all for working with what you have, and in this case this kitchen had amazing 'bones'. By this I mean solid cabinetry, timber doors and a functional layout that works with the existing space. So where do you start? And what should you invest your money in to ensure you're adding value?
In this instance, we've decided to focus the budget on new bench tops and appliances, and give the existing cabinetry a fresh coat of paint. In our experience, a good quality kitchen bench top can add significant value to a home, as well as create a more enjoyable day to day experience for anyone using it! The other significant change we're making is to move the oven. It currently sits in cabinetry opposite the fridge, so to create more bench space we've decided to move it to underneath the existing cooktop.
Where to start with new benchtops
We've worked with the team at Edstein Creative Stone for years now and highly recommend them. We've chosen Silestone 'Blanco Maple' with a 40mm edge. Below is their process for ordering new bench tops:
Draw a hand sketch of your bench top, including the length and width of all bench tops and where the walls are located.
Choose a stone colour.  The best way to do this is to go into an Edstein Creative showroom where the qualified team can walk you through all the options.  As always, if you're unsure of what colour you're after, collect pictures, magazine clippings or pinterest images of what catches your eye.  It may just be one element in an image you like.  It's worth taking note of exactly what it is you like in each image.  By creating your own mood board, you should begin to get a feel for what you're after.
If you already know what colour you would like, simply email your plant, stone selection and choice of edge thickness to quotes@edstein.com.au
Whether you visit a showroom or email your plan you will receive a quote back from the team within 24 working hours.  If you are happy with your quote and would like to go ahead, you'll need to complete a quote contract and pay a deposit.
Edstein will come and check measure your bench tops around 7 working days from contract and deposit being received.  Your current bench top can remain in place for this step.
Around 12 working days after check measure, Edstein will return to install your brand new stone tops!
Benchtop Checklist
Your existing cabinets need to be strong enough to support the new bench tops.  Cabinets also need to be straight and level.
You will need to organise your own electrician and plumber to remove and re-install sinks and cooktops.  If you are buying new ones, they need to be onsite for the check measure.
You will need to have the existing bench top removed yourself, and this needs to happen the day before install.  If you are replacing a laminate top, these are normally around 32mm thick and the most cost effective option is to replace this with 20mm stone.
If you want to add additional cupboards this will need to be completed prior to check measure.
Additional Changes
After a thorough clean of the existing doors with sugar soap and a scourer, we've  given the doors a light sand using a sanding block.
We've painted the doors using Taubmans 3-in-1 Prep and Taubmans 'Mountain Stream'.  We've also replaced the door handles with 'Prestige Hampton Handles' in Brass from the local hardware store.
For the splash back, we've decided to compliment the door fronts by tiling with Florencia Sea Foam Gloss Subway Tiles from Beaumont Tiles.  Where the original cabinetry for the oven was positioned, we've installed two custom Blackbutt timber shelves.  This has given more bench space but also makes the kitchen feel a lot more spacious.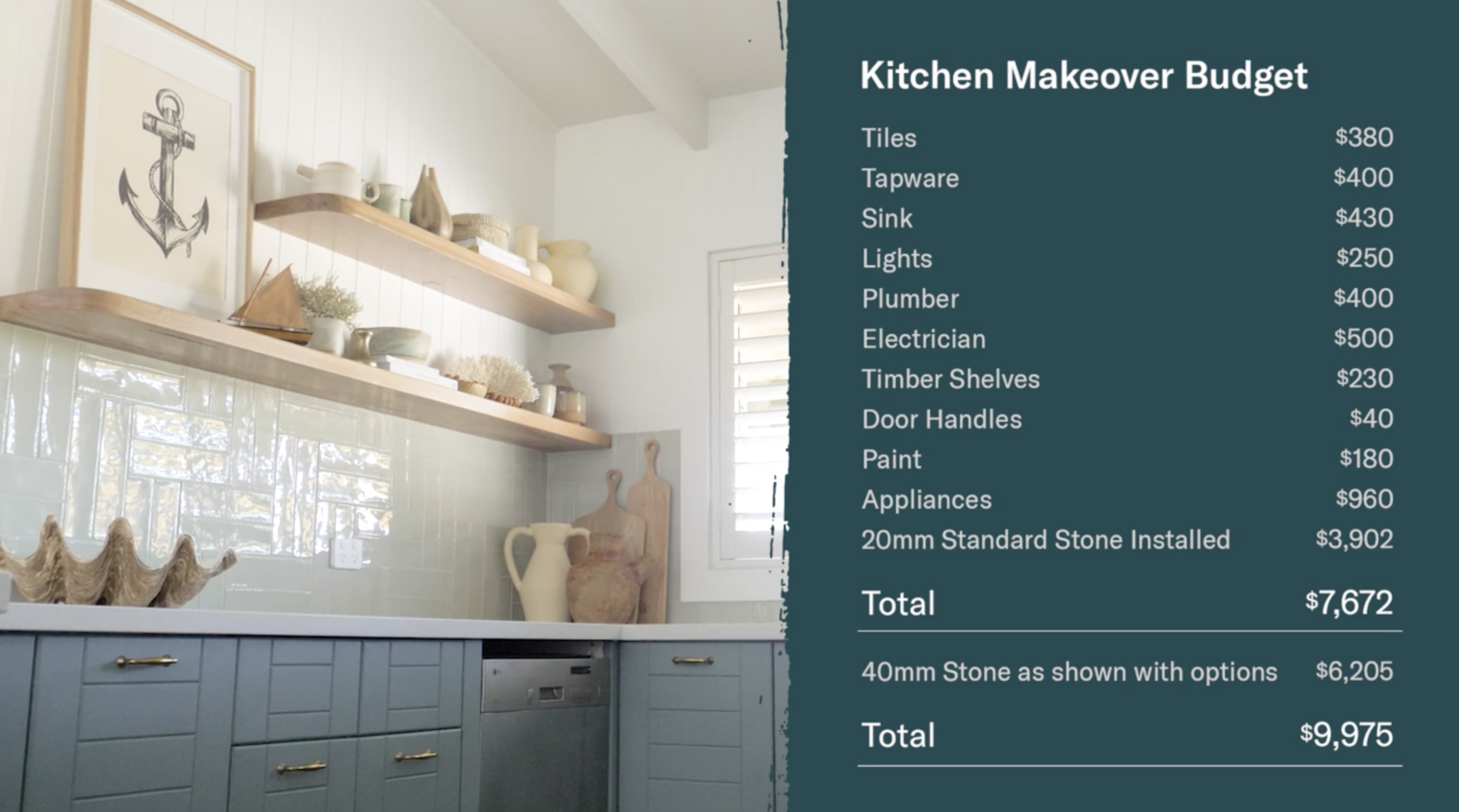 Lastly, no kitchen is complete without a touch of styling!  Local handmade ceramics and small one-off vintage pieces from local op shops are our favourite.