We put the Dyson Pure Cool through its paces and here's what we found
Since having babies, Kyal and I are far more conscious of keeping a clean and safe home environment for our little ones, particularly because we're usually busy, on the go or in the midst of a renovation. We're often fixated on cleaning the dust and dirt we can see around the house, but what about cleaning the air in our home? It's a little confronting to think about, but many of us (including myself) don't realise that nasty pollutants and allergens (you can't see) can be lurking in the air we breathe in our own homes – especially when we are cleaning all the dust and dirt during renovations.
Having a history of childhood asthma and being prone to bouts of hayfever myself, I'd heard about purifying fans, but was never quite sure of how they worked or if there was any way of tracking what they capture. These past couple of months, Kyal and I have been trialling the new Dyson Pure Cool™ and I'd like to share with you guys our experience with the product.
What is it?
The Dyson Pure Cool™ purifying fan automatically purifies the air within a room by capturing 99.95% of fine particles such as harmful pollutants through a HEPA filter. The fan is able to detect changes in air quality and displays these results in real time via an LCD screen on the fan, as well as reporting the results via the Dyson Link app, which you can download to your phone. It records:
Overall Average Air Quality
PM 2.5
PM 10
VOC
NO2
Temperature
Humidity
Setting it up
The set up was really straight forward, and consisted of clipping in a new filter. I will admit it did take me a couple of weeks to get around to syncing the machine to my phone but once I did, I wished that I'd done it sooner as it was so easy to do.
The Dyson Link app gives you a great 'overall' snapshot of air quality, you can even zoom into a particular day and have a look at the spikes of particles captured. I found that the longer I tracked the air quality, there were spikes with certain day to day activities. This made me want to keep the fan on more – hence, I started increasing the use each day. There were some days I had it on almost all day.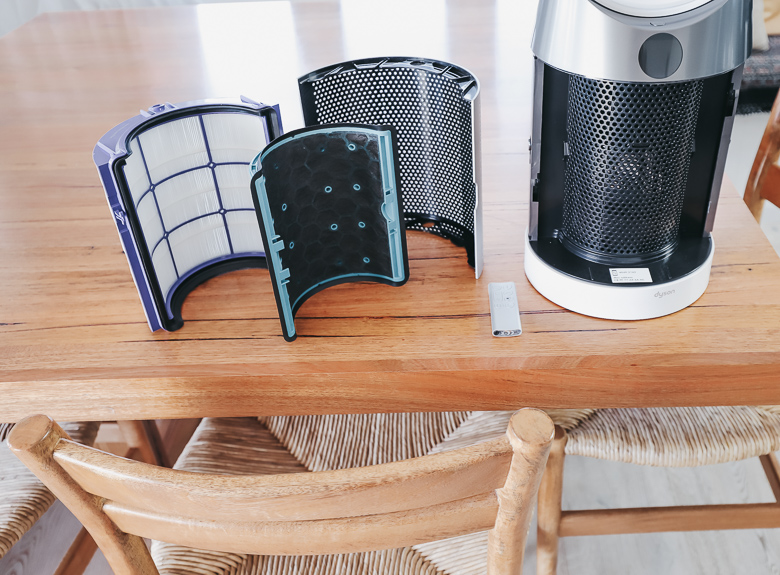 Putting the Purifier through its paces…
I began my 'spring clean' in early September and there were a few chores on the list that I'd been wanting to do for a while…  I took the curtains in the living room down and washed them, and gave our lounge room rug a really good clean. This involved moving the furniture, vacuuming the rug, giving the rug a good shake out and cleaning underneath it which meant LOTS of dust. While I was doing all of this, I had the purifier on and it was really interesting to watch the air quality vary as I was cleaning. It was such a relief to know that all the dust and fine particles that would otherwise be floating around in the air for us to breathe in were captured by the fan.
As well as our living and family rooms, we've been moving the fan into our kitchen and dining area periodically – especially if we are having a big cook up or if we're cooking particularly aromatic foods.
There was another interesting find one evening after Kyal had put some veggies in the oven to roast. While they were roasting, we were both so busy feeding, bathing and putting the kids to bed that we completely forgot about the veggies…. When we finally sat down to think about eating, we realised that they'd burnt to a crisp! When we opened the oven, out came all the smoke… The LCD screen showed a huge spike in particles being captured (see the below screenshot from the Dyson Link app). Again, another reminder that we'd otherwise be breathing in these particles had we not been using the purifier.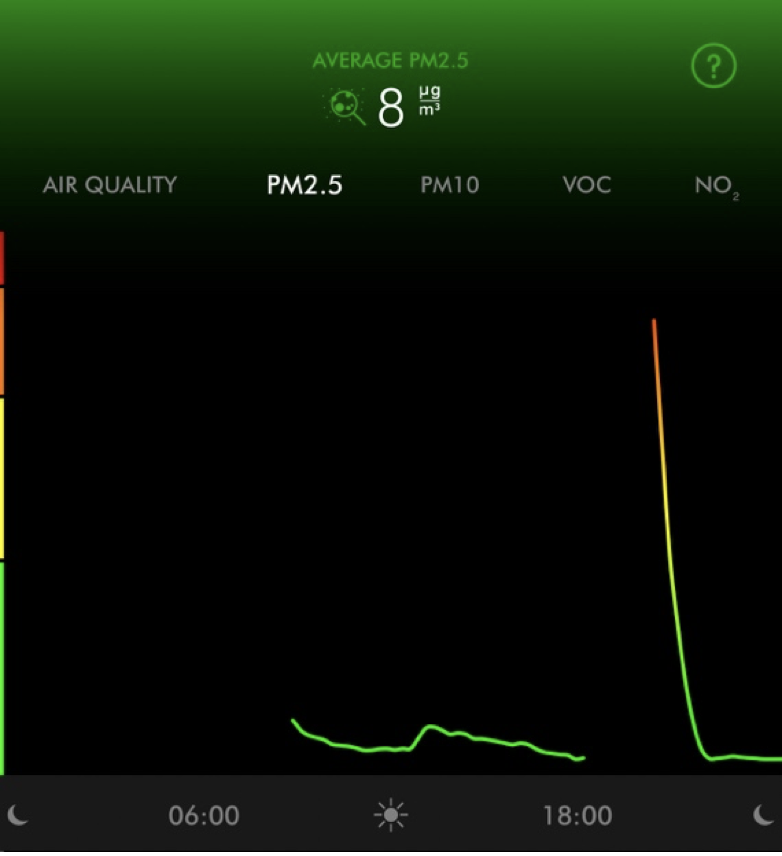 While we sleep
I've also been using the purifier in the bedrooms overnight as I've been interested to see what it's capturing – and because I think it's the closest I'm going to get to someone cleaning my house whilst I sleep! 😉 Dust mites are a common trigger for asthma and allergies so I feel that the fan has been a great preventative measure – especially when I've checked the Dyson Link App and have seen what it's been capturing while I've been asleep.
I've also noticed large spikes in particulate matter being captured when changing bedlinen over and even when I'm folding clean washing inside – my guess is with all the heavy winds we've had recently, the clothes collect pollen and allergens from being on the clothesline.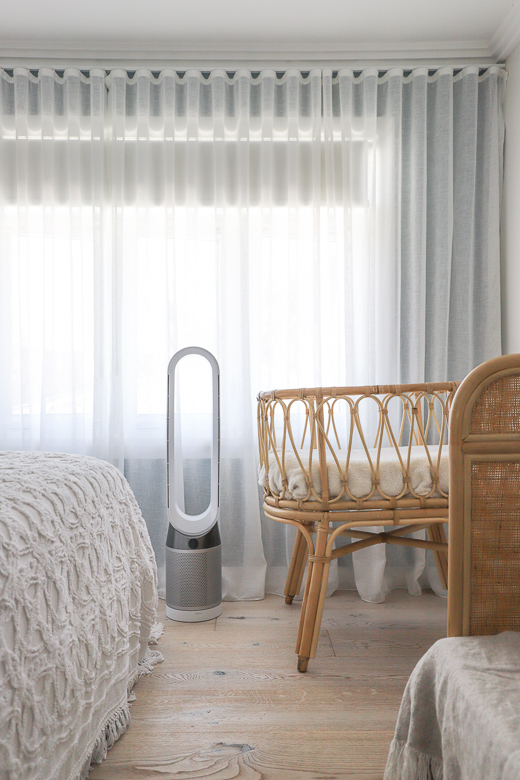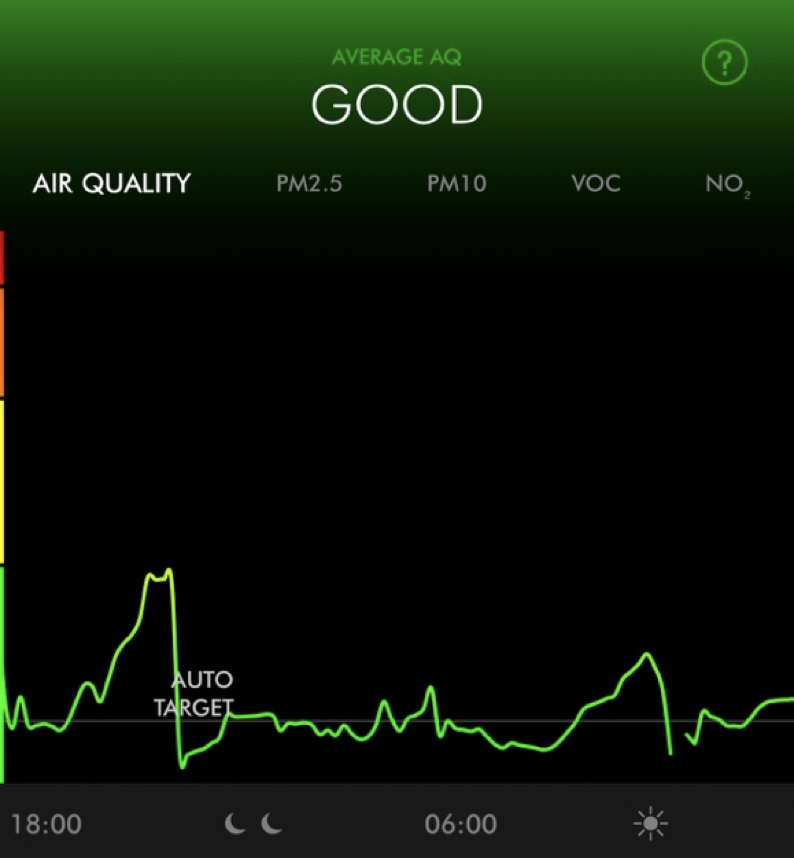 In the bathroom
Some of the largest spikes I've noticed so far are related to the Volatile Organic Compounds (VOCs) being captured.
Although I'm always trying to be conscious of what I'm spraying around the house as far as aerosols and cleaning products are concerned, there are some things that I haven't found an alternative for. In particular, I use hairspray before heading out on days that Kyal and I are filming and I have noticed a big peak in VOCs being captured when I have the purifier going. I also took nail polish off my toes using standard nail polish remover (non-acetone), and seeing the LCD screen graph spike was a very good indicator that the fan is definitely hard at work and doing a damn good job of cleaning the air around us!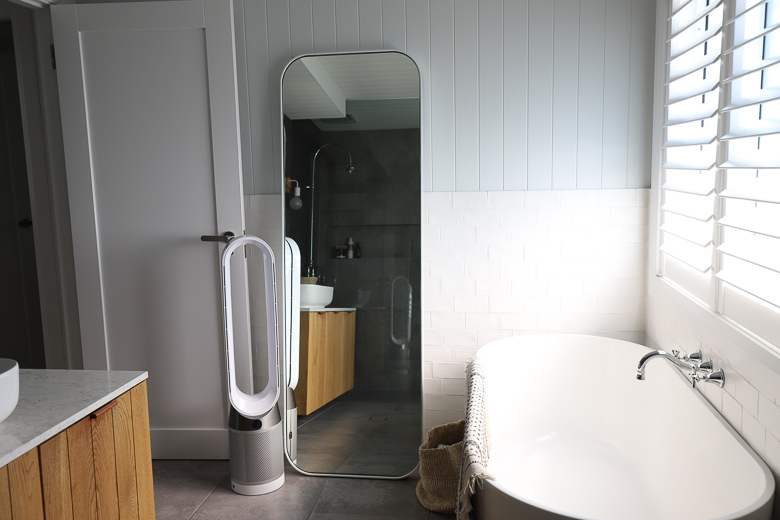 The fan
The fan itself has five flow rates, and at its highest speeds (4 and 5) it moves air around a standard-sized room well.  There are also two airflow modes; one cools you as a fan with purified air, and the other mode acts as a purifier only – which is better for those cooler days or nights when the fan is not required.
A question I've been asked a few times is around its running noise.  I do feel that the Dyson Pure Cool™ is quieter than a standard pedestal fan and obviously has the added benefit of purifying the air as it circulates. Also, it's much easier to clean than a standard fan that has blades – how many times do you see pedestal fans with a huge build-up of dust?!
Another bonus I've found – especially in the kid's bedrooms – is that it monitors and records the room temperature.  I found this handy during cooler nights, and I think this will be useful in summer too!
The verdict
With all this in mind, I've been extremely impressed with the purifier overall, and the results of what has been captured over the past few months.  Over the Spring period and with plenty of general cleaning going on, it's been very reassuring to know that dust, pollen and VOCs that we would have otherwise been breathing in, have been captured by the fan.
Often at this time of year I'm susceptible to bouts of hayfever, and I'm not sure if it's a coincidence or not, but I haven't had any flare ups since using the Dyson Pure Cool™.  As mentioned, the more I've monitored what's been captured, the more I've wanted to keep using the fan, and I'm keen to continue using it over the next few season changes to keep a check on the air within our home.
Disclaimer: These are my own personal thoughts and experiences.